ВЛИЯНИЕ КЛИНИКО-ЛАБОРАТОРНЫХ ФАКТОРОВ НА РАЗВИТИЕ ГЕМОДИНАМИЧЕСКИХ ОСЛОЖНЕНИЙ ВО ВРЕМЯ АНЕСТЕЗИИ ПРИ КАРДИОХИРУРГИЧЕСКИХ ВМЕШАТЕЛЬСТВАХ
Р. Э. Якубцевич

УО "Гродненский государственный медицинский университет", Гродно, Беларусь

https://orcid.org/0000-0002-8699-8216

К. О. Кротков

Гродненский областной клинический кардиологический центр, Гродно, Беларусь
Ключевые слова:
кардиоанестезиология, гемодинамические осложнения, клеточные маркеры, эндотелиальная дисфункция
Аннотация
Введение. В настоящее время кардиоанестезиология – одна из наиболее активно развивающихся областей современной медицины. Благодаря новым методам лечения, значительно расширился контингент пациентов, которым возможно выполнение кардиохирургического вмешательства. Основные проблемы, приводящие к гемодинамическим осложнениям, – эндотелиальная дисфункция и клеточная гипоксия. Цель. Предоставить данные о влиянии клинико-лабораторных факторов эндотелиальной дисфункции и клеточной гипоксии на развитие гемодинамических осложнений во время анестезии при кардиохирургических вмешательствах. Материал и методы. Представлен обзор и анализ литературных данных 49 источников. Результаты. Лабораторными маркерами эндотелиальной дисфункции, приводящей к развитию основных гемодинамических осложнений при сердечно-сосудистых заболеваниях, являются MPC-1, СРБ, NO, TNF-α, ИЛ-6, гомоцистеин. Выводы. Полученные данные свидетельствуют о существенном влиянии клеточных маркеров (MPC-1,
СРБ, NO, TNF-α, ИЛ-6, гомоцистеин) и клинико-лабораторных факторов эндотелиальной дисфункции не только на развитие основных заболеваний сердечно-сосудистой системы, но и их осложнений. Раннее изучение данных маркеров может улучшить анестезиологическое пособие во время проведения кардиохирургических операций, а также уменьшить осложнения в послеоперационном периоде.
Литература
Ball L, Costantino F, Pelosi P. Postoperative complications of patients undergoing cardiac surgery. Curr Opin Crit Care. 2016;22(4):386-392. https://doi.org/10.1097/MCC.0000000000000319.
Landoni G, Augoustides JG, Guarracino F, Santini F, Ponschab M, Pasero D, Rodseth RN, Biondi-Zoccai G, Silvay G, Salvi L, Camporesi E, Comis M, Conte M, Bevilacqua S, Cabrini L, Cariello C, Caramelli F, De Santis V, Del Sarto P, Dini D, Forti A, Galdieri N, Giordano G, Gottin L, Greco M, et al. Mortality reduction in cardiac anesthesia and intensive care: results of the first International Consensus Conference. Acta Anaesthesiol Scand. 2011;55(3):259-266. https://doi.org/10.1111/j.1399-6576.2010.02381.x.
Nashef SA, Roques F, Sharples LD, Nilsson J, Smith C, Goldstone AR, Lockowandt U. EuroSCORE II. Eur J Cardiothorac Surg. 2012;41(4):734-744. https://doi.org/10.1093/ejcts/ezs043.
Siribaddana S. Cardiac dysfunction in the CABG patient. Curr Opin Pharmacol. 2012;12(2):166-171. https://doi.org/10.1016/j.coph.2012.01.010.
Filippovskaja ZhS, Gerasimenko ON, Grebenchikov OA, Zinovkin RА, Larkov RN, Ulitkina ON, Skripkin YuV, Likhvantsev VV. Oksidantnyj stress i rannie oslozhneniya posleoperacionnogo perioda v kardiohirurgii [Oxidative stress and early post-operative complications in cardiac surgery]. Vestnik anesteziologii i reanimatologii [Messenger of Anesthesiology and Resuscitation]. 2016;13(6):13-21. https://doi.org/10.21292/2078-5658-2016-13-6-13-21 (Russian).
Zhang X, Liu X, Shang H, Xu Y, Qian M. Monocyte chemoattractant protein-1 induces endothelial cell apoptosis in vitro through a p53-dependent mitochondrial pathway. Acta Biochim Biophys Sin (Shanghai). 2011;43(10):787-95. https://doi.org/10.1093/abbs/gmr072.
Tichelaar YI, Kluin-Nelemans HJ, Meijer K. Infections and inflammatory diseases as risk factors for venous thrombosis. A systematic review. Thromb Haemost. 2012;107(5):827-837. https://doi.org/10.1160/TH11-09-0611.
Takada Y, Hisamatsu T, Kamada N, Kitazume MT, Honda H, Oshima Y, Saito R, Takayama T, Kobayashi T, Chinen H, Mikami Y, Kanai T, Okamoto S, Hibi T. Monocyte Chemoattractant Protein-1 Contributes to Gut Homeostasis and Intestinal Inflammation by Composition of IL-10–Producing Regulatory Macrophage Subset. The Journal of Immunology. 2010;184(5):2671-2676. https://doi.org/10.4049/jimmunol.0804012.
Mussbacher M, Salzmann M, Brostjan C, Hoesel B, Schoergenhofer C, Datler H, Hohensinner P, Basílio J, Petzelbauer P, Assinger A, Schmid JA. Cell TypeSpecific Roles of NF-κB Linking Inflammation and Thrombosis. Front Immunol. 2019;10:85. https://doi.org/10.3389/fimmu.2019.00085.
Teixeira, Bruno Costa; Lopes, André Luiz; Macedo, Rodrigo Cauduro Oliveira; Correa, Cleiton Silva; Ramis, Thiago Rozales; Ribeiro, Jerri Luiz; Reischak-Oliveira, Alvaro. Inflammatory markers, endothelial function and cardiovascular risk. Jornal Vascular Brasileiro. 2014;13(2):108-115. https://doi.org/10.1590/jvb.2014.054.
Rajendran P, Rengarajan T, Thangavel J, Nishigaki Y, Sakthisekaran D, Sethi G, Nishigaki I. The vascular endothelium and human diseases. Int J Biol Sci. 2013;9(10):1057-1069. https://doi.org/10.7150/ijbs.7502.
Vorobyeva EN, Vorobуev RI, Sharlaeva EA, Fomicheva ML, Sokolova GG, Kazizaeva AS, Batanina IA. Disfunkcija jendotelija pri serdechno-sosudistyh zabolevanijah: faktory riska, metody diagnostiki i korrekcii [Endothelial dysfunction in cardiovascular diseases: Risk factors, methods of diagnostic, and correction]. Acta Biologica Sibirica. 2016;2(1):21-40. https://doi.org/10.14258/abs.v2i1.1219 (Russian).
Cardaropoli S, Silvagno F, Morra E, Pescarmona GP, Todros T. Infectious and inflammatory stimuli de crease endothelial nitric oxide synthase activity in vitro. Journal of hypertension. 2003;21(11):2103-2110. https://doi.org/10.1097/00004872-200311000-00020.
Reyes LA, Boslett J, Varadharaj S, De Pascali F, Hemann C, Druhan LJ, Ambrosio G, El-Mahdy M, Zweier JL. Depletion of NADP(H) due to CD38 activation triggers endothelial dysfunction in the postischemic heart. Proc Natl Acad Sci USA. 2015;112(37):11648-11653. https://doi.org/10.1073/pnas.1505556112.
Singh B, Biswas I, Garg I, Sugadev R, Singh AK, Dey S, Khan GA. von Willebrand factor antagonizes nitric oxide synthase to promote insulin resistance during hypoxia. Biochemistry. 2014;53(1):115-126. https://doi.org/10.1021/bi401061e.
Matsubara K, Higaki T, Matsubara Y, Nawa A. Nitric oxide and reactive oxygen species in the pathogenesis of preeclampsia. Int J Mol Sci. 2015;16(3):4600-4614. https://doi.org/10.3390/ijms16034600.
Kovalenko VM, Talaieva TV, Kozlyuk AS, Bratus VV. Mehanizmy razvitija cerdechno-sosudistoj patologii pri osteoartroze [Mechanisms of development of cardiovascular pathology in osteoarthrosis]. Ukrainskij kardiologicheskij zhurnal [Ukrainian Journal of Cardiology]. 2016;5:67-82. (Russian).
Tang M, Fang J. TNFα regulates apoptosis of human vascular smooth muscle cells through gap junctions. Mol Med Rep. 2017;15(3):1407-1411. https://doi.org/10.3892/mmr.2017.6106.
Bobryshev YV, Ivanova EA, Chistiakov DA, Nikiforov NG, Orekhov AN. Macrophages and Their Role in Atherosclerosis: Pathophysiology and Transcriptome Analysis. Biomed Res Int. 2016;2016:9582430. https://doi.org/10.1155/2016/9582430.
Shishkina VS, Chelombitko MA, Efremova YuE, Fedorov AV, Ilyinskaya OP, Tararak EM. Citokiny pro i antivospalitelnoj subpopuljacij makrofagov i ih znachenie v formirovanii i stabilizacii ateroskleroticheskih bljashek v sonnyh arterijah cheloveka [Cytokines of pro- and anti-inflammatory macrophages subpopulations and their role in formation and stabilization of atherosclerotic plaques in human carotid arteries]. Kardiologicheskij vestnik [Russian Cardiology Bulletin]. 2014;9(4):62-70. (Russian).
Dunaevskaya SS, Vinnik YuS. Razvitie jendotelialnoj disfunkcii pri obliterirujushhem ateroskleroze sosudov nizhnih konechnostej i markery prognozirovanija techenija zabolevanija [Development of endothelial dysfunction at an obliterating atherosclerosis of vessels of the lower extremities and markers of prediction of a course of a disease]. Bjulleten sibirskoj mediciny [Bulletin of Siberian Medicine]. 2017;16(1):108-118. https://doi.org/10.20538/1682-0363-2017-1-108-118. (Russian).
Su D, Li Z, Li X, Chen Y, Zhang Y, Ding D, Deng X, Xia M, Qiu J, Ling W. Association between serum interleukin-6 concentration and mortality in patients with coronary artery disease. Mediators. Inflamm. 2013;2013:726178. https://doi.org/10.1155/2013/726178.
Shinohara T, Takahashi N, Okada N, Ayabe R, Kondo H, Yufu K, Nakagawa M, Hara M, Saikawa T. Interleukin-6 as an Independent Predictor of Future Cardiovascular Events in Patients with Type-2 Diabetes without Structural Heart Disease. J Clin Exp Cardiol. 2012;3:209. https://doi.org/10.4172/2155-9880.1000209.
Qu D, Liu J, Lau CW, Huang Y. IL-6 in diabetes and cardiovascular complications. Br J Pharmacol. 2014;171(15):3595-3603. https://doi.org/10.1111/bph.12713.
Ridker PM. From C-Reactive Protein to Interleukin-6 to Interleukin-1: Moving Upstream To Identify Novel Targets for Atheroprotection. Circ Res. 2016;118(1):145-156. https://doi.org/10.1161/CIRCRESAHA.115.306656.
Danesh J, Kaptoge S, Mann AG, Sarwar N, Wood A, Angleman SB, Wensley F, Higgins JP, Lennon L, Eiriksdottir G, Rumley A, Whincup PH, Lowe GD, Gudnason V. Long-term interleukin-6 levels and subsequent risk of coronary heart disease: two new prospective studies and a systematic review. PLoS Med. 2008;5(4):78. https://doi.org/10.1371/journal.pmed.0050078.
Tehrani DM, Gardin JM, Yanez D, Hirsch CH, LloydJones DM, Stein PK, Wong ND. Impact of inflammatory biomarkers on relation of high density lipoprotein-cholesterol with incident coronary heart disease: cardiovascular Health Study. Atherosclerosis. 2013;231(2):246-251. https://doi.org/10.1016/j.atherosclerosis.2013.08.036.
Kaptoge S, Seshasai SR, Gao P, Freitag DF, Butterworth AS, Borglykke A, Di Angelantonio E, Gudnason V, Rumley A, Lowe GD, Jørgensen T, Danesh J. Inflammatory cytokines and risk of coronary heart disease: new prospective study and updated meta-analysis. Eur Heart J. 2014;35(9):578-89. https://doi.org/10.1093/eurheartj/eht367.
Sarwar N, Butterworth AS, Freitag DF, Gregson J, Willeit P, Gorman DN, Gao P, Saleheen D, Rendon A, Nelson CP, Braund PS, Hall AS, Chasman DI, Tybjærg-Hansen A, Chambers JC, Benjamin EJ, Franks PW, Clarke R, Wilde AA, Trip MD, Steri M, Witteman JC, Qi L, van der Schoot CE, de Faire U, et al. Interleukin-6 receptor pathways in coronary heart disease: a collaborative meta-analysis of 82 studies. Lancet. 2012;379(9822):1205-13. https://doi.org/10.1016/S0140-6736(11)61931-4.
Eskandari V, Amirzargar AA, Mahmoudi MJ, Rahnemoon Z, Rahmani F, Sadati S, Rahmati Z, Gorzin F, Hedayat M, Rezaei N. Gene expression and levels of IL-6 and TNFα in PBMCs correlate with severity and functional class in patients with chronic heart failure. Ir J Med Sci. 2018;187(2):359-368. https://doi.org/10.1007/s11845-017-1680-2
Markousis-Mavrogenis G, Tromp J, Ouwerkerk W, Devalaraja M, Anker SD, Cleland JG, Dickstein K, Filippatos GS, van der Harst P, Lang CC, Metra M, Ng LL, Ponikowski P, Samani NJ, Zannad F, Zwinderman AH, Hillege HL, van Veldhuisen DJ, Kakkar R, Voors AA, van der Meer P. The clinical significance of interleukin-6 in heart failure: results from the BIOSTAT-CHF study. Eur J Heart Fail. 2019;21(8):965-973. https://doi.org/10.1002/ejhf.1482.
Giovannini S, Onder G, Liperoti R, Russo A, Carter C, Capoluongo E, Pahor M, Bernabei R, Landi F. Interleukin-6, C-reactive protein, and tumor necrosis factor-alpha as predictors of mortality in frail, community-living elderly individuals. J Am Geriatr Soc. 2011;59(9):1679-1685. https://doi.org/10.1111/j.1532-5415.2011.03570.x.
Danesh J, Kaptoge S, Mann AG, Sarwar N, Wood A, Angleman SB, Wensley F, Higgins JP, Lennon L, Eiriksdottir G, Rumley A, Whincup PH, Lowe GD, Gudnason V. Long-term interleukin-6 levels and subsequent risk of coronary heart disease: two new prospective studies and a systematic review. PLOS Medicine. 2008;5(4):78. https://doi.org/10.1371/journal.pmed.0050078.
Hamzic-Mehmedbasic A. Inflammatory Cytokines as Risk Factors for Mortality after Acute Cardiac Events. Med Arch. 2016;70(4):252-255. https://doi.org/10.5455/medarh.2016.70.252-255.
Pudil R, Tichý M, Andrýs C, Rehácek V, Bláha V, Vojácek J, Palicka V. Plasma interleukin-6 level is associated with NT-proBNP level and predicts short- and long-term mortality in patients with acute heart failure. Acta medica (Hradec Králové). 2010;53(4):225-228. https://doi.org/10.14712/18059694.2016.81
Puzianowska-Kuźnicka M, Owczarz M, WieczorowskaTobis K, Nadrowski P, Chudek J, Slusarczyk P, Skalska A, Jonas M, Franek E, Mossakowska M. Interleukin-6 and C-reactive protein, successful aging, and mortality: the PolSenior study. Immun Ageing. 2016;13:21. https://doi.org/10.1186/s12979-016-0076-x.
Pang X, Liu J, Zhao J, Mao J, Zhang X, Feng L, Han C, Li M, Wang S, Wu D. Homocysteine induces the expression of C-reactive protein via NMDAr-ROS-MAPK-NF-κB signal pathway in rat vascular smooth muscle cells. Atherosclerosis. 2014;236(1):73-81. https://doi.org/10.1016/j.atherosclerosis.2014.06.021
Zhang S, Bai YY, Luo LM, Xiao WK, Wu HM, Ye P. Association between serum homocysteine and arterial stiffness in elderly: a community-based study. J Geriatr Cardiol. 2014;11(1):32-38. https://doi.org/10.3969/j.issn.1671-5411.2014.01.007.
Shenoy V, Mehendale V, Prabhu K, Shetty R, Rao P. Correlation of serum homocysteine levels with the severity of coronary artery disease. Indian J Clin Biochem. 2014;29(3):339-344. https://doi.org/10.1007/s12291-013-0373-5.
Basu A, Jenkins AJ, Stoner JA, Thorpe SR, Klein RL, Lopes-Virella MF, Garvey WT, Lyons TJ. DCCT/EDIC Research Group. Plasma total homocysteine and carotid intima-media thickness in type 1 diabetes: a prospective study. Atherosclerosis. 2014;236(1):188195. https://doi.org/10.1016/j.atherosclerosis.2014.07.001.
Flammer AJ, Anderson T, Celermajer DS, Creager MA, Deanfield J, Ganz P, Hamburg NM, Lüscher TF, Shechter M, Taddei S, Vita JA, Lerman A. The assessment of endothelial function: from research into clinical practice. Circulation. 2012;7;126(6):753767. https://doi.org/10.1161/CIRCULATIONAHA.112.093245.
Lindemann H, Petrovic I, Hill S, Athanasiadis A, Mahrholdt H, Schäufele T, Klingel K, Sechtem U, Ong P. Biopsy-confirmed endothelial cell activation in patients with coronary microvascular dysfunction. Coron Artery Dis. 2018;29(3):216-222. https://doi.org/10.1097/MCA.0000000000000599.
Melnikova YuS, Makarova TP. Jendotelialnaja disfunkcija kak centralnoe zveno patogeneza hronicheskih boleznej [Endothelial dysfunction as the key link of chronic diseases pathogenesis]. Kazanskij medicinskij zhurnal [Kazan medical journal]. 2015;96(4):659-665. https://doi.org/10.17750/KMJ2015-659. (Russian).
Popova MA, Terentyeva NN, Dolgopolova DA, Marenina TV. Jendotelialnaja disfunkcija pri stabilnoj stenokardii i infarkte miokarda v sochetanii s hronicheskoj obstruktivnoj boleznju legkih [Endothelial dysfunction in stable angina and myocardial infarction combined with chronic obstructive pulmonary disease]. Byulleten sibirskoj mediciny [Bulletin of Siberian Medicine]. 2015;14(6):68-74. https://doi.org/10.20538/1682-0363-2015-6-68-74. (Russian).
Lapshina LA, Molodin VI, Shevchenko OS. Jendotelialnaja disfunkcija pri nachalnyh stadijah arterialnoj gipertenzii i sposoby ee nemedikamentoznoj korrekcii [Endothelial dysfunction in the initial stages of arterial hypertension and methods of its non-drug correction]. Ukrainskij terapevticheskij zhurnal [Ukrainian therapeutic journal]. 2001;3:39-42. (Russian).
Münzel T, Camici GG, Maack C, Bonetti NR, Fuster V, Kovacic JC. Impact of Oxidative Stress on the Heart and Vasculature: Part 2 of a 3-Part Series. J Am Coll Cardiol. 2017;70(2):212-229. https://doi.org/10.1016/j.jacc.2017.05.035.
Talavera-Adame D, Dafoe DC. Endothelium-derived essential signals involved in pancreas organogenesis. World J Exp Med. 2015;5(2):40-49. https://doi.org/10.5493/wjem.v5.i2.40.
Zimnitskaya OV, Petrova MM, Kaskaeva DS. Plazmennye markery jendotelialnoj disfunkcii pri gipertonicheskoj bolezni (obzor literatury) [Plasma markers of endothelial dysfunction in hypertension (review)]. V mire nauchnyh otkrytij [In the world of scientific discoveries]. 2015;4(64):204-230. https://doi.org/10.12731/wsd-2015-4-12. (Russian).
Gkaliagkousi E, Gavriilaki E, Triantafyllou A, Douma S. Clinical Significance of Endothelial Dysfunction in Essential Hypertension. Curr Hypertens Rep. 2015;17(11):85. https://doi.org/10.1007/s11906-015-0596-3.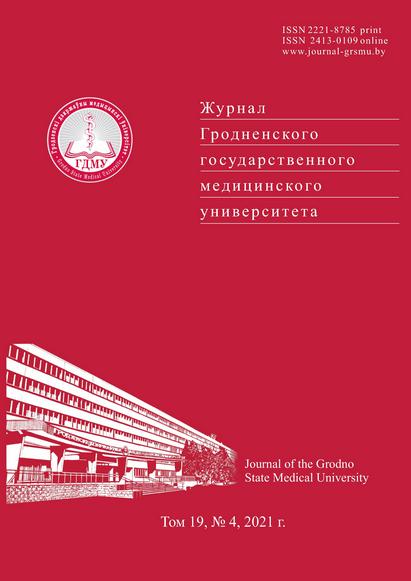 Загрузок PDF: 90
Как цитировать
1.
Якубцевич РЭ, Кротков КО. ВЛИЯНИЕ КЛИНИКО-ЛАБОРАТОРНЫХ ФАКТОРОВ НА РАЗВИТИЕ ГЕМОДИНАМИЧЕСКИХ ОСЛОЖНЕНИЙ ВО ВРЕМЯ АНЕСТЕЗИИ ПРИ КАРДИОХИРУРГИЧЕСКИХ ВМЕШАТЕЛЬСТВАХ. Журнал ГрГМУ (Journal GrSMU) [Интернет]. 8 сентябрь 2021 г. [цитируется по 28 ноябрь 2021 г.];19(4):367-75. доступно на: http://journal-grsmu.by/index.php/ojs/article/view/2676