ВЗАИМНЫЕ ЭФФЕКТЫ САХАРНОГО ДИАБЕТА, ОЖИРЕНИЯ И SARS-COV-2
Л. В. Никонова

УО "Гродненский государственный медицинский университет", Гродно, Беларусь

С. В. Тишковский

УО "Гродненский государственный медицинский университет", Гродно, Беларусь

https://orcid.org/0000-0002-6970-276X

О. Н. Мартинкевич

Гродненская университетская клиника, Гродно, Беларусь

О. А. Шидловская

Ошмянская центральная районная больница, Ошмяны, Беларусь
Аннотация
С момента первой вспышки SARS-Cov-2 в Китае большое внимание медицинского сообщества было уделено людям с сахарным диабетом, так как хорошо известно, что сахарный диабет повышает риск развития ряда инфекционных заболеваний. Причина этого многофакторная: возраст, пол, этническая принадлежность, сопутствующие заболевания, такие как гипертония, сердечно-сосудистые заболевания, ожирение, а также провоспалительное и прокоагулянтное состояние – все это способствует более тяжелому течению SARS-Cov-2 у пациентов с сахарным диабетом. Более того, тяжелая инфекция SARS-Cov-2 сама по себе может представлять собой ухудшающий фактор для людей с сахарным диабетом, поскольку она может вызвать острые метаболические осложнения через прямое негативное воздействие на функцию β-клеток.
Данный обзор призван обеспечить системную оценку потенциальных прогностических факторов и взаимных эффектов у пациентов с сахарным диабетом, ожирением и SARS-Cov-2.
Литература
Booth CM, Matukas LM, Tomlinson GA, Rachlis AR, Rose DB, Dwosh HA, Walmsley SL, Mazzulli T, Avendano M, Derkach P, Ephtimios IE, Kitai I, Mederski BD, Shadowitz SB, Gold WL, Hawryluck LA, Rea E, Chenkin JS, Cescon DW, Poutanen SM, Detsky AS. Clinical features and shortterm outcomes of 144 patients with SARS in the greater Toronto area. JAMA. 2003;289(21):2801-9. https://doi.org/10.1001/jama.289.21.JOC30885
Garbati MA, Fagbo SF, Fang VJ, Skakni L, Joseph M, Wani TA, Cowling BJ, Peiris M, Hakawi A. A Comparative Study of Clinical Presentation and Risk Factors for Adverse Outcome in Patients Hospitalised with Acute Respiratory Disease Due to MERS Coronavirus or Other Causes. PLoS One. 2016;11(11):e0165978. https://doi.org/10.1371/journal.pone.0165978
Schoen K, Horvat N, Guerreiro NFC, de Castro I, de Giassi KS. Spectrum of clinical and radiographic findings in patients with diagnosis of H1N1 and correlation with clinical severity. BMC Infect Dis. 2019;19(1):964. https://doi.org/10.1186/s12879-019-4592-0
Healthmap. COVID-19 [Internet]. Available from: https://www.healthmap.org/covid-19
Wu Z, McGoogan. Characteristics of and Important Lessons from the Coronavirus Disease 2019 (COVID-19) Outbreak in China: Summary of a Report of 72 314 Cases From the Chinese Center for Disease Control and Prevention. JAMA. 2020;323(13):1239-1242. https://doi.org/10.1001/jama.2020.2648
Zhang Y, Cui Y, Shen M, Zhang J, Liu B, Dai M, Chen L, Han D, Fan Y, Zeng Y, Li W, Lin F, Li S, Chen X, Pan P. Association of diabetes mellitus with disease severity and prognosis in COVID-19: A retrospective cohort study. Diabetes Res Clin Pract. 2020;165:108227. https://doi.org/10.1016/j.diabres.2020.108227
Kumar A, Arora A, Sharma P, Anikhindi SA, Bansal N, Singla V, Khare S, Srivastava A. Is diabetes mellitus associated with mortality and severity of COVID-19? A metaanalysis. Diabetes Metab Syndr. 2020;14(4):535-545. https://doi.org/10.1016/j.dsx.2020.04.044
International Diabetes Federation. IDF Diabetes Atlas [Internet]. 9th ed. Brussels, Belgium, 2019. Available from: https://www.diabetesatlas.org
Guan WJ, Liang WH, Zhao Y, Liang HR, Chen ZS, Li YM, Liu XQ, Chen RC, Tang CL, Wang T, Ou CQ, Li L, Chen PY, Sang L, Wang W, Li JF, Li CC, Ou LM, H, et al. Comorbidity and its impact on 1590 patients with COVID-19 in China: a nationwide analysis. Eur Respir J. 2020;55(5):2000547. https://doi.org/10.1183/13993003.00547-2020
Li B, Yang J, Zhao F, Zhi L, Wang X, Liu L, Bi Z, Zhao Y. Prevalence and impact of cardiovascular metabolic diseases on COVID-19 in China. Clin Res Cardiol. 2020;109(5):531-538. https://doi.org/10.1007/s00392-020-01626-9
Fadini GP, Morieri ML, Longato E, Avogaro A. Prevalence and impact of diabetes among people infected with SARSCoV-2. J Endocrinol Invest. 2020 Jun;43(6):867-869. https://doi.org/10.1007/s40618-020-01236-2
Shi Q, Zhang X, Jiang F, Zhang X, Hu N, Bimu C, Feng J, Yan S, Guan Y, Xu D, He G, Chen C, Xiong X, Liu L, Li H, Tao J, Peng Z, Wang W. Clinical Characteristics and Risk Factors for Mortality of COVID-19 Patients with Diabetes in Wuhan, China: A Two-Center, Retrospective Study. Diabetes Care. 2020;43(7):1382-1391. https://doi.org/10.2337/dc20-0598
Guo W, Li M, Dong Y, Zhou H, Zhang Z, Tian C, Qin R, Wang H, Shen Y, Du K, Zhao L, Fan H, Luo S, Hu D. Diabetes is a risk factor for the progression and prognosis of COVID-19. Diabetes Metab Res Rev. 2020:e3319. https://doi.org/10.1002/dmrr.3319
Li X, Xu S, Yu M, Wang K, Tao Y, Zhou Y, Shi J, Zhou M, Wu B, Yang Z, Zhang C, Yue J, Zhang Z, Renz H, Liu X, Xie J, Xie M, Zhao J. Risk factors for severity and mortality in adult COVID-19 inpatients in Wuhan. J Allergy Clin Immunol. 2020;146(1):110-118. https://doi.org/10.1016/j.jaci.2020.04.006
Hoffmann M, Kleine-Weber H, Schroeder S, Krüger N, Herrler T, Erichsen S, Schiergens TS, Herrler G, Wu NH, Nitsche A, Müller MA, Drosten C, Pöhlmann S. SARSCoV-2 Cell Entry Depends on ACE2 and TMPRSS2 and Is Blocked by a Clinically Proven Protease Inhibitor. Cell. 2020;181(2):271-280. https://doi.org/10.1016/j.cell.2020.02.052
Xu H, Zhong L, Deng J, Peng J, Dan H, Zeng X, Li T, Chen Q. High expression of ACE2 receptor of 2019-nCoV on the epithelial cells of oral mucosa. Int J Oral Sci. 2020;12(1):8. https://doi.org/10.1038/s41368-020-0074-x
Zou X, Chen K, Zou J, Han P, Hao J, Han Z. Single-cell RNA-seq data analysis on the receptor ACE2 expression reveals the potential risk of different human organs vulnerable to 2019-nCoV infection. Front Med. 2020;14(2):185-192. https://doi.org/10.1007/s11684-020-0754-0
Rabi FA, Al Zoubi MS, Kasasbeh GA, Salameh DM, Al-Nasser AD. SARS-CoV-2 and Coronavirus Disease 2019: What We Know So Far. Pathogens. 2020;9(3):231. https://doi.org/10.3390/pathogens9030231
Shestakova MV, Mokrysheva NG, Dedov II. Saharnyj diabet v uslovijah virusnoj pandemii COVID-19: osobennosti techenija i lechenija [Course and treatment of diabetes mellitus in the context of COVID-19]. Saharnyj diabet [Diabetes Mellitus]. 2020;23(2):132-139. https://doi.org/10.14341/DM12418 (Russian).
Roca-Ho H, Riera M, Palau V, Pascual J, Soler MJ. Characterization of ACE and ACE2 Expression within Different Organs of the NOD Mouse. Int J Mol Sci. 2017;18(3):563. https://doi.org/10.3390/ijms18030563
Brufsky A. Hyperglycemia, hydroxychloroquine, and the COVID-19 pandemic. J Med Virol. 2020;92(7):770-775. https://doi.org/10.1002/jmv.25887
Hamming I, Timens W, Bulthuis ML, Lely AT, Navis G, van Goor H. Tissue distribution of ACE2 protein, the functional receptor for SARS coronavirus. A first step in understanding SARS pathogenesis. J Pathol. 2004;203(2):631-7. https://doi.org/10.1002/path.1570
Lin L, Lu L, Cao W, Li T. Hypothesis for potential pathogenesis of SARS-CoV-2 infection-a review of immune changes in patients with viral pneumonia. Emerg Microbes Infect. 2020;9(1):727-732. https://doi.org/10.1080/22221751.2020.1746199
Wang Q, Fang P, He R, Li M, Yu H, Zhou L, Yi Y, Wang F, Rong Y, Zhang Y, Chen A, Peng N, Lin Y, Lu M, Zhu Y, Peng G, Rao L, Liu S. O-GlcNAc transferase promotes influenza A virus-induced cytokine storm by targeting interferon regulatory factor-5. Sci Adv. 2020;6(16):eaaz7086. https://doi.org/10.1126/sciadv.aaz7086
Yang JK, Feng Y, Yuan MY, Yuan SY, Fu HJ, Wu BY, Sun GZ, Yang GR, Zhang XL, Wang L, Xu X, Xu XP, Chan JC. Plasma glucose levels and diabetes are independent predictors for mortality and morbidity in patients with SARS. Diabet Med. 2006;23(6):623-8. https://doi.org/10.1111/j.1464-5491.2006.01861.x
Bode B, Garrett V, Messler J, McFarland R, Crowe J, Booth R, Klonoff DC. Glycemic Characteristics and Clinical Outcomes of COVID-19 Patients Hospitalized in the United States. J Diabetes Sci Technol. 2020;14(4):813-821. https://doi.org/10.1177/1932296820924469
Daousi C, Casson IF, Gill GV, MacFarlane IA, Wilding JP, Pinkney JH. Prevalence of obesity in type 2 diabetes in secondary care: association with cardiovascular risk factors. Postgrad Med J. 2006;82(966):280-4. https://doi.org/10.1136/pmj.2005.039032
Garg S, Kim L, Whitaker M, O'Halloran A, Cummings C, Holstein R, Prill M, Chai SJ, Kirley PD, Alden NB, Kawasaki B, Yousey-Hindes K, Niccolai L, Anderson EJ, Openo KP, Weigel A, Monroe ML, Ryan P, Henderson J, Kim S, Como-Sabetti K, Lynfield R, Sosin D, Torres S, Muse A, et al. Hospitalization Rates and Characteristics of Patients Hospitalized with Laboratory-Confirmed Coronavirus Disease 2019 - COVID-NET, 14 States, March 1-30, 2020. MMWR Morb Mortal Wkly Rep. 2020;69(15):458-464. https://doi.org/10.15585/mmwr.mm6915e3
Hales CM, Carroll MD, Fryar CD, Ogden CL. Prevalence of Obesity and Severe Obesity Among Adults: United States, 2017-2018. NCHS Data Brief. 2020;(360):1-8.
Simonnet A, Chetboun M, Poissy J, Raverdy V, Noulette J, Duhamel A, Labreuche J, Mathieu D, Pattou F, Jourdain M. High Prevalence of Obesity in Severe Acute Respiratory Syndrome Coronavirus-2 (SARS-CoV-2) Requiring Invasive Mechanical Ventilation. Obesity (Silver Spring). 2020;28(7):1195-1199. https://doi.org/10.1002/oby.22831
Sattar N, McInnes IB, McMurray JJV. Obesity Is a Risk Factor for Severe COVID-19 Infection: Multiple Potential Mechanisms. Circulation. 2020;142(1):4-6. https://doi.org/10.1161/CIRCULATIONAHA.120.047659
Connors JM, Levy JH. COVID-19 and its implications for thrombosis and anticoagulation. Blood. 2020;135(23):2033-2040. https://doi.org/10.1182/blood.2020006000
Wichmann D, Sperhake JP, Lütgehetmann M, Steurer S, Edler C, Heinemann A, Heinrich F, Mushumba H, Kniep I, Schröder AS, Burdelski C, de Heer G, Nierhaus A, Frings D, Pfefferle S, Becker H, Bredereke-Wiedling H, de Weerth A, Paschen HR, Sheikhzadeh-Eggers S, Stang A, Schmiedel S, Bokemeyer C, Addo MM, Aepfelbacher M, et al. Autopsy Findings and Venous Thromboembolism in Patients With COVID-19: A Prospective Cohort Study. Ann Intern Med. 2020;173(4):268-277. https://doi.org/10.7326/M20-2003
Bramante CT, Ingraham NE, Murray TA, Marmor S, Hovertsen S, Gronski J, McNeil C, Feng R, Guzman G, Abdelwahab N, King S, Meehan T, Pendleton KM, Benson B, Vojta D, Tignanelli CJ. Observational Study of Metformin and Risk of Mortality in Patients Hospitalized with Covid-19 [Internet]. medRxiv [Preprint]. 2020 [posted 2020 June 28]. Available from: https://doi.org/10.1101/2020.06.19.20135095
Kim NY, Ha E, Moon JS, Lee YH, Choi EY. Acute Hyperglycemic Crises with Coronavirus Disease-19: Case Reports. Diabetes Metab J. 2020;44(2):349-353. https://doi.org/10.4093/dmj.2020.0091
Kyriazopoulou E, Leventogiannis K, Norrby-Teglund A, Dimopoulos G, Pantazi A, Orfanos SE, Rovina N, Tsangaris I, Gkavogianni T, Botsa E, Chassiou E, Kotanidou A, Kontouli C, Chaloulis P, Velissaris D, Savva A, Cullberg JS, Akinosoglou K, Gogos C, Armaganidis A, Giamarellos-Bourboulis EJ. Macrophage activation-like syndrome: an immunological entity associated with rapid progression to death in sepsis. BMC Med. 2017;15(1):172. https://doi.org/10.1186/s12916-017-0930-5
Apicella M, Campopiano MC, Mantuano M, Mazoni L, Coppelli A, Del Prato S. COVID-19 in people with diabetes: understanding the reasons for worse outcomes. Lancet Diabetes Endocrinol. 2020;8(9):782-792. https://doi.org/10.1016/S2213-8587(20)30238-2
Bornstein SR, Rubino F, Khunti K, Mingrone G, Hopkins D, Birkenfeld AL, Boehm B, Amiel S, Holt RI, Skyler JS, DeVries JH, Renard E, Eckel RH, Zimmet P, Alberti KG, Vidal J, Geloneze B, Chan JC, Ji L, Ludwig B. Practical recommendations for the management of diabetes in patients with COVID-19. Lancet Diabetes Endocrinol. 2020;8(6):546-550. https://doi.org/10.1016/S2213-8587(20)30152-2
Mokrysheva NG, Galstjan GR, Kirzhakov MA, Lipatenkova AK, Melnichenko GA. Rekomendacii dlja vrachej po lecheniju jendokrinnyh zabolevanij v uslovijah pandemii COVID-19. Pandemija COVID-19 i endokrinopatii [Internet]. Available from: https://rae-org.ru/rekomendacii-dlya-vrachey-po-lecheniyu-endokrinnyhzabolevaniy-v-usloviyah-pandemii-covid-19 (Russian).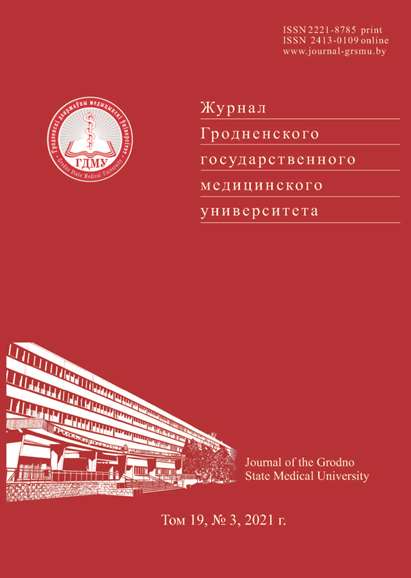 Загрузок PDF: 154
Как цитировать
1.
Никонова ЛВ, Тишковский СВ, Мартинкевич ОН, Шидловская ОА. ВЗАИМНЫЕ ЭФФЕКТЫ САХАРНОГО ДИАБЕТА, ОЖИРЕНИЯ И SARS-COV-2. Журнал ГрГМУ (Journal GrSMU) [Интернет]. 2 июль 2021 г. [цитируется по 30 ноябрь 2023 г.];19(3):263-9. доступно на: http://journal-grsmu.by/index.php/ojs/article/view/2648