РОЛЬ МУТАЦИИ ГЕНОВ ИНСУЛИНОВОГО РЕЦЕПТОРА В РАЗВИТИИ ФЕНОМЕНА ИНСУЛИНОРЕЗИСТЕНТНОСТИ
Л. В. Никонова

УО "Гродненский государственный медицинский университет", Гродно, Беларусь

С. В. Тишковский

УО "Гродненский государственный медицинский университет", Гродно, Беларусь

https://orcid.org/0000-0002-6970-276X

О. С. Бутрим

Детская поликлиника № 2 г. Гродно, Гродно, Беларусь
Аннотация
Механизм развития инсулинорезистентности до конца не расшифрован. Нарушения, приводящие к инсулинорезистентности, могут происходить на следующих уровнях сигнального пути инсулина: пререцепторном (аномальный инсулин), рецепторном (снижение количества или аффинности рецепторов), на уровне транспорта глюкозы (снижение количества молекул GLUT4) и пострецепторном (нарушения передачи сигнала). В статье проанализирован сигнальный путь инсулина и рассмотрено влияние мутаций генов на передачу сигнала и транспортировку глюкозы в клетку.
Литература
Majorov AJu, Urbanova KA, Galstjan GR. Sovremennye predstavlenija o metodah ocenki insulinorezistentnosti [Modern views on methods for assessing insulin resistance]. Vestnik Reproduktivnogo Zdorovja [Reproductive Health Bulletin]. 2008;(3-4):8-12. (Russian).
Dedov II, Melnichenko GA, Ilovajskaja IA, Fomin AA; Dedov II, editor. Jendokrinologija. Nacionalnoe rukovodstvo. Kratkoe izdanie [Endocrinology. National leadership. Brief Edition]. 2nd ed. Moskva: GJeOTAR Media; 2018. 832 р. (Russian).
Dedov II, Shestakovа MV, Majorov AJu, Vikulova OK, Galstjan GR, Kuraeva TL, Peterkova VA, Smirnova OM, Starostina EG, Surkova EV, Suhareva OJu, Tokmakova AJu, Shamhalova MSh, Jarek-Martynova IR, Artemova EV, Beshlieva DD, Bondarenko ON, Volevodz NN, Gomova IS, Grigorjan OR, Dzhemilova ZN, Esajan RM, Ibragimova LI, Kalashnikov VJu, Kononenko IV, et al.; Dedov II, Shestakova MV, Majorov AJu, editors. Algoritmy specializirovannoj medicinskoj pomoshhi bolnym saharnym diabetom [Algorithms for specialized medical care for patients with diabetes]. 2nd ed. Moskva: UP PRINT; 2019. 112 р. http://doi.org/10.14341/DM221S1. (Russian).
Hubbard SR. The insulin receptor: both a prototypical and atypical receptor tyrosine kinase. Cold Spring Harb. Perspect. Biol. 2013;5(3):15-18. http://doi.org/10.1101/cshperspect.a008946.
Shestakova MV, Breskina OJu. Insulinorezistentnost: patofiziologija, klinicheskie projavlenija, podhody k lecheniju [Insulin resistance: pathophysiology, clinical manifestations, treatment approaches]. Consilium Medicum. 2002;4(10):523-527. (Russian).
Balabolkin MI, Dedov II. Geneticheskie aspekty saharnogo diabeta [Genetic aspects of diabetes]. Saharnyj diabet [Diabetes Mellitus]. 2000;1:2-10. (Russian).
Bylova NA, Dzidzarija MI. Sindrom insulinorezistentnosti i HSN – nereshennaja problema [Insulin Resistance Syndrome and CHF – Unresolved Problem]. Zhurnal Serdechnaja Nedostatochnost [Heart Failure Journal]. 2009;10(3):177-182. (Russian).
Demidova TJu, Zenina SG. Rol insulinorezistentnosti v razvitii saharnogo diabeta i drugih sostojanij. Sovremennye vozmozhnosti korrekcii [The role of insulin resistance in the development of diabetes and other conditions. Modern correction options]. RMZh. Medicinskoe obozrenie [RMJ. Medical Review]. 2019;10:116-122. (Russian).
Demidova TJu. Jetiopatogeneticheskaja rol insulinorezistentnosti v razvitii metabolicheskih i sosudistyh narushenij pri saharnom diabete 2 tipa [Etiopthogenic role of insulin resistance in the development of metabolic and vascular disorders in type 2 diabetes mellitus]. Farmateka. 2010;16:18-24. (Russian).
Kvitkova LV, Elenskaja TS, Blagoveshhenskaja OP. Insulinorezistentnost i faktory, ee opredeljajushhie [Insulinoresistance and defying factors]. Sibirskij medicinskij zhurnal [Siberian Medical Journal]. 2008;5:12-16. (Russian).
Krasilnikova I, Blagosklonnaya YaV, Bystrova АА, Baranova EI, Chilashvili МА, Stepanova Vl, Ryumina Il, Simanenkova AV. Adipozopatija – kljuchevoe zveno razvitija sostojanija insulinorezistentnosti [Adiposopathy is a key link in the development of insulin resistance]. Arterialnaja gipertenzija [Arterial hypertension]. 2012;18(2):164-176. (Russian).
Aknc A, Karakurt C, Gurbuz S, Elkran O, Nalbantoglu O, Kocak G, Guldur T, Yologlu S. Association of cardiac changes with serum adiponectin and resistin levels in obese and overweight children. Journal of Cardiovascular Medicine. 2013;14(3):228-234. http://doi.org/10.2459/JCM.0b013e328351674e.
Benguigui С, Bongard V, Ruidavets J-B, Sixou М, Chamontin В, Ferrières J, Amar J. Evaluation of oral health related to body mass index. Oral Dis. 2012;18(8):748-755. http://doi.org/10.1111/j.1601-0825.2012.01940.x.
Metelskaja VA. Sindrom insulinorezistentnosti: pochemu ego nazyvajut metabolicheskim? [Syndrome of insulin resistance: why is it called metabolic?]. Kardiovaskuljarnaja terapija i profilaktika [Cardiovascular Therapy and Prevention]. 2003;2(4):16-19. (Russian).
Jensen M, De Meyts P. Molecular mechanisms of differential intracellular signaling from the insulin receptor. Vitam Horm. 2009;80:51-75. http://doi.org/10.1016/S0083-6729(08)00603-1.
White MF. IRS proteins and the common path to diabetes. Am. J. Physiol. Endocrinol. Metab. 2002; 283(3):413-422. http://doi.org/10.1152/ajpendo.00514.2001.
Dedov II, Balabolkin MI. Insulinovaja rezistentnost v patogeneze saharnogo diabeta tipa 2 i medikamentoznaja vozmozhnost ee preodolenija [Insulin resistance in the pathogenesis of type 2 diabetes mellitus and the medical possibility of overcoming it]. Vrach [The Doctor]. 2006;11:3-9. (Russian).
Drapkina OM, Shifrina JuO. Nekotorye molekuljarnye aspekty insulinorezistentnosti [Some molecular aspects of insulin resistance]. Arterialnaja gipertenzija [Arterial hypertension]. 2010;16(5):436-440. (Russian).
Tolegenkyzy А, Kachieva ZS, Salimbekova SK, Bismildina GS, Ahmetova ZhN. Molekuljarnye mehanizmy razvitija insulinorezistentnosti i saharnogo diabeta 2-go tipa [Molecular mechanisms of development of insulin resistance and type 2 diabetes mellitus]. Vestnik Kazahskogo Nacionalnogo medicinskogo universiteta. 2018;2:236-239 (Russian).
Elchebly M, Payette Р, Michaliszyn Е, Cromlish W, Collins S, Loy А, Normandin D, Cheng А, Himms-Hagen J, Chan С, Ramachandran С, Gresser М, Tremblay М, Kennedy В. Increased insulin sensitivity and obesity resistance in mice lacking the protein tyrosine phosphatase-1B gene. Science. 1999;283(5407):1544-1548. http://doi.org/10.1126/science.283.5407.1544.
Bock G, Chittilapilly Е, Basu R, Toffolo G, Cobelli С, Chandramouli V, Landau В, Rizza R. Contribution of hepatic and extrahepatic insulin resistance to the pathogenesis of impaired fasting glucose. Role of increased rates of gluconeogenesis. Diabete. 2007;56(6):1703-1710. http://doi.org/10.2337/db06-1776.
Dedov II, Shestakova MV, Vikulova OK. Jepidemiologija saharnogo diabeta v Rossijskoj Federacii: kliniko-statisticheskij analiz po dannym Federalnogo registra saharnogo diabeta [Epidemiology of diabetes mellitus in the Russian Federation: clinical and statistical analysis according to the Federal Register of Diabetes Mellitus]. Saharnyj diabet [Diabetes Mellitus]. 2017;20(1):13-41. http://doi.org/10.14341/DM8664. (Russian).
Ametov AS. Saharnyj diabet 2 tipa. Problemy i reshenija. [Type 2 diabetes. Problems and solutions]. Moscow: GJeOTAR-Media; 2014. 1032 р. (Russian).
Shakhanova А, Aukenov N, Nurtazina А, Shakhanov Т, Kozhakhmetova D. Vzaimosvjaz insulinorezistentnosti i polimorfizmov genov lipidnogo obmena i renin-angiotenzin-aldosteronovoj sistemy. Obzor literatury [Interrelation of insulin resistance and polymorphisms of genes in lipid metabolism genes and renin-angiotensinaldosterone system. Literature review]. Nauka i Zdravoohranenie [Science and Health]. 2019;21(4):50-59. (Russian).
Kochegurova EM, Nosenko AP, Nosenko PK. Geneticheskie osnovy razvitija insulinorezistentnosti u bolnyh sindromom polikistoznyh jaichnikov [Genetic bases of insulin resistance in patients with polycystic ovary syndrome]. Verhnevolzhskij Medicinskij Zhurnal [Verkhnevolzhsky Medical Journal]. 2019;18(4):36-39. (Russian).
Zinker В, Rondinone С, Trevillyan J, Gum R, Clampit J, Waring J, Xie N, Wilcox D, Jacobson Р, Frost L, Kroeger Р, Reilly R, Koterski S, Opgenorth Т, Ulrich R, Crosby S, Butler М, Murray S, McKay R, Bhanot S, Monia В, Jirousek М. PTP IB antisense oligonucleotide lowers PTPIB protein, normalizes blood glucose, and improves insulin sensitivity in diabetic mice. Proc. Natl. Acad. Sci. USA. 2002;99(17):11357-11362. http://doi.org/10.1073/pnas.142298199.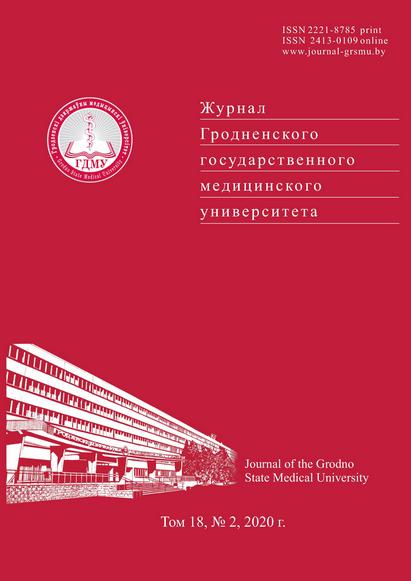 Загрузок PDF: 94
Как цитировать
1.
Никонова ЛВ, Тишковский СВ, Бутрим ОС. РОЛЬ МУТАЦИИ ГЕНОВ ИНСУЛИНОВОГО РЕЦЕПТОРА В РАЗВИТИИ ФЕНОМЕНА ИНСУЛИНОРЕЗИСТЕНТНОСТИ. Журнал ГрГМУ (Journal GrSMU) [Интернет]. 26 апрель 2021 г. [цитируется по 3 декабрь 2023 г.];18(2):102-6. доступно на: http://journal-grsmu.by/index.php/ojs/article/view/2538