РОЛЬ ПОЛИМОРФИЗМОВ ГЕНОВ TTN, TTN-TRUNCATION, ММР-2, ММР-3 В РАЗВИТИИ АНТРАЦИКЛИН-ИНДУЦИРОВАННОЙ КАРДИОМИОПАТИИ
И. А. Карпуть

УО "Гродненский государственный медицинский университет", Гродно, Беларусь

https://orcid.org/0000-0003-0478-9419

В. А. Снежицкий

УО "Гродненский государственный медицинский университет", Гродно, Беларусь

https://orcid.org/0000-0002-1706-1243

М. Н. Курбат

УО "Гродненский государственный медицинский университет", Гродно, Беларусь

https://orcid.org/0000-0002-8518-2450

А. Ю. Рубинский

Гродненский областной клинический кардиологический центр, Гродно, Беларусь

Т. А. Смирнова

Гродненская университетская клиника, Гродно, Беларусь
Аннотация
В обзоре рассматривается актуальная проблема кардиотоксичности химиопрепаратов. Противоопухолевые антибиотики антрациклины способны вызывать кардиомиoпатию, которая может ухудшать прогноз у онкопациентов и быть самостоятельной причиной смерти. Выявление пациентов с высоким риском кардиотоксичности – первый шаг на пути к успешной профилактике сердечной недостаточности у онкобольных. Генетическое типирование может стать эффективной мерой прогнозирования повышенного риска кардиотоксического действия антрациклинов. В обзоре проанализирована роль мутаций генов при развитии сердечной недостаточности, индуцированной химиотерапией.
Литература
Avalyan AA, Oshhepkova EV, Saidova MA, Shitov VN, Glazkova EV, Stenina MB, Chazova IE. Ocenka subklinicheskoj kardiotoksichnosti antraciklinsoderzhashhej himioterapii raka molochnoj zhelezy v zavisimosti ot kumuljativnoj dozy doksorubicina i ishodnogo urovnja arterialnogo davlenija [Evaluation of subclinical cardiotoxicity in patients with breast cancer and arterial hypertension in two regimens of anthracycline-containing chemotherapy]. Sistemnye gipertenzii [Systemic Hypertension]. 2018;15(4):59-64. https://doi.org/10.26442/2075082H.2018.4.0000.21. (Russian).
Avalyan AA, Kirillova MYu, Shitov VN, Oshhepkova YeV, Saidova MA, Stenina MB, Chazova IYe. Poisk rannih markerov kardiotoksichnosti protivoopuholevogo lechenija u bolnyh rakom molochnoj zhelezy v zavisimosti ot urovnja arterialnogo davlenija [Markers of really cardiotoxicity in patients with breast cancer undergoing chemotherapy depending on blood pressure level]. Sistemnye gipertenzii [Systemic Hypertension]. 2017;14(3):21-27. https://doi.org/10.26442/2075-082H_14.3.21-27. (Russian).
Vasyuk JuA, Nesvetov VV, Shkolnik EL, Fursov SA, Shkolnik LD, Gendlin GE, Emelina EI. Vozmozhnosti sovremennyh jehokardiograficheskih tehnologij v rannej diagnostike kardiotoksicheskogo dejstvija himioterapevticheskih preparatov antraciklinovogo rjada u onkologicheskih bolnyh [Possibilities of modern echocardiographic technologies in the early diagnosis of the cardiotoxic effect of chemotherapy drugs antracycline series in cancer patients]. Kardiologija. 2017;57(4):31-37. https://doi.org/10.18087/cardio.2417. (Russian).
Teplyakov AT, Shilov SN, Popova AA, Berezikova EN, Grakova EV, Neupokoeva MN, Valeeva AM, Tuleutaev ShM, Kopeva KV. Rol polimorfnyh variantov genov NOsintazy, receptora jendotelina-1 i NADPH-oksidazy pri razvitii serdechnoj nedostatochnosti, inducirovannoj kardiotoksichnostju himioterapii [The role of polymorphic variants of NO-synthase, receptor endothelin-1 and NADFHoxidase in the development of heart failure resulted from chemotherapy-induced cardiotoxicity]. Kompleksnye problemy serdechno-sosudistyh zabolevanij [Complex Issues of Cardiovascular Diseases]. 2018;7(3):33-43. https://doi.org/10.17802/2306-1278-2018-7-3-33-43. (Russian).
Teplyakov AT, Shilov SN, Popova AA, Grakova EV, Berezikova EN, Neupokoeva MN, Molokov AV, Kopeva KV, Kalyuzhin VV. Sostojanie serdechno-sosudistoj sistemy u bolnyh s antraciklinovoj kardiomiopatiej [The cardiovascular system in patients with anthracycline cardiomiopathy]. Bjulleten sibirskoj mediciny [Bulletin of Siberian Medicine]. 2017;16(3):127-136. https://doi.org/10.20538/1682-0363-2017-3-127-136. (Russian).
Vaykhanskaya TG, Sivitskaya LN, Kurushko TV, Levdansky OD, Danilenko NG. Dilatacionnaja kardiomiopatija: novyj vzgljad na problemu [Dilated cardiomyopathy: reconceptualization of the problem]. Rossijskij kardiologicheskij zhurnal [Russian Journal of Cardiology]. 2019;24(4):35-47. https://doi.org/10.15829/1560-4071-2019-4-35-47. (Russian).
Mikhaylov VS, Bukaeva AA, Rumyantseva VA, Kotlukova NP, Radjabova GM, Balashova MS, Dzemeshkevich SL, Zaklyazminskaya EV. Molekuljarno-geneticheskij analiz gena TTN u detej s dilatacionnoj kardiomiopatiej [Molecular genetic testing of the TTN gene in children with dilated cardiomyopathy]. Klinicheskaja i jeksperimentalnaja hirurgija. Zhurnal imeni akademika BV Petrovskogo [Clinical and experimental surgery. Petrovsky journal]. 2018;6(1):70-76. https://doi.org/10.24411/2308-1198-2018-00010. (Russian).
Vashhenko LN, Ratieva AS. Gvaldin DJ, Novikova IA, Vladimirova LY, Dashkova IR, Tikhanovkaya NM, Potemkin DS. Sovremennye predstavlenija o metodah diagnostiki i profilaktiki antraciklin-oposredovannoj kardiotoksichnosti u bolnyh rakom molochnoj zhelezy [Modern concepts of diagnostic and prevention methods of antracycline-mediated cardiotoxicity in breast cancer patients]. Sovremennye problemy nauki i obrazovanija [Modern problems of science and education] [Internet]. 2019;6. Available from: http://science-education.ru/ru/article/view?id=29347 (Russian).
Rodrigues PG, Miranda-Silva D, Costa SM, Barros C, Hamdani N, Moura C, Mendes MJ, Sousa-Mendes C, Trindade F, Fontoura D, Vitorino R, Linke WA, Leite-Moreira AF, Falcão-Pires XI. Early myocardial changes induced by doxorubicin in the nonfailing dilated ventricle. American Journal of Physiology: Heart and Circulatory Physiology. 2019;316(3):H459-H475. https://doi.org/10.1152/ajpheart.00401.2018.
Garcia-Pavia P, Kim Y, Restrepo-Cordoba MA, Lunde IG, Wakimoto H, Smith AM, Toepfer CN, Getz K, Gorham J, Patel P, Ito K, Willcox JA, Arany Z, Li J, Owens AT, Govind R, Nuñez B, Mazaika E, Bayes-Genis A, Walsh R, Finkelman B, Lupon J, Whiffin N, Serrano I, Midwinter W, et al. Genetic variants associated with cancer therapy-induced cardiomyopathy. Circulation. 2019;140(1):31-41. https://doi.org/10.1161/CIRCULATIONAHA.118.037934.
Leonteva IV. Differencialnaja diagnostika gipertroficheskoj kardiomiopatii [Differential diagnosis of hypertrophic cardiomyopathy]. Rossijskij vestnik perinatologii i pediatrii [Russian Bulletin of Perinatology and Pediatrics]. 2017;62(3):20-31. https://doi.org/10.21508/1027-4065-2017-62-3-20-31. (Russian).
Haggerty CM, Damrauer SM, Levin MG, Birtwell D, Carey DJ, Golden AM, Hatzel DN, Hu Y, Judy R, Kelly MA, Kember RL, Kirchner HL, Leader JB, Liang L, McDermott-Roe C, Babu A, Morley M, Nealy Z, Person TN, Pulenthiran A, Small A, Smelser DT, Stahl RC, Sturm AC, Williams H, et al. Genomics – First Evaluation of Heart Disease Associated with Titin-Truncating Variants. Circulation. 2019;140(1):42-54. https://doi.org/10.1161/CIRCULATIONAHA.119.039573.
Chan BYH, Roczkowsky A, Cho WJ, Poirier M, Sergi C, Keschrumrus V, Churko JM, Granzier H, Schulz R. MMP inhibitors attenuate doxorubicin cardiotoxicity by preventing intracellular and extracellular matrix remodeling. Cardiovascular Research. 2020;116(2):1238-1245. https://doi.org/10.1093/cvr/cvaa017.
Teplyakov AT, Grakova EV, Shilov SN, Berezikova EN, Popova AA. Neupokoeva MN, Kopeva KV, inventors; Tomskij natsionalnyj issledovatelskij meditsinskij tsentr Rossijskoj akademii nauk, assignee. Sposob prognozirovanija antraciklin-inducirovannoj kardiotoksichnosti u zhenshhin s rakom molochnoj zhelezy [Method for prediction of anthracycline-induced cardiotoxicity in women with breast cancer]. RU patent 2714683C1. 2020 Febr 19. (Russian).
Teplyakov AT, Berezikova EN, Shilov SN, Grakova EV, TorimYuYu, Efremov AV, Safronov ID, Pustovetova MG, Karpov RS. Ocenka roli polimorfizma gena matriksnoj metalloproteinazy-3 v razvitii hronicheskoj serdechnoj nedostatochnosti [Assessment of the role of matrix metalloproteinase-3 gene polymorphism in the development of chronic heart failure]. Terapevticheskij arhiv [Therapeutic archive]. 2015;87(4):8-12. https://doi.org/10.17116/terarkh20158748-12. (Russian).
Teplyakov AT, Shilov SN, Popova AA, Berezikova EN, Neupokoeva MN, Grakova EV, Kopeva KV. Prognosticheskoe znachenie biomarkerov predshestvennika mozgovogo natrijureticheskogo peptida i rastvorimogo Fas-ligada v ocenke riska kardiotoksichnosti antraciklinovoj himioterapii [The prognostic value of the NT-proBNP biomarkers and Fas-ligand in assessing the risk of cardiotoxicity of anthracycline chemotherapy]. Kardiovaskuljarnaja terapija i profilaktika [Cardiovascular therapy and prevention]. 2019;18(1):127-133. https://doi.org/10.15829/1728-8800-2019-1-127-133. (Russian).
Kazantseva ML, Oshhepkova EV, Saidova MA, Avalyan AA, Chazova IE. Serdechno-sosudistye oslozhnenija posle protivoopuholevoj terapii u onkologicheskih bolnyh v otdalennye sroki (>1 goda) [Long-term cardiovascular complications in oncologic patients after antitumor therapy (>1 year)]. Evrazijskij kardiologicheskij zhurnal [Eurasian Heart Journal]. 2019;3:50-57. (Russian).
Trushin AY. Trastuzumab-inducirovannaja kardiotoksichnost – mezhdisciplinarnaja problema sovremennoj mediciny [Trastuzumab-induced cardiotoxicity-interdisciplinary problem of modern medicine]. Mezhdunarodnyj nauchno-issledovatelskij zhurnal [International Research Journal]. 2019;82(4-1):118-123. https://doi.org/10.23670/IRJ.2019.82.4.024. (Russian).
Chen B, Zhong L, Roush SF, Pentassuglia L, Peng X, Samaras S, Davidson J, Sawyer D, Lim C. Disruption of a GATA4/Ankrd1 signaling axis in cardiomyocytes leads to sarcomere disarray: implications for anthracycline cardiomyopathy. PLoS One. 2012;7(4):e3574. https://doi.org/10.1371/journal.pone.0035743.
Chan BYH, Roczkowsky A, Moser N, Poirier M, Hughes BG, Ilarraza R, Schulz R. Doxorubicin induces de novo expression of N-terminal-truncated matrix metalloproteinase-2 in cardiac myocytes. Canadian Journal of Physiology and Pharmacology. 2018;96(12):1238-1245. https://doi.org/10.1139/сjpp-2018-0275.
Tabish AM, Azzimato V, Alexiadis A, Buyandelger B, Knoll R. Genetic epidemiology of titin-truncating variants in the etiology of dilated cardiomyopathy. Biophysical Reviews. 2017;9(3):207-223. https://doi.org/10.1007/s12551-017-0265-7.
Henriksen PA. Anthracycline cardiotoxicity: an update on mechanisms, monitoring and prevention. Heart. 2018;104(12):971-977. https://doi.org/10.1136/heartjnl-2017-3121103.
Fan X, Hughes BG, Chan BYH, Launier K, Schulz R. Matrix metalloproteinase-2 in oncostatin M – induced sarcomere degeneration in cardiomyocytes. American Journal of Physiology: Heart and Circulatory Physiology. 2016;311(1):H183-H189. https://doi.org/10.1152/ajpheart.00229.2016.
Armenian SH, Lacchetti C, Barac A, Carver J, Constine LS, Denduluri N, Dent S, Douglas PS, Durand J-B, Ewer M, Fabian C, Hudson M, Jessup M, Jones LW, Ky B, Mayer EL, Moslehi J, Oeffinger K, Ray K, Ruddy K, Daniel L. Prevention and Monitoring of Cardiac Dysfunction in Survivors of Adult Cancer: American Society of Clinical Oncology Clinical Practice Guideline. Journal of Clinical Oncology. 2017;35(8):893-911. https://doi.org/10.1200/JCO.2016.70.5400.
Li S, Zhang C, Liu N, Bai H, Hou C, Song L, Pu J. Titintruncating variants are associated with heart failure events in patients with left ventricular non-compaction cardiomyopathy. Clinical Cardiology. 2019;42(5):530-535. https://doi.org/10.1002/clc23172.
Franaszczyk M, Chmielewski P, Truszkowska G, Stawinski P, Michalak E, Rydzanicz M, SobieszczanskaMalek M, Pollak A, Szczygieł J, Kosinska J, Parulski A, Stoklosa T, Tarnowska A, Machnicki MM, Foss-Nieradko B, Szperl M, Sioma A, Kusmierczyk M, Grzybowski J, Zielinski T, Ploski R, Bilinska Z. Titin Truncating Variants in Dilated cardiomyopathy – Pprevalence and Genotype – Phenotype Correlations. PLoS One. 2017;12(1):e0169007. https://doi.org/10.1371/journal.pone.0169007.
Linschoten M, Teske AJ, Baas AF, Vink A, Dooijes D, Baars HF, Asselbergs FW. Truncating Titin (TTN) Variants in Chemotherapy-Induced Cardiomyopathy. Journal of Cardiac Failure. 2017;23(6):476-479. https://doi.org/10.1016/j.cardfail.2017.03.003.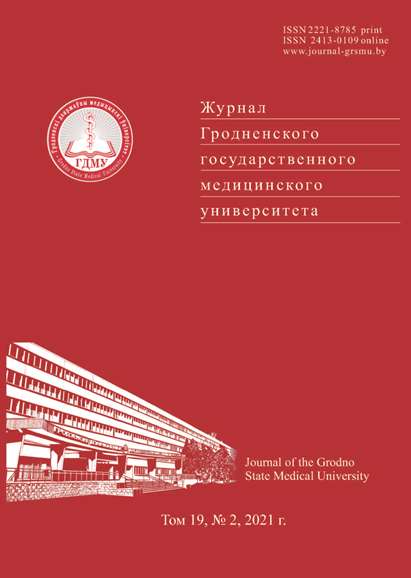 Загрузок PDF: 249
Как цитировать
1.
Карпуть ИА, Снежицкий ВА, Курбат МН, Рубинский АЮ, Смирнова ТА. РОЛЬ ПОЛИМОРФИЗМОВ ГЕНОВ TTN, TTN-TRUNCATION, ММР-2, ММР-3 В РАЗВИТИИ АНТРАЦИКЛИН-ИНДУЦИРОВАННОЙ КАРДИОМИОПАТИИ. Журнал ГрГМУ (Journal GrSMU) [Интернет]. 15 май 2021 г. [цитируется по 30 ноябрь 2023 г.];19(2):135-40. доступно на: http://journal-grsmu.by/index.php/ojs/article/view/2578