ВЛИЯНИЕ КОРВИТИНА НА КИСЛОРОДТРАНСПОРТНУЮ ФУНКЦИЮ И ГАЗОТРАНСМИТТЕРЫ КРОВИ ПРИ ИШЕМИИ- РЕПЕРФУЗИИ НИЖНЕЙ КОНЕЧНОСТИ
Ключевые слова:
ишемия-реперфузия, кислородтранспортная функция, эндатерэктомия, газотрасмиттеры, корвитин
Аннотация
Введение. Ишемия-реперфузия нижних конечностей при атеросклерозе их артерий сопровождается нарушением кислородтранспортной функции (КТФ) и содержания газотрансмиттеров (ГТ) крови, которые нуждаются в адекватной коррекции.
Цель. Изучение влияния корвитина на показатели КТФ и ГТ монооксида азота и сероводорода в венозной крови после реваскуляризации нижней конечности при хронической атеросклеротической окклюзии поверхностной бедренной артерии (ПБА).
Материал и методы. Реваскуляризация нижних конечностей у 103 пациентов выполнялась методом петлевой эндатерэктомии из ПБА. Пациенты I группы (n=52) получали традиционное медикаментозное сопровождение, II (n=51) – корвитин. Показатели КТФК и ГТ в венозной крови нижней и верхней конечностей определялись перед операцией, на третьи и восьмые сутки после нее.
Результаты. Нарастание параметров гипероксемии, гипокапниемии и концентрации ГТ в послеоперационном периоде уменьшается при применении корвитина.
Выводы. Использование корвитина уменьшает нарушения КТФК и содержания ГТ при ишемии-реперфузии нижних конечностей.
Литература
Pokrovskij AV, Abugov SA, Alekjan BG, Arakeljan VS, Belov YuV, Belojarcev DF, Vachjov AN, Volkov SV, Gavrilenko AV, Dan VN, Djuzhikov AA, Eroshkin IA, Zatevahin II, Zolkin VN, Zotikov AE, Kavteladze ZA, Kazakov YuI, Karpenko AA, Katelnickij II, Maksimov AV, Sokurenko GYu, Soroka VV, Timina IE, Hazarov AF, Shipovskij VN, et al. Nacionalnye rekomendacii po vedeniju pacientov s zabolevanijami аrterij nizhnikh коnechnosnej. Мoscow; 2013. 67 p. (Russian).
Мohler III ER, Jaff MR, editors. Zabolevanija perifericheskih arterij. Мoscow: GОEТАR-Меdia; 2010. 224 p. (Russian).
Aboyans V, Ricco JB, Bartelink MEL, Björck M, Brodmann M, Cohnert T, Collet JP, Czerny M, De Carlo M, Debus S, Espinola-Klein C, Kahan T, Kownator S, Mazzolai L, Naylor AR, Roffi M, Röther J, Sprynger M, Tendera M, Tepe G, Venermo M, Vlachopoulos C, Desormais I; ESC Scientific Document Group. 2017 ESC Guidelines on the Diagnosis and Treatment of Peripheral Arterial Diseases, in collaboration with the European Society for Vascular Surgery (ESVS): Document covering atherosclerotic disease of extracranial carotid and vertebral, mesenteric, renal, upper and lower extremity arteries Endorsed by: the European Stroke Organization (ESO) The Task Force for the Diagnosis and Treatment of Peripheral Arterial Diseases of the European Society of Cardiology (ESC) and of the European Society for Vascular Surgery (ESVS). Eur Heart J. 2018;39(9):763-816. https://doi.org/10.1093/eurheartj/ehx095
Behrendt CA, Sigvant B, Szeberin Z, Beiles B, Eldrup N, Thomson IA, Venermo M, Altreuther M, Menyhei G, Nordanstig J, Clarke M, Rieß HC, Björck M, Debus ES. International Variations in Amputation Practice: A VASCUNET Report. Eur J Vasc Endovasc Surg. 2018;56(3):391-399. https://doi.org/10.1016/j.ejvs.2018.04.01
Nebylitsin YS, Lazuka SS, Kutko EA. Sindrom ishemii-reperfuzii nizhnih konechnostej Ischemiareperfusion syndrome of lover limbs]. Vestnik Vitebskogo Gosudarstvennogo Medicinskogo Universiteta [Vestnik of Vitebsk State Medical University]. 2018;17(6):18-31. https://doi.org/10.22263/2312-4156.2018.6.18 (Russian).
Norgren L, Patel MR, Hiatt WR, Wojdyla DM, Fowkes FGR, Baumgartner I, Mahaffey KW, Berger JS, Jones WS, Katona BG, Held P, Blomster JI, Rockhold FW, Björck M; EUCLID Steering Committee and Investigators. Outcomes of Patients with Critical Limb Ischaemia in the EUCLID Trial. Eur J Vasc Endovasc Surg. 2018;55(1):109-117. https://doi.org/10.1016/j.ejvs.2017.11.006
Chesnokova NP, Brill GE, Morrison VV, Bizenkova MN. Mehanizmy reperfuzionnogo povrezhdenija ishemizirovannyh tkanej i vozmozhnosti farmakologicheskoj korrekcii metabolicheskih rasstrojstv pri gipoksicheskih sostojanijah. Nauchnoe obozrenie. Medicinskie nauki [Scientific review. Medical sciences]. 2017;(2):64-66. (Russian).
de Haro J, Acin F, Florez A, Bleda S, Fernandez JL. A prospective randomized controlled study with intermittent mechanical compression of the calf in patients with claudication. J Vasc Surg. 2010;51(4):857-62. https://doi.org/10.1016/j.jvs.2009.10.116
Hirschberg K, Radovits T, Korkmaz S, Loganathan S, Zöllner S, Seidel B, Páli S, Barnucz E, Merkely B, Karck M, Szabó G. Combined superoxide dismutase mimetic and peroxynitrite scavenger protects against neointima formation after endarterectomy in association with decreased proliferation and nitro-oxidative stress. Eur J Vasc Endovasc Surg. 2010;40(2):168-75. https://doi.org/10.1016/j.ejvs.2010.03.024
Каlinin RЕ, Suchkov IA, Pshennikov AS. Endotelialnaja disfunkcija i sposoby еe коrrekcii pri оbliterirueshchem аteroskleroze. Мoscow: GОEТАR-Меdia; 2014. 152 p. (Russian).
Inchina VI, Smirnov LD, Romanov MD. Kokoreva EV, Morozov MY. Angioprotektivnaya aktivnost meksikora meksikora pri obliteriruyushchem ateroskleroze arterij nizhnikh konechnostej Angioprotective activity of mexicor in atherosclerosis obliterans of the lower limbs]. Angiologija i sosudistaja hirurgija [Angiology and vascular surgery]. 2007;13(3):17-20. (Russian).
Ioskevich NN, Moyseenok AG, Zinchuk VV. Pantenol kak sredstvo profilaktiki i lechenija reperfuzionno-reoksigenacionnogo sindroma nizhnih konechnostej [Pantenol effectiveness in reperfusion and reoxygenation syndrome of low extremities]. Zhurnal Grodnenskogo gosudarstvennogo medicinskogo universiteta [Journal of the Grodno State Medical University]. 2009;25(1):77-80. (Russian).
Zasimovich VN, Ioskevich NN. Reperfuzionnoreoksigenacionnyj sindrom kak problema rekonstruktivnoj khirurgii аrterij pri hronicheskoj ishemii nizhnih konechnostej аteroskleroticheskogo geneza [Reperfusion (Reoxygenation) Injury as a Problem of the Artery Reconstructive Surgery in Atherosclerotic Genesis Chronic Ischemia of the Lower Limbs]. Novosti hirurgii [Surgery News]. 2017;25(6):632-642. https://doi.org/10.18484/2305-0047.2017.6.632 (Russian).
Zasimovich VN, Zinchuk VV, Ioskevich NN, Guljai IE. Prooksidantno-antioksidantnoe sostojanie krovi pri hronicheskoj ateroskleroticheskoj okkljuzii poverhnostnoj bedrennoj arterii i posle petlevoj endaterektomii. Novosti mediko-biologicheskih nauk [News of biomedical sciences]. 2020;20(3):108-115. (Russian).
Mishchenko ТS, Dmytriieva OV. Kombinirovannaja terapija preparatami Korvitin i Aksotilin v lechenii bolnyh s ishemicheskim insultom [Combination therapy with Corvitin and Axotilin in the treatment of patients with ischemic stroke]. Mezhdunarodnyj nevrologicheskij zhurnal [International neurological journal]. 2018;95(1):31-36. https://doi.org/10.22141/2224-0713.1.95.2018.127410 (Russian).
Tronko MD, Kuznetsova SM, Cherska MS. Bioflovanoidy v lechenii pacientov s saharnym diabetom 2-go tipa i cerebralnym aterosklerozom. [Bioflavonoids in the treatment of patients with type 2 diabetes mellitus and cerebral atherosclerosis]. Endokrynologia. 2020;25(1):33-41. https://doi.org/10.31793/1680-1466.2020.25-1.33 (Russian).
Mojbenko AA, editor. Bioflavonoidy kak organoprotektoty (kvercitin, korvitin, kvertin). Kiev: Navukova dumka; 2012. 275 p. (Russian).
Haponova TI, Kobeliatsky YuYu, Panchenko HV. Rol korvitina i latrena v profilaktike i terapii reperfuzionnogo sindroma pri rekonstruktivnyh operacijah u pacientov s hronicheskoj ishemiej nizhnih konechnostej [Role of corvitin and latren in the prevention and treatment for reperfusion syndrome in reconstructive surgeries in patients with chronic lower limb ischemia]. Medicina neotlozhnyh sostojanij [Emergency Medicine]. 2015;65(2):120-124. (Russian).
Glebov AN, Zinchuk VV. Znachenie L-arginin-NO sistemy v formirovanii kislorodtransportnoj funkcii krovi [L-arginine-NO system value in forming of blood oxygen-carrying function]. Zhurnal Grodnenskogo gosudarstvennogo medicinskogogo universiteta [Journal of the Grodno State Medical University]. 2005;9(1):3-8. (Russian).
Severinghaus JW. Blood gas calculator. J Appl Physiol. 1966;21(3):1108-16. https://doi.org/10.1152/jappl.1966.21.3.1108
Bryan NS, Grisham MB. Methods to detect nitric oxide and its metabolites in biological samples. Free Radic Biol Med. 2007;43(5):645-57. https://doi.org/10.1016/j.freeradbiomed.2007.04.026
Norris EJ, Culberson CR, Narasimhan S, Clemens MG. The liver as a central regulator of hydrogen sulfide. Shock. 2011;36(3):242-50. https://doi.org/10.1097/SHK.0b013e3182252ee7
Pokrovskij АV, Kazakov YuI, Lukin IB. Kriticheskaja ishemija nizhnih konechnostej. Infraingvinalnoe porazhenie. Tver; 2018. 225 p. (Russian).
Gladwin MT, Kato GJ, Weiner D, Onyekwere OC, Dampier C, Hsu L, Hagar RW, Howard T, Nuss R, Okam MM, Tremonti CK, Berman B, Villella A, Krishnamurti L, Lanzkron S, Castro O, Gordeuk VR, Coles WA, Peters-Lawrence M, Nichols J, Hall MK, Hildesheim M, Blackwelder WC, Baldassarre J, Casella JF; DeNOVO Investigators. Nitric oxide for inhalation in the acute treatment of sickle cell pain crisis: a randomized controlled trial. JAMA. 2011;305(9):893-902. https://doi.org/10.1001/jama.2011.235
Kolesnikov SI, Vlasov BYa, Kolesnikova LI. Serovodorod kak tretja essencialnaya gazovaya molekula zhyvyh tkanej [Hydrogen as a third essential gas molecule in living tissues]. Vestnik Rossijskoj Akademii Medicinskih Nauk [Annals of the Russian Academy of Medical Sciences]. 2015;70(2):237-241. https://doi.org/10.15690/vramn.v70i2.1318 (Russian).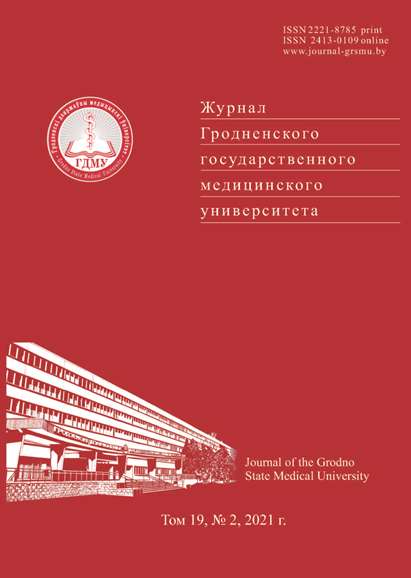 Загрузок PDF: 118
Как цитировать
1.
Засимович ВН, Зинчук ВВ, Иоскевич НН. ВЛИЯНИЕ КОРВИТИНА НА КИСЛОРОДТРАНСПОРТНУЮ ФУНКЦИЮ И ГАЗОТРАНСМИТТЕРЫ КРОВИ ПРИ ИШЕМИИ- РЕПЕРФУЗИИ НИЖНЕЙ КОНЕЧНОСТИ. Журнал ГрГМУ (Journal GrSMU) [Интернет]. 17 май 2021 г. [цитируется по 3 декабрь 2022 г.];19(2):194-01. доступно на: http://journal-grsmu.by/index.php/ojs/article/view/2589
Раздел
ОРИГИНАЛЬНЫЕ ИССЛЕДОВАНИЯ