КИСЛОРОДЗАВИСИМЫЕ АСПЕКТЫ ФИЗИОЛОГИЧЕСКИХ ЭФФЕКТОВ ДЕЙСТВИЯ МАГНИТНОГО ПОЛЯ
В. О. Лепеев

УО "Гродненский государственный медицинский университет"

В. В. Зинчук

УО "Гродненский государственный медицинский университет"
Аннотация
Проведен анализ литературных и собственных данных исследовании кислородзависимых аспектов физиологических эффектов магнитного поля на организм. В экспериментах in vitro и in vivo выявлен эффект данного физического фактора на кислородтранспортную функцию крови, проявляющуюся в увеличении степени ее насыщения кислородом, его содержания, pO2 и в уменьшении сродства гемоглобина к кислороду. Действие магнитного поля изменяет функциональные свойства гемоглобина, в частности, через NO-ергические механизмы и сероводород/цистеин/цистин путь. Противогипоксическое действие магнитного поля реализуется при участии внутриэритроцитарных газотрансмиттерных механизмов, что обосновывает его применение во врачебной практике.
Литература
Rudykina OA, Grekhov RA, Suleymanova GP, Adamovich EI. Jelektromagnitnoe pole i ego vlijanie na fziologicheskie processy v organizme cheloveka [Electromagnetic feld and its infuence on physiology of human body]. Vestnik Volgogradskogo gosudarstvennogo universiteta. Serija 11: Estestvennye nauki [Science Journal of Volgograd State University. Natural sciences]. 2016;3(17):54-62. https://doi.org/10.15688/jvolsu11.2016.3.7. (Russian).
Ulashhik VS, Pletnev AS, Voychenko N, Pletnev SV; Ulashhik VS, ed. Magnitoterapija: teoreticheskie osnovy i prakticheskoe primenenie. Minsk: Beloruskaya navuka; 2015. 379 р. (Russian).
Wang H, Zhang X. Magnetic Fields and Reactive Oxygen Species. International Journal of Molecular Sciences. 2017;18(10):2175. doi: 10.3390/ijms18102175.
Kirichuk VF, Cymbal AA. Zakonomernosti i mehanizmy biologicheskogo dejstvija jelektromagnitnyh voln teragercevogo diapazona [Internet]. Saratov: Izdatelsvo Saratovskogo gosudarstvennogo medicinskogo universiteta; 2015. 291 р. Available from: https://docplayer.ru/20132547-V-f-kirichuk-a-a-cym-bal-zakonomernosti-i-mehanizmy-biologicheskogo-deyst-viya-elektromagnitnyh-voln-teragercevogo-diapazona.html. (Russian).
Gorodeckaja OS, Chandra D-Mello R. Vlijanie obshhej magnitoterapii na perekisnoe okislenie lipidov i antioksidantnuju sistemu zashity u bolnyh s hronicheskim jendometritom [The infuence of general magnetic therapy on lipid peroxidation of lipids and antioxidant system of protection patients with chronic endometritis]. Medicinskij almanah [Medical Almanac]. 2012;(5):87-90. (Russian).
Volotovskaja AV, Ulashhik VS, Pletnev AS. Metodiki nizkochastotnoj magnitoterapii s primeneniem apparata «OrtoSPOK». Minsk: Research Institute of Radiology; 2013. 20 p. (Russian).
Kireev SI, Imamov AM, Belonogov VN, Kireev VS, Imamova DA. Primenenie TGCh-terapii v kompleksnoj posleoperacionnoj reabilitacii pacientov so staticheskimi deformacijami stop [The rahertz therapy practice in the complex postsurgical rehabilitation of patients with static foot deformities]. Vestnik novyh medicinskih tehnologij [Journal of New Medical Technologies]. 2015;22(1):67-74. (Russian).
Surma SV, Shchegolev BF, Vasilieva OV, Rubanova NS, Tsyrlin VA. Slabye nizkochastotnye magnitnye polja v biologii i medicine [Weak low-frequency magnetic felds in biology and medicine]. Bjulleten federalnogo centra serdca, krovi i jendokrinologii imeni VA Almazova [Bulletin Almazov Federal Heart, Blood and Endocrinology Centre]. 2011;2:25-29.
Ostapenko VA, Pletnev SV. Biologicheskoe dejstvie magnitnyh polej [Biological effect of magnetic felds]. Jefferentnaja terapija [Efferent therapy]. 2004;10(4):21-24. (Russian).
Zalesskaja GA; Ulashhik VS, ed. Fotomodifkacija krovi terapevticheskimi dozami opticheskogo izluchenija. Minsk: Belaruskaja navuka; 2014. 198 р. (Russian).
Maksimenko AV, Yakubtsevich RJe, Spas VV, Kuznetsov OE, Bogdanovich VC, Rudinskaya OA, Dobrenko LCh. Vozmozhnosti magnitnoj obrabotki krovi v korrekciii jeritropojeza i obmena zheleza pri hronicheskoj bolezni pochek na dodializnom jetape [Magnetic blood exposure potential for erythropoesis and ferrum metabolism correction in chronic kidney disease at pre-dialysis stage]. Jefferentnaja terapija [Efferent therapy]. 2008;14(1-2):31-34. (Russian).
Arcruni GG, Saakjan GV, Pogosjan GA. In vitro vozdejstvie vneshnego jelektrostaticheskogo polja na fzicheskie parametry jeritrocitarnyh membrane [The in vitro infuence of the external electrostatic feld on the physical parameters of erythrocyte membranes]. Biofzika [Biophysics]. 2013;58(6):1022-1027. (Russian).
Ceijka E, Gorąca A, Michalska M, Kostka B. The effects of low magnetic feld on select parameters of blood coagulation. Polski Merkuriusz Lekarski. 2005;19(110):148-151.
Spas VV, Yakubtsevich RJe. Respiratornyj distress-sindrom vzroslyh. Minsk: Ipati; 2007. 229 р. (Russian).
Pletnev AS, Portugalov SN. Vosstanovitelnaja nizkochastotnaja magnitoterapija v uchebnotrenirovochnom processe vysokokvalifcirovannyh sportsmenov. [Low-frequency magnetic therapy in training process of elite athletes]. Vestnik sportivnoj nauki [Sports science bulletin]. 2008;(2):35-38. (Russian).
Kruchinskij NG, Ostapenko VA, Teplyakov AI, Pletnev SV. Metod jekstrakorporalnoj autogemomagnitoterapii v kompleksnom lechenii narushenij sostojanija sistemy gemostaza i reologii krovi u pacientov s ishemicheskimi porazhenijami serdca i mozga [Method of extracorporal autohemomagne-totherapy in complex treatment of disturbances of the state of hemostasis and rheology of blood in patients with ischemic lesions of the heart and the brain]. Jefferentnaja terapija [Efferent therapy]. 2005;11(3):28-33. (Russian).
Yakubtsevich RJe, Spas VV. Kislorodnyj status organizma pri vozdejstvii magnitnoj obrabotki krovi u bolnych respiratornym distress-sindromom vzroslyh pri sepsise. Medicinskie novosti [Medical News]. 2006;4:116-119. (Russian).
Zinchuk VV, Glutkina NV. Kislorodsvjazyvajushhie svojstva krovi i monooksida azota [Oxygen-binding capacities of hemoglobin and nitric oxide]. Rossijskij fziologicheskij zhurnal imeni IM Sechenova [Neuroscience and Behavioral Physiology]. 2013;99(5):537-554. (Russian).
Zinchuk VV, Stepuro TL; Zinchuk VV, ed. NO-zavisimye mehanizmy vnutrijeritrocitarnoj reguljacii srodstva gemoglobina k kislorodu. Grodno: GrGMU; 2016. 175 p. (Russian).
Lepeev VO, Zinchuk VV. Jeffekt magnitnogo polja na kislorodtransportnuju funkciju krovi v opytah in vitro [The effect of magnetic feld on the blood oxygen–transport function in vitro]. Novosti medico-biologicheskih nauk [News of medical and biological sciences]. 2013;(2):96-101. (Russian).
Zinchuk VV, Lepeev VO, Guljaj IJe. Uchastie gazotrasmitterov v modifkacii kislorodtransportnoj funkcii krovi pri dejstvii magnitnogo polja [Participation of gaseous transmitters in blood oxygen transport function modifcation under the infuence of magnetic feld]. Rossijskij fziologicheskij zhurnal imeni IM Sechenova [Neuroscience and Behavioral Physiology]. 2016;102(10):1176-1184. (Russian).
Gusakova SV, Smagliy SV, Birulina YG, Kovalev IV, Nosarev AV, Petrova IV, Reutov VP. Molekuljarnye mehanizmy dejstvija gazotransmitterov NO, CO i H2S v gladkomyshechnyh kletkah i vlijanie NO-generirujushhih soedinenij (nitratov i nitritov) na srednjuju prodolzhitelnost zhizni [Molecular Mechanisms of Action of Gas Transmitters NO, CO and H2S in Smooth Muscle Cells and Effect of NO-generating Compounds (Nitrates and Nitrites) on Average Life Expectancy]. Uspehi fziologicheskih nauk. 2017;48(1):24-52. (Russian).
Zinchuk VV, Lepeev VO. Jeffekt serovodoroda na kislorodtransportnuju funkciju krovi v uslovijah dejstvija magnitnogo polja [Magnetic feld effect on blood oxygen transport function under impact of a donor of hydrogen sulphide]. Fіzіologіchnij zhurnal. 2017;63(4):30-36. (Russian).
Lowicka E, Beltowski J. Hydrogen sulfde – the third gas of interest for pharmacologists. Pharmacological Reports. 2007;59(1):4-24.
Kolluru GK, Prasai PK, Kaskas AM, Letchuman V, Pattillo CB. Oxygen tension, H2S, and NO bioavailability: is there an interaction? Journal of Applied Physiology. 2016;120(2):263-270. doi: 10.1152/japplphysiol.00365.2015.
Kimura H. Metabolic turnover of hydrogen sulfde [Internet]. Frontiers in Physiology. 2012;3:101. Available from: https://www.frontiersin.org/ articles/10.3389/fphys.2013.00027/full. doi: 10.3389.fphys.2012.00101.
Nagpure BV, Bian J-S. Interaction of Hydrogen Sulfde with Nitric Oxide in the Cardiovascular System [Internet]. Oxidative Medicine and Cellular Longevity. 2016;2016:6904327. doi: 10.1155/2016/6904327.
Zinchuk VV, Lepeev VO. Jeffekt magnitnogo polja na kislorodtransportnuju funkciju krovi i sistemu gazotrasmitterov v opytah in vitro [In vitro magnetic feld effect on blood oxygen transport function and gaseous transmitters system]. Biofzika [Biophysics]. 2018;63(3):567-572. (Russian).
Marx SO, Reiken S, Hisamatsu Y, Jayaraman T, Burkhoff D, Rosemblit N, Marks AR. Protein kinase A phosphorylation dissociates FKBP12.6 from the calcium release channel (ryanodine receptor): defective regulation in failing hearts. Cell. 2000;101(4):365-376. doi.org/10.1016/S0092–8674(00)80847–8.
Geng B, Chang L, Pan C, Qi Y, Zhao J, Pang Y, Du J, Tang C. Endogenous hydrogen sulfde regulation of myocardial injury induced by isoproterenol. Biochemical and Biophysical Research Communications. 2004;318(3):756-763. doi.org/10.1016/j.bbrc.2004.04.094.
Zhu YZ, Wang ZJ, Ho P, Loke YY, Zhu YC, Huang SH, Tan CS, Whiteman M, Lu J, Moore PK. Hydrogen sulfde and its possible roles in myocardial ischemia in experimental rats. Journal of Applied Physiology. 2007;102(1):261-268. doi: 10.1152/japplphysiol.00096.2006.
Pan TT, Feng ZN, Lee SW, Moore PK, Bian JS. Endogenous hydrogen sulfde contributes to the cardioprotection by metabolic inhibition preconditioning in the rat ventricular myocytes. Journal of Molecular and Cellular Cardiology. 2006;40(1):119-130. doi: 10.1016/j.yjmcc.2005.10.003.
Storz JF, Moriyama H. Mechanisms of Hemoglobin Adaptation to High Altitude Hypoxia. High Altitude Medicine and Biology. 2008;9(2):148-157. doi: 10.1089/ham.2007.1079.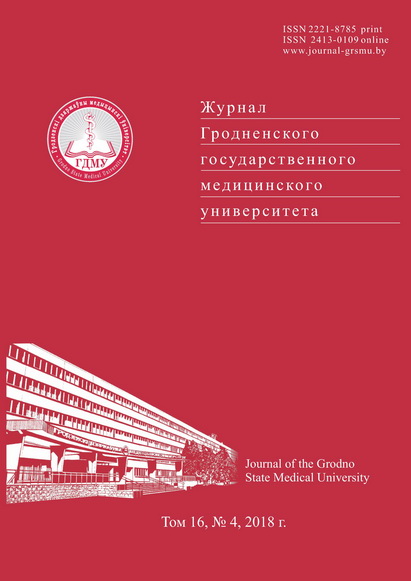 Загрузок PDF: 174
Как цитировать
1.
Лепеев ВО, Зинчук ВВ. КИСЛОРОДЗАВИСИМЫЕ АСПЕКТЫ ФИЗИОЛОГИЧЕСКИХ ЭФФЕКТОВ ДЕЙСТВИЯ МАГНИТНОГО ПОЛЯ. Журнал ГрГМУ (Journal GrSMU) [Интернет]. 7 сентябрь 2018 г. [цитируется по 7 июнь 2023 г.];16(4):394-00. доступно на: http://journal-grsmu.by/index.php/ojs/article/view/2291