ОСОБЕННОСТИ ДИАГНОСТИКИ И ЛЕЧЕНИЯ ИЛИОПСОИТА У ПАЦИЕНТА С САХАРНЫМ ДИАБЕТОМ. СЛУЧАЙ ИЗ ПРАКТИКИ
Л. В. Никонова

УО "Гродненский государственный медицинский университет", Гродно, Беларусь

С. В. Тишковский

УО "Гродненский государственный медицинский университет", Гродно, Беларусь

https://orcid.org/0000-0002-6970-276X

Э. В. Давыдчик

УО "Гродненский государственный медицинский университет", Гродно, Беларусь

О. Н. Мартинкевич

Гродненская университетская клиника, Гродно, Беларусь

Е. Т. Волкова

Гродненская университетская клиника, Гродно, Беларусь

О. А. Шидловская

Ошмянская центральная районная больница, Ошмяны, Беларусь
Ключевые слова:
илиопсоит, бактериальные инфекции, сахарный диабет, гипергликемия, гликированный гемоглобин, SARS-CoV-2
Аннотация
Приводится клинический случай илиопсоита, выявленного при госпитализации в эндокринологическое отделение УЗ «Гродненская университетская клиника». В работе изложена тактика обследования и успешного лечения илиопсоита у пациента с сахарным диабетом и SARS-CoV-2.
Литература
Kochetov GP, Baleev MS, Mitrofanova NN, Melnikov VL. Aktualnye voprosy diagnostiki, lechenija i posledujushhej reabilitacii bolnyh s gnojnym ileopsoitom [Current issues of diagnosis, treatment and subsequent rehabilitation of patients with purulent iliopsoas]. Fundamentalnye issledovanija [Fundamental research]. 2015;1(9):1858-1860. (Russian).
Kuznecov AG, Smotrin SM. Gnojnyj ileopsoit: voprosy jetiologii, diagnostiki i lechenija [Purulent ileopsoitis: questions of etiology, diagnosis and treatment]. Hirurgija. Vostochnaja Evropa [Surgery. Eastern Europe]. 2017;6(3):314-325. (Russian).
Vojno-Jaseneckij VF. Ocherki gnojnoj hirurgii [Essays on purulent surgery]. Sankt-Peterburg: Nevskij Dialekt, Moskva: BINOM, Simferopol: AZ-PRESS; 2000. 704 p. (Russian).
Gostischev VK. Operativnaja gnojnaja hirurgija : rukovodstvo dlja vrachej. Moskva: Medicine; 1997. 383 p. (Russian).
Soloviev AA, Petrushin VV, Gajduk VP, Zotov IV, Pchelkin VA, Sinyakov VF. Sluchai gnojnyh iliopsoitov u voennosluzhashhih [Cases of pyogenic ileopsoas abscesses in military men]. Vestnik hirurgii im. II Grekova [Grekov's bulletin of surgery]. 2008;1:100-104. (Russian).
Davidov MI, Tokarev MV. Ostryj gnojnyj iliopsoit i ego otlichija ot ostrogo paranefrita [Acute purulent iliopsoite and itsdifferences from acute paranephritis]. Jeksperimentalnaja i klinicheskaja urologija [Experimental and Clinical Urology]. 2016;2:100-105. (Russian).
Kurbonov OM. Osobennosti techenija gnojnyh hirurgicheskih zabolevanij pri saharnom diabete [Peculiarities of the course of purulent surgical diseases in diabetes]. Novyj den v medicine [New day in medicine]. 2020;2(30):167-170. (Russian).
Dedov II, Melnichenko GA. editors. Jendokrinologija. Nacionalnoe rukovodstvo. Kratkoe izdanie [Endocrinology. National leadership. Brief Edition]. 2nd. еd. Moskva: GJeOTAR-Media; 2018. 832 р. (Russian).
Zanozina OV, Borovkov NN, Shherbatjuk TG. Svobodnoradikalnoe okislenie pri saharnom diabete 2-go tipa: istochniki obrazovanija, sostavljajushhie, patogeneticheskie mehanizmy toksichnosti [Free-radical oxidation at a diabetes mellitus of the 2nd type: sources of formation, components, pathogenetic mechanisms of toxicity]. Sovremennye tehnologii v medicine [Modern technologies in medicine]. 2010;3:104-112. (Russian).
Avzaletdinova DS, Sharipova LF, Kochetova OV, Morugova TV, Mustafina OE. Associacija allelej gena adiponektina s saharnym diabetom 2 tipa u zhitelej Bashkortostana [Association of adiponectin gene alleles with type 2 diabetes mellitus in residents of Bashkortostan]. Problemy jendokrinologii [Problems of endocrinology]. 2019;1:31-38. https://doi.org/10.14341/probl9426. (Russian).
Adverse events and their association with treatment regimens in the diabetes control and complications trial. Diabetes Care. 1995;18(11):1415-27. https://doi.org/10.2337/diacare.18.11.1415.
Hirji I, Guo Z, Andersson SW, Hammar N, GomezCaminero A. Incidence of urinary tract infection among patients with type 2 diabetes in the UK General Practice Research Database (GPRD). J Diabetes Complications. 2012;26(6):513-516. https://doi.org/10.1016/j.jdiacomp.2012.06.008.
Chávez-Reyes J, Escárcega-González CE, Chavira-Suárez E, León-Buitimea A, Vázquez-León P, Morones Ramírez JR, Villalón CM, Quintanar-Stephano A, MarichalCancino BA. Susceptibility for Some Infectious Diseases in Patients with Diabetes: The Key Role of Glycemia. Front Public Health. 2021;9:559595. https://doi.org/10.3389/fpubh.2021.559595.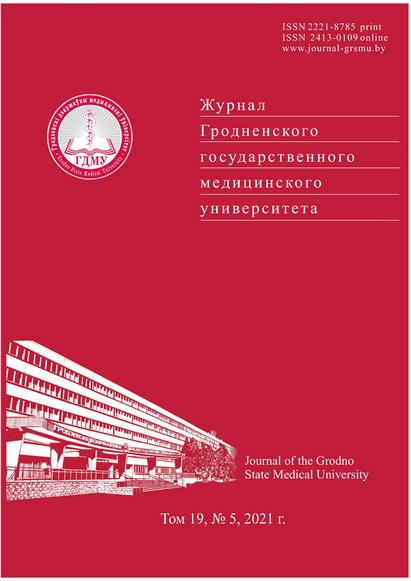 Загрузок PDF: 143
Как цитировать
1.
Никонова ЛВ, Тишковский СВ, Давыдчик ЭВ, Мартинкевич ОН, Волкова ЕТ, Шидловская ОА. ОСОБЕННОСТИ ДИАГНОСТИКИ И ЛЕЧЕНИЯ ИЛИОПСОИТА У ПАЦИЕНТА С САХАРНЫМ ДИАБЕТОМ. СЛУЧАЙ ИЗ ПРАКТИКИ. Журнал ГрГМУ (Journal GrSMU) [Интернет]. 3 ноябрь 2021 г. [цитируется по 10 декабрь 2023 г.];19(5):546-9. доступно на: http://journal-grsmu.by/index.php/ojs/article/view/2707
Раздел
СЛУЧАЙ ИЗ ПРАКТИКИ