СЕРДЕЧНО-СОСУДИСТАЯ ПАТОЛОГИЯ У ПАЦИЕНТОВ С COVID-19. ЧАСТЬ 2
Аннотация
Вспышка COVID-19, вызванная SARS-CoV-2, представляет собой величайшую медицинскую проблему современности. Наличие у пациента сопутствующей сердечно-сосудистой патологии (ССП) предрасполагает к тяжелому течению и формированию неблагоприятных исходов COVID-19. В настоящее время известно, что инфекция SARS-CoV-2 приводит, с одной стороны, к обострению и декомпенсации уже имеющихся у пациента заболеваний сердечно-сосудистой системы (ССС), с другой стороны, к возникновению острой ССП. Понимание воздействия COVID-19 на ССС необходимо для оказания комплексной медицинской помощи тяжелобольным пациентам. В этом обзоре мы суммируем быстро меняющиеся данные о ССП, связанной с COVID-19.
Литература
Driggin E, Madhavan MV, Bikdeli B, Chuich T, Laracy J, Biondi-Zoccai G, Brown TS, Der Nigoghossian C, Zidar DA, Haythe J, Brodie D, Beckman JA, Kirtane AJ, Stone GW, Krumholz HM, Parikh SA. Cardiovascular considerations for patients, health care workers, and health systems during the coronavirus disease 2019 (COVID-19) pan- demic. J Am Coll Cardiol. 2020;75(18):2352-2371. https://doi.org/10.1016/j.jacc.2020.03.031.
Zeng JH, Liu YX, Yuan J, Wang FX, Wu WB, Li JX, Wang LF, Gao H, Wang Y, Dong CF, Li YJ, Xie XJ, Feng C, Liu L. First case of COVID-19 complicated with fulminant myocarditis: a case report and insights. Infection. 2020;48(5):773-777. https://doi.org/10.1007/s15010-020-01424-5.
Wichmann D, Sperhake JP, Lütgehetmann M, Steurer S, Edler C, Heinemann A, Heinrich F, Mushumba H, Kniep I, Schröder AS, Burdelski C, de Heer G, Nierhaus A, Frings D, Pfefferle S, Becker H, Bredereke-Wiedling H, de Weerth A, Paschen HR, Sheikhzadeh-Eggers S, Stang A, Schmiedel S, Bokemeyer C, Addo MM, Aepfelbacher M, et al. Autopsy Findings and Venous Thromboembolism in Patients with COVID-19. Ann Intern Med. 2020;173(4):268-277. https://doi.org/10.7326/M20-2003.
Tavazzi G, Pellegrini C, Maurelli M, Belliato M, Sciutti F, Bottazzi A, Sepe PA, Resasco T, Camporotondo R, Bruno R, Baldanti F, Paolucci S, Pelenghi S, Iotti GA, Mojoli F, Arbustini E. Myocardial localization of coronavirus in COVID-19 cardiogenic shock. Eur J Heart Fail. 2020;22(5):911-915. https://doi.org/10.1002/ejhf.1828.
Puelles VG, Lütgehetmann M, Lindenmeyer MT, Sperhake JP, Wong MN, Allweiss L, Chilla S, Heinemann A, Wanner N, Liu S, Braun F, Lu S, Pfefferle S, Schröder AS, Edler C, Gross O, Glatzel M, Wichmann D, Wiech T, Kluge S, Pueschel K, Aepfelbacher M, Huber TB. Multiorgan and Renal Tropism of SARS-CoV-2. N Engl J Med. 2020;383(6):590-592. https://doi.org/10.1056/NEJMc2011400.
Yao XH, Li TY, He ZC, Ping YF, Liu HW, Yu SC, Mou HM, Wang LH, Zhang HR, Fu WJ, Luo T, Liu F, Guo QN, Chen C, Xiao HL, Guo HT, Lin S, Xiang DF, Shi Y, Pan GQ, Li QR, Huang X, Cui Y, Liu XZ, Tang W, et al. A pathological report of three COVID-19 cases by minimal invasive autopsies. Zhonghua Bing Li Xue Za Zhi. 2020;49(5):411- 412. https://doi.org/10.3760/cma.j.cn112151-20200312-00193.
Sala S, Peretto G, Gramegna M, Palmisano A, Villatore A, Vignale D, De Cobelli F, Tresoldi M, Cappelletti AM, Basso C, Godino C, Esposito A. Acute myocarditis presenting as a reverse Tako-Tsubo syndrome in a patient with SARS-CoV-2 respiratory infection. Eur Heart J. 2020;41(19):1861-1862. https://doi.org/10.1093/eurheartj/ehaa286.
Guan W, Ni Z, Hu Yu, Liang W, Ou C, He J, Liu L, Shan H, Lei C, Hui DSC, Du B, Li L, Zeng G, Yuen K.-Y, Chen R, Tang C, Wang T, Chen P, Xiang, Li JS, Wang J, Liang Z, Peng Y, Wei L, Liu Y, et al. Clinical characteristics of coronavirus disease 2019 in China. N Engl J Med. 2020;382:1708-1720. https://doi.org/10.1056/NEJMoa2002032.
Ruan Q, Yang K, Wang W, Jiang L, Song J. Clinical pre- dictors of mortality due to COVID-19 based on an analysis of data of 150 patients from Wuhan, China. Intens Care Med. 2020;46(5):846-848. https://doi.org/10.1007/s00134-020-05991-x.
Oudit GY, Kassiri Z, Jiang C, Liu PP, Poutanen SM, Penninger JM, Butany J. SARS-coronavirus modulation of myocardial ACE2 expression and inflammation in patients with SARS. Eur J Clin Invest. 2009;39(7):618-625. https://doi.org/10.1111/j.1365-2362.2009.02153.x
Kalatsei LV, Snezhitskiy VA, Ardashev AV. Algoritmy medikamentoznoj terapii koronavirusnoj infekcii (COVID-19) u pacientov s udlineniem intervala QT [Сoronavirus disease (COVID-19) treatment algorithms in patients with QT interval prolongation]. Zhurnal Grodnenskogo gosudarstvennogo medicinskogo universiteta [Journal of the Grodno State Medical University]. 2020;18(2):203-210. https://doi.org/10.25298/2221-8785-2020-18-2-203-210. (Russian).
Du Y, Tu L, Zhu P, Mu M, Wang R, Yang P, Wang X, Hu C, Ping R, Hu P, Li T, Cao F, Chang C, Hu Q, Jin Y, Xu G. Clinical features of 85 fatal cases of COVID-19 from Wuhan: a retrospective observational study. Am J Respir Crit Care Med. 2020;201(11):1372-1379. https://doi.org/10.1164/rccm.202003-0543OC.
Aromolaran AS, Srivastava U, Alí A, Chahine M, Lazaro D, El-Sherif N, Capecchi PL, Laghi-Pasini F, Lazzerini PE, Boutjdir M. Interleukin-6 inhibition of hERG under- lies risk for acquired long QT in cardiac and systemic inflammation. PLoS ONE. 2018;13(12):e0208321. https://doi.org/10.1371/journal.pone.0208321.
Lazzerini PE, Boutjdir M, Capecchi PL. COVID-19, arrhythmic risk and inflammation: mind the gap. Circulation. 2020;142(1):7-9. https://doi.org/10.1161/CIRCULATIONAHA.120.047293.
Lazzerini PE, Laghi-Pasini F, Boutjdir M, Capecchi PL. Cardioimmunology of arrhythmias: the role of autoimmune and inflammatory cardiac channelopathies. Nat Rev Immunol. 2019;19(1):63-64. https://doi.org/10.1038/s41577-018-0098-z.
Cortegiani A, Ingoglia G, Ippolito M, Giarratano A, Einav S. A systematic review on the efficacy and safety of chlo- roquine for the treatment of COVID-19. J Crit Care. 2020;57:279-283. https://doi.org/10.1016/j.jcrc.2020.03.005.
Chinello P, Petrosillo N, Pittalis S, Biava G, Ippolito G, Nicastri E. QTc interval prolongation during favipiravir therapy in an Ebolavirus-infected patient. PLoSNegl Trop Dis. 2017;11(12):e0006034. https://doi.org/10.1371/journal.pntd.0006034.
Geleris J, Sun Y, Platt J, Zucker J, Baldwin M, Hripcsak G, Labella A, Manson DK, Kubin C, Barr RG, Sobieszczyk ME, Schluger NW. Observational Study of Hydroxychloroquine in Hospitalized Patients with Covid-19. N Engl J Med. 2020;382(25):2411-2418. https://doi.org/10.1056/NEJMoa2012410.
Taccone FS, Gorham J, Vincent JL. Hydroxychloroquine in the management of critically ill patients with COVID-19: the need for an evidence base. Lancet. 2020;8(6):539-541. https://doi.org/10.1016/S2213-2600(20)30172-7.
Szekely Y, Lichter Y, Taieb P, Banai A, Hochstadt A, Merdler I, Gal Oz A, Rothschild E, Baruch G, Peri Y, Arbel Y, Topilsky Y. The Spectrum of Cardiac Manifestations in Coronavirus Disease 2019 (COVID-19) – A Systematic Echocardiographic Study. Circulation. 2020;142(4):342- 353. https://doi.org/10.1161/CIRCULATIONAHA.120.047971.
Chen T, Wu D, Chen H, Yan W, Yang D, Chen G, Ma K, Xu D, Yu H, Wang H, Wang T, Guo W, Chen J, Ding C, Zhang X, Huang J, Han M, Li S, Luo X, Zhao J, Ning Q. Clinical characteristics of 113 deceased patients with coronavirus disease2019: retrospective study. BMJ. 2020;368:1091. https://doi.org/10.1136/bmj.m1091.
Wu Q, Zhou L, Sun X, Yan Z, Hu C, Wu J, Xu L, Li X, Liu H, Yin P, Li K, Zhao J, Li Y, Wang X, Li Y, Zhang Q, Xu G, Chen H. Altered lipid metabolism in recovered SARS patients twelve years after infection. Sci Rep. 2017;7(1):9110. https://doi.org/10.1038/s41598-017-09536-z.
Corrales-Medina VF, Alvarez KN, Weissfeld LA, Angus DC, Chirinos JA, Chang CC, Newman A, Loehr L, Folsom AR, Elkind MS, Lyles MF, Kronmal RA, Yende S. Association between hospitalization for pneumonia and subsequent risk of cardiovascular disease. JAMA. 2015;313(3):264-274. https://doi.org/10.1001/jama.2014.18229.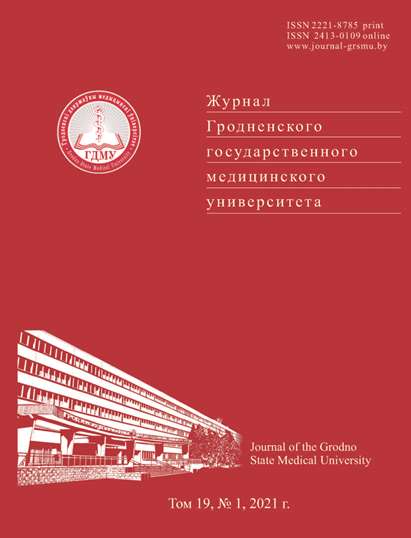 Загрузок PDF: 203
Как цитировать
1.
Голышко ВС, CнежицкийВА, Матиевская НВ. СЕРДЕЧНО-СОСУДИСТАЯ ПАТОЛОГИЯ У ПАЦИЕНТОВ С COVID-19. ЧАСТЬ 2. Журнал ГрГМУ (Journal GrSMU) [Интернет]. 12 март 2021 г. [цитируется по 7 декабрь 2022 г.];19(1):5-. доступно на: http://journal-grsmu.by/index.php/ojs/article/view/2424