ПРОГНОЗИРОВАНИЕ ЭФФЕКТИВНОСТИ ПИРОГЕНАЛОТЕРАПИИ У ПАЦИЕНТОВ С ХРОНИЧЕСКИМ ГЕПАТИТОМ С
С. А. Черняк

УО "Гродненский государственный медицинский университет"

В. М. Цыркунов

УО "Гродненский государственный медицинский университет"

Е. М. Дорошенко

УО "Гродненский государственный медицинский университет"

А. В. Копыцкий

УО "Гродненский государственный медицинский университет"
Аннотация
Введение. Пациенты с хроническим гепатитом С (ХГС) находятся в группе риска формирования цирроза печени и нуждаются в адекватной антифиброзной терапии.
Цель исследования – разработать способ прогнозирования эффективности антифиброзной терапии пирогеналом у пациентов с рецидивом ХГС.
Материал и методы. У 36 пациентов с ХГС перед стартом терапии пирогеналом проводилась пирогеналовая проба с последующей оценкой сывороточных уровней таурина, гамма-аминомасляной кислоты, лейцина, 3-метокси-4-гидроксифенилгликоля и триптофана методом высокоэффективной жидкостной хроматографии. Пациенты проходили курс антифиброзной терапии пирогеналом, динамика фиброза оценивалась по сывороточным значениям ТИМП-1.
Результаты. Построено уравнение логистической регрессии прогнозирования эффективности антифиброзной терапии ХГС с бинарным откликом с пробит-функцией связи. Модель предсказывает положительную либо отрицательную динамику сывороточного уровня ТИМП-1 после проведения пирогеналотерапии.
Выводы. Для прогнозирования ответа на антифиброзную терапию пирогеналом у пациентов с ХГС рекомендуется использовать данную модель совместно с моделью, предсказывающей динамику индекса APRI.
Литература
VOZ. Globalnyj doklad po gepatitu, 2017 g.: rabochee rezjume. [Global Report on Hepatitis, 2017: Executive Summary]. Geneva: VOZ; 2017. 2 p.
Facciorusso A, Del Prete V, Turco A, Buccino RV, Nacchiero MC, Muscatiello N. Long-term liver stiffness assessment in HCV patients undergoing antiviral therapy: Results from a 5-year cohort study. Journal of Gastroenterology and Hepatology [Internet]. 2017. Available from: https://www.ncbi.nlm.nih. gov/pubmed/28976021. (accessed 19.12.2017).
Mettke F, Schlevogt B, Deterding K, Wranke A, Smith A, Port K, Manns MP, Vogel A, Cornberg M, Wedemeyer H. Interferon-free therapy of chronic hepatitis C with direct-acting antivirals does not change the short-term risk for de novo hepatocellular carcinoma in patients with liver cirrhosis. Alimentary Pharmacology & Therapeutics. 2018;47(4)4:516-525. doi: 10.1111/apt.14427.
Adamenko EI, Silivonchik NN, Popova OP, Poleshko GD, Kuvaeva ZI. Sostav svobodnyh aminokislot syvorotki krovi u bolnyh cirrozom pecheni. Medicinskij zhurnal [Medical Journal]. 2005;11(1):16-19. (Russian).
Antonenko OM. Pechenochnaja jencefalopatija: osobennosti techenija i korrekcii metabolicheskih narushenij. Hirurgija. Prilozhenie k zhurnalu Consilium Medicum [Surgery. Supplement to the journal Consilium Medicum]. 2010;2:19-23.
Glagovskij PB, Mamedov IS, Toguzov RT. Osnovnye metabolity adrenalina, noradrenalina, dofamina i serotonina v laboratornoj diagnostike narkomanij. Kliniko-laboratornyj konsilium [Clinical laboratory consultation]. 2010;1:27-34. (Russian).
Shih EV, Mahova AA, Shumjanceva VV. Vozmozhnosti ispolzovanija taurina v kachestve sredstva, preduprezhdajushhego lekarstvennoe porazhenie pecheni. Russkij medicinskij zhurnal [Russian Medical Journal]. 2015;23(13):754-758. (Russian).
Abdikerimov MM, Zholdoshev ST. Sravnitelnaja harakteristika gormonalnogo statusa u bolnyh HGS. Mezhdunarodnyj zhurnal prikladnyh i fundamental'nyh issledovanij [International Journal of Applied and Fundamental Research]. 2016;1:29-31. (Russian).
Shaposhnikov AM, Halchickij SE. Vozmozhnosti ispolzovanija taurina v kachestve sredstva, preduprezhdajushhego lekarstvennoe porazhenie pecheni. Estestvennye i tehnicheskie nauki [Natural and technical sciences]. 2007;28(2):137-154. (Russian).
Tsyrkunov VM, Chernyak SA, Prokopchik NI, Andreev VP, Shulika VR. Influence of bacterial lipopolysaccharide – pyrogenal on regress of fibrosis in the liver in chronic hepatitis C. Recept [Recipe]. 2015;104(6):45-53. (Russian).
Surovikina MS, Saveleva LA, Tarasova LV, Domnikov AI, Domnikov AI. Indicators of kininogenesis as a criterion for assessing the effectiveness of treatment of diseases of the hepatobiliary system in children. Almanah klinicheskoj mediciny [Almanac of Clinical Medicine]. 2002;5:236-243. (Russian).
Tsyrkunov VM. Characteristics of the process of degranulation of basophilic granulocytes of blood upon administration of pyrogenal in the experiment. In: Krasilnikov AP, executive editor. Immunology questions. Тez. dokl. Resp. konf. ; 1982 Nov 25-26; Vitebsk. Vitebsk: VGMI; 1982. p. 53-54. (Russian).
Bogutskiy MI. Vlijanie pirogenala na klinicheskoe techenie bolezni i funkcional'noe sostojanie kory nadpochechnikov pri virusnom gepatite [The effect of pyrogenal on the clinical course of the disease and the functional state of the adrenal cortex in viral hepatitis] [masters thesis]. Kuibyshev (Russia): Kuibyshev Medical Institute named after D.I. Ulyanova; 1978. 22 p. (Russian).
Suharev AE, Ermolaeva TN, Beda NA. Pyrogenal test in differential diagnosis of lung diseases. Sovremennye naukoemkie tehnologii [Modern high technologies]. 2008;8:23. (Russian).
Chagina EA, Markelova EV, Chikalovec IV. Mechanisms of phagocyte-cell protection in patients with nosocomial pneumonia on the background of abdominal sepsis. Uspehi sovremennogo estestvoznanija [Advances in current natural sciences]. 2005;4:77-78.
Selivanov SP, Kovalik TA, Shatohina OV, Isaeva SN. Diagnosis of trichomoniasis in patients with chronic abacterial prostatitis. Bjulleten' sibirskoj mediciny [Bulletin of Siberian Medicine]. 2012;11(2):105-109. (Russian).
Tsyrkunov VM, Vasileva AN, Vasilev VS, inventors; Grodno State Medical University, assignee. A method for determining individual sensitivity to pyrogen therapy. RU patent 2009497. 1994 Mar 15. (Russian).
El-Kamary SS, Mohamed MM, El-Raziky M, Shardell MD, Shaker OG, El-Akel WA, Esmat G. Liver fibrosis staging through a stepwise analysis of non-invasive markers (FibroSteps) in patients with chronic hepatitis C infection. Liver International. 2013;33(7):982-990. doi: 10.1111/liv.12139
Doroshenko EM, Snezhitskiy VA, Lelevich VV. Struktura pula svobodnyh aminokislot i ih proizvodnyh plazmy krovi u pacientov s ishemicheskoj bolezn'ju serdca i projavlenijami hronicheskoj serdechnoj nedostatochnosti [The structure of the pool of free amino acids and their derivatives of blood plasma in patients with coronary heart disease and manifestations of chronic heart failure]. Zhurnal Grodnenskogo gosudarstvennogo medicinskogo universiteta [Journal of the Grodno State Medical University]. 2017;15(5):551-556. (Russian).
Jashin Ja, Vedenin A, Jashin A. VJeZhH i ultra-VJeZhH: sostojanie i perspektivy. Analitika [Analytics]. 2015;21(2):70-85. (Russian).
RStudio Team (2016). RStudio: Integrated Development for R [Internet]. Available from: http://www.rstudio.com. (accessed 04.07.2017).
Bolshev LN, Smirnov NV. Tablicy matematicheskoj statistiki [Tables of mathematical statistics]. Moscow: The science; 1983. 416 p. (Russian).
Pannal P, Marshall W, Jabor A, Magid E. A strategy to promote the rational use of laboratory tests. Clinica Chimica Acta. 1996;244:121-127.
Chernyak SA, Tsyrkunov VM, Kopyckij AV, Chernyak LK. Predicting the response to antifibrotic therapy with pyrogenal of chronic hepatitis C. In: Aktualnye voprosy infekcionnoj patologii. Мaterialy nauchno-prakticheskoj konferencii; 2017 Оkt. 27; Grodno. Klinicheskaja infektologija i parazitologija. [Clinical infectology and parasitology]. 2017;6(4):590-592. (Russian).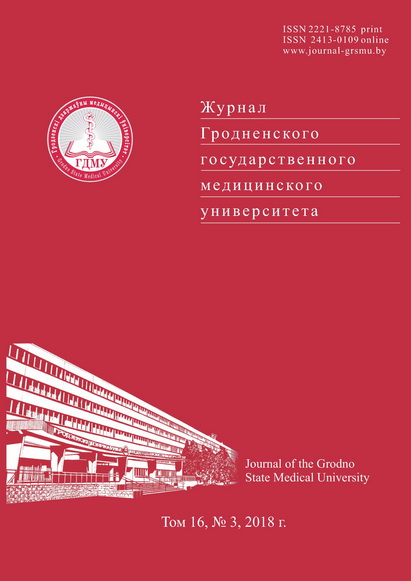 Загрузок PDF: 239
Как цитировать
1.
Черняк СА, Цыркунов ВМ, Дорошенко ЕМ, Копыцкий АВ. ПРОГНОЗИРОВАНИЕ ЭФФЕКТИВНОСТИ ПИРОГЕНАЛОТЕРАПИИ У ПАЦИЕНТОВ С ХРОНИЧЕСКИМ ГЕПАТИТОМ С. Журнал ГрГМУ (Journal GrSMU) [Интернет]. 6 июль 2018 г. [цитируется по 28 ноябрь 2023 г.];16(3):311-6. доступно на: http://journal-grsmu.by/index.php/ojs/article/view/2276
Раздел
ОРИГИНАЛЬНЫЕ ИССЛЕДОВАНИЯ