РАЗРАБОТКА ВАКЦИН ОТ SARS-COV-2
Аннотация
Введение. В настоящее время продолжается активный поиск эффективных вакцин от коронавируса SARS-CoV-2.
Цель. Провести анализ литературы и оценить состояние активных разработок вакцин от SARS-CoV-2.
Материал и методы. Проанализированы русскоязычные и англоязычные источники литературы по проблеме поиска эффективной вакцины от SARS-CoV-2.
Результаты. В качестве базовых соединений для разработки вакцин проанализированы структурные белки коронавируса. Показано, что белок S – идеальная структура для создания вакцин, эффективно
индуцирующих синтез нейтрализующих антител и обеспечивающих формирование иммунитета. Получены сведения о современных направлениях разработки вакцин.
Выводы. Вирус SARS-CoV-2 продолжает мутировать, что приводит к появлению новых высококонтагиозных штаммов, таких как «Дельта», «Омикрон». В связи с этим необходимы дополнительные исследования и клинические испытания, чтобы подтвердить эффективность имеющихся вакцин против SARS-CoV-2 либо продолжить разработку новых вакцин.
Литература
Fehr AR, Perlman S. Coronaviruses: an overview of their replication and pathogenesis. Methods Mol Biol. 2015;1282:1-23. https://doi.org/10.1007/978-1-4939-2438-7_1
Bakhiet M, Taurin S. SARS-CoV-2: Targeted managements and vaccine development. Cytokine Growth Factor Rev. 2021;58:16-29. https://doi.org/10.1016/j.cytogfr.2020.11.001
Chung JY, Thone MN, Kwon YJ. COVID-19 vaccines: The status and perspectives in delivery points of view. Adv Drug Deliv Rev. 2021;170:1-25. https://doi.org/10.1016/j.addr.2020.12.011
Mohamadian M, Chiti H, Shoghli A, Biglari S, Parsamanesh N, Esmaeilzadeh A. COVID-19: Virology, biology and novel laboratory diagnosis. J Gene Med. 2021;23(2):e3303. https://doi.org/10.1002/jgm.3303
Soleimanpour S, Yaghoubi A. COVID-19 vaccine: where are we now and where should we go? Expert Rev Vaccines. 2021;20(1):23-44. https://doi.org/10.1080/14760584.2021.1875824
Di Renzo L, Gualtieri P, Pivari F, Soldati L, Attinà A, Leggeri C, Cinelli G, Tarsitano MG, Caparello G, Carrano E, Merra G, Pujia AM, Danieli R, De Lorenzo A. COVID-19: Is there a role for immunonutrition in obese patient? J Transl Med. 2020;18(1):415. https://doi.org/10.1186/s12967-020-02594-4
Novikova IA. Geneticheskaja harakteristika virusa SARS-CoV-2 [Genetic characteristics of the SARSCOV-2]. Zhivyje i biokosnyje sistemy. 2021;35:4. https://doi.org/10.18522/2308-9709-2021-35-4. (Russian).
Li YD, Chi VYU, Su TSKH, Ferrall L, Khun CHF, Vu TSCH, Chornaya A, Serova MD, Grevtseva II. Razrabotka vakcin dlja profilaktiki koronavirusnoj infekcii: ot SARS I MERS do COVID-19. Juvenis Scientia. 2020;6(6):41-80. https://doi.org/10.32415/jscientia_2020_6_6_41-80 (Russian).
Jeyanathan M, Afkhami S, Smaill F, Miller MS, Lichty BD, Xing Z. Immunological considerations for COVID-19 vaccine strategies. Nat Rev Immunol. 2020;20(10):615-632. https://doi.org/10.1038/s41577-020-00434-6
Poland GA, Ovsyannikova IG, Crooke SN, Kennedy RB. SARS-CoV-2 Vaccine Development: Current Status. Mayo Clin Proc. 2020;95(10):2172-2188. https://doi.org/10.1016/j.mayocp.2020.07.021
Saha RP, Sharma AR, Singh MK, Samanta S, Bhakta S, Mandal S, Bhattacharya M, Lee SS, Chakraborty C. Repurposing Drugs, Ongoing Vaccine, and New Therapeutic Development Initiatives Against COVID-19. Front Pharmacol. 2020;11:1258. https://doi.org/10.3389/fphar.2020.01258
Hajj Hussein I, Chams N, Chams S, El Sayegh S, Badran R, Raad M, Gerges-Geagea A, Leone A, Jurjus A. Vaccines Through Centuries: Major Cornerstones of Global Health. Front Public Health. 2015;3:269. https://doi.org/10.3389/fpubh.2015.00269
Nichol KL, Mendelman PM, Mallon KP, Jackson LA, Gorse GJ, Belshe RB, Glezen WP, Wittes J. Effectiveness of live, attenuated intranasal influenza virus vaccine in healthy, working adults: a randomized controlled trial. JAMA. 1999;282(2):137-44. https://doi.org/10.1001/jama.282.2.137
Chen K, Magri G, Grasset EK, Cerutti A. Rethinking mucosal antibody responses: IgM, IgG and IgD join IgA. Nat Rev Immunol. 2020;20(7):427-441. https://doi.org/10.1038/s41577-019-0261-1
Su F, Patel GB, Hu S, Chen W. Induction of mucosal immunity through systemic immunization: Phantom or reality? Hum Vaccin Immunother. 2016;12(4):1070-9. https://doi.org/10.1080/21645515.2015.1114195
Zhmakin AI, Haretskaya MV. Mikrobiologija. Grodno: GrGMU; 2020. 392 p. (Russian).
Status of COVID-19 Vaccines within WHO EUL/PQ evaluation process [Internet]. Available from: https://inlnk.ru/ZZ815J.
Vologzhanin DA, Golota AS, Kamilova TA, Shneider OV, Scherbak SG. Kompjuternoe modelirovanie v razrabotke vakcin protiv COVID-19 na osnove antigenov HLA-sistemy [Computer simulation in the development of vaccines against Covid-19 based on the HLAsystem antigens]. Klinicheskaja praktika [Journal of Clinical Practice]. 2021;12(3):51-70. https://doi.org/10.17816/clinpract76291 (Russian).
Wu K, Werner AP, Moliva JI, Koch M, Choi A, Stewart-Jones GBE, Bennett H, Boyoglu-Barnum S, Shi W, Graham BS, Carfi A, Corbett KS, Seder RA, Edwards DK. mRNA-1273 vaccine induces neutralizing antibodies against spike mutants from global SARS-CoV-2 variants. bioRxiv. 2021:427948. https://doi.org/10.1101/2021.01.25.427948
Pegu A, O Connell SE, Schmidt SD, O Dell S, Talana CA, Lai L, Albert J, Anderson E, Bennett H, Corbett KS, Flach B, Jackson L, Leav B, Ledgerwood JE, Luke CJ, Makowski M, Nason MC, Roberts PC, Roederer M, Rebolledo PA, Rostad CA, Rouphael NG, Shi W, Wang L, Widge AT, et. al. Durability of mRNA-1273 vaccine-induced antibodies against SARS-CoV-2 variants. Science. 2021;373(6561):1372-1377. https://doi.org/10.1126/science.abj4176
Onishchenko GG, Sizikova TE, Lebedev VN, Borisevich SV. Sravnitelnaja harakteristika vakcin protiv COVID-19, ispolzuemyh pri provedenii massovoj immunizacii [Comparative characteristics of COVID-19 vaccines used for mass immunization]. Biopreparaty. Profilaktika, diagnostika, lechenie [Biopreparations. Prevention, diagnosis, treatment]. 2021;21(3):158-166. https://doi.org/10.30895/2221-996X-2021-21-3-158-166 (Russian).
Burgos RM, Badowski ME, Drwiega E, Ghassemi S, Griffith N, Herald F, Johnson M, Smith RO, Michienzi SM. The race to a COVID-19 vaccine: opportunities and challenges in development and distribution. Drugs Context. 2021;10:2020-12-2. https://doi.org/10.7573/dic.2020-12-2
Tregoning JS, Flight KE, Higham SL, Wang Z, Pierce BF. Progress of the COVID-19 vaccine effort: viruses, vaccines and variants versus efficacy, effectiveness and escape. Nat Rev Immunol. 2021;21(10):626-636. https://doi.org/10.1038/s41577-021-00592-1
Fiolet T, Kherabi Y, MacDonald CJ, Ghosn J, Peiffer-Smadja N. Comparing COVID-19 vaccines for their characteristics, efficacy and effectiveness against SARSCoV-2 and variants of concern: a narrative review. Clin Microbiol Infect. 2022;28(2):202-21. https://doi.org/10.1016/j.cmi.2021.10.005
Li XN, Huang Y, Wang W, Jing QL, Zhang CH, Qin PZ, Guan WJ, Gan L, Li YL, Liu WH, Dong H, Miao YT, Fan SJ, Zhang ZB, Zhang DM, Zhong NS. Effectiveness of inactivated SARS-CoV-2 vaccines against the Delta variant infection in Guangzhou: a test-negative case-control real-world study. Emerg Microbes Infect. 2021;10(1):1751-1759. https://doi.org/10.1080/22221751.2021.1969291
Forchette L, Sebastian W, Liu T. A Comprehensive Review of COVID-19 Virology, Vaccines, Variants, and Therapeutics. Curr Med Sci. 2021;41(6):1037-1051. https://doi.org/10.1007/s11596-021-2395-1
Sharma K, Koirala A, Nicolopoulos K, Chiu C, Wood N, Britton PN. Vaccines for COVID-19: Where do we stand in 2021? Paediatr Respir Rev. 2021;39:22-31. https://doi.org/10.1016/j.prrv.2021.07.001
Statistika vakcinacii ot koronavirusa v mire [Internet]. Available from: https://gogov.ru/articles/covid-v-stats. (Russian).
Gudima GO, Khaitov RM, Kudlay DA, Khaitov MR. Molekuljarno-immunologicheskie aspekty diagnostiki, profilaktiki i lechenija koronavirusnoj infekcii [Molecular immunological aspects of diagnostics, prevention and treatment of coronavirus infection]. Immunologiya. 2021;42(3):198-210. https://doi.org/10.33029/0206-4952-2021-42-3-198-210 (Russian).
Dolzhikova IV, Gushchin VA, Shcheblyakov DV, Tsybin AN, Shchetinin AM, Pochtovyi AA, Komissarov AB, Kleymenov DA, Kuznetsova NA, Tukhvatulin AI, Zubkova OV, Dzharullaeva AS, Kovyrshina AV, Lubenets NL, Grousova DM, Erokhova AS, Izhaeva FM, Popova O, Ozharovskaya TA, Semikhin AS, Tokarskaya EA, Shmarov MM, Nikitenko NA, Shidlovskaya EV, Bykonia EN, et al. One-shot immunization with Sputnik Light (the first component of Sputnik V vaccine) is effective against SARS-CoV-2 Delta variant: efficacy data on the use of the vaccine in civil circulation in Moscow. medRxiv. 2021. Art. ID 21264715. https://doi.org/10.1101/2021.10.08.21264715
Orlova NV, Gololobova TV, Suranova TG, Filatova MN, Orlova SIU. Analiz dinamiki vakcinacii ot koronavirusnoj infekcii v Rossii [Analysis of the dynamics of vaccination against coronavirus infection in Russia]. Medicinskij alfavit [Medical alphabet]. 2021;(23):8-12. https://doi.org/10.33667/2078-5631-2021-23-8-12 (Russian).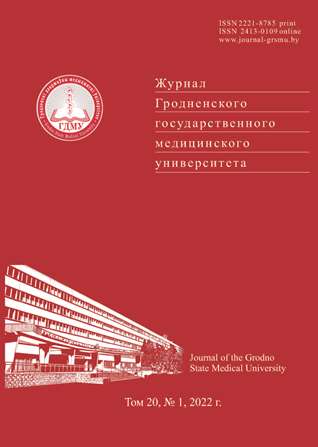 Загрузок PDF: 222
Как цитировать
1.
Шейбак ВМ, Горецкая МВ. РАЗРАБОТКА ВАКЦИН ОТ SARS-COV-2. Журнал ГрГМУ (Journal GrSMU) [Интернет]. 3 март 2022 г. [цитируется по 30 ноябрь 2023 г.];20(1):5-12. доступно на: http://journal-grsmu.by/index.php/ojs/article/view/2749