МИКРОБИОЛОГИЧЕСКАЯ ЭФФЕКТИВНОСТЬ КОМБИНАЦИЙ АНТИБИОТИКОВ В ОТНОШЕНИИ ИНВАЗИВНЫХ ШТАММОВ KLEBSIELLA PNEUMONIAE
Аннотация
Введение. Комбинированная антибиотикотерапия – основной способ лечения инфекций, вызванных антибиотикорезистентными бактериями.
Цель исследования – выявить комбинации антибиотиков с синергидной активностью в отношении инвазивных экстремально-антибиотикорезистентных штаммов K.pneumoniae, продуцирующих карбапенемазы.
Материал и методы. Для 12 инвазивных штаммов K.pneumoniae, продуцирующих карбапенемазы KPC, OXA-48 и NDM, определены минимальные подавляющие концентрации антибиотиков. Определение чувствительности к комбинациям антибиотиков выполнено модифицированным диско-диффузионным методом.
Результаты. Отмечен эффект потенцирования колистина азтреонамом (58,3% штаммов), азитромицином (33,3%), кларитромицином (41,7%), рифампицином (33,3%), доксициклином (50,0%). Показана высокая микробиологическая эффективность цефтазидима/авибактама в отношении всех продуцентов карбапенемаз KPC и OXA-48. Для продуцентов MBL NDM выявлен синергидный эффект комбинации цефтазидима/авибактама и азтреонама с восстановлением чувствительности.
Выводы. Полученные результаты открывают перспективы для комбинированной терапии инфекций кровотока, вызванных XDR-штаммами K.pneumoniae.
Литература
Pendleton JN, Gorman SP, Gilmore BF. Clinical relevance of the ESKAPE pathogens. Expert Rev. Anti. Infect. Ther. 2013;11(3):297-308. https://doi.org/10.1586/eri.13.12
Tapalsky DV, Osipov VA, Yevseyenko EO, Saveliyeva AK, Kozlovskaya IV, Kozik AP, Levshina NN, Osipkina OV, Solovey NV, Karpov IA. Metallo-beta-laktamazy i karbapenemazy jekstremalno-antibiotikorezistentnyh metallo-beta-lactamase and other carbapenemases among extreme antibiotic-resistant klebsiella pneumoniae: occurrence in Belarus]. Zdravoochranenie [Health Care]. 2017;3:40-47. (Russian).
European Centre for Disease Prevention and Control. Surveillance of antimicrobial resistance in Europe 2018: Annual report of the European Antimicrobial Resistance Surveillance Network (EARS-Net) [Internet]. Stockholm: ECDC; 2019. 110 p. doi: 10.2900/22212. Available from: https://www.ecdc.europa.eu/sites/default/files/documents/surveillance-antimicrobial-resistance-Europe-2018.pdf
World Health Organization, Regional Office for Europe. Central Asian and Eastern European surveillance of antimicrobial resistance: Annual report 2019 [Internet]. Copenhagen: WHO; 2019. 172 p. Available from: https://www.euro.who.int/_data/assets/pdf_file/0003/418863/53373-WHO-CAESAR-annual-report-2019.pdf
Zavascki AP, Bulitta JB, Landersdorfer CB. Combination therapy for carbapenem-resistant Gram-negative bacteria. Expert Rev. Anti. Infect. Ther. 2013;11(12):1333-1353. https://doi.org/10.1586/14787210.2013.845523
European Committee on Antimicrobial Susceptibility testing (EUCAST). Breakpoint tables for interpretation of MICs and zone diameters. Ver. 11.0, 2021 [Internet]. Available from: https://eucast.org/clinical_breakpoints/
Tapalski DV, Petrovskaya TA, Kozlova AI, Edelstein MV. Potencirovanie antibakterialnoj aktivnosti kolistina v otnoshenii mnozhestvenno- i jekstremalnorezistentnyh klinicheskih izoljatov Klebsiella pneumoniae, Acinetobacter baumannii i Pseudomonas aeruginosa antibiotikami raznyh grupp [Potentiation of antimicrobial activity of colistin with antibiotics of different groups against multidrugand extensively drugresistant strains of Klebsiella pneumoniae, Acinetobacter baumannii and Pseudomonas aeruginosa]. Klinicheskaja mikrobiologija i antimikrobnaja himioterapija [Clinical Microbiology and antimicrobial Chemotherapy]. 2020;22(2):128-136. https://doi.org/10.36488/cmac.2020.2.128-136. (Russian).
MacNair CR, Stokes JM, Carfrae LA, Fiebig-Comyn AA, Coombes BK, Mulvey MR, Brown ED. Overcoming mcr-1 mediated colistin resistance with colistin in combination with other antibiotics. Nat. Commun. 2018;9(1):458. https://doi.org/10.1038/s41467-018-02875-z
Marshall S, Hujer AM, Rojas LJ, Papp-Wallace KM, Humphries RM, Spellberg B, Hujer KM, Marshall EK, Rudin SD, Perez F, Wilson BM, Wasserman RB, Chikowski L, Paterson DL, Vila AJ, van Duin D, Kreiswirth BN, Chambers HF, Fowler VGJr, Jacobs MR, Pulse ME, Weiss WJ, Bonomo RA. Can ceftazidimeavibactam and aztreonam overcome β-Lactam resistance conferred by metallo-β-lactamases in enterobacteriaceae? Antimicrob. Agents Chemother. 2017;61(4):e02243-16. https://doi.org/10.1128/AAC.02243-16
Falcone M, Tiseo G, Antonelli A, Giordano C, Di Pilato V, Bertolucci P, Parisio EM, Leonildi A, Aiezza N, Baccani I, Tagliaferri E, Righi L, Forni S, Sani S, Mechi MT, Pieralli F, Barnini S, Rossolini GM, Menichetti F. Clinical features and outcomes of bloodstream infections caused by New Delhi metallo-β-lactamase-producing Enterobacterales during a regional outbreak. Open Forum Infect. Dis. 2020;7(2):ofaa011. https://doi.org/10.1093/ofid/ofaa011
Cornely OA, Cisneros JM, Torre-Cisneros J, Rodríguez-Hernández MJ, Tallón-Aguilar L, Calbo E, Horcajada JP, Queckenberg C, Zettelmeyer U, Arenz D, Rosso-Fernández CM, Jiménez-Jorge S, Turner G, Raber S, O'Brien S, Luckey A; COMBACTE-CARE consortium/REJUVENATE Study Group. Pharmacokinetics and safety of aztreonam/avibactam for the treatment of complicated intra-abdominal infections in hospitalized adults: results from the REJUVENATE study. J. Antimicrob. Chemother. 2020;75(3):618-627. https://doi.org/10.1093/jac/dkz497
Sukhorukova MV, Edelstein MV, Ivanchik NV, Skleenova EYu, Shajdullina ER, Azyzov IS, Shek EA, Kuzmenkov AYu, Dekhnich AV, Kozlov RS, Semyonova NV, Slepakova SA, Shepotajlova NV, Strebkova VV, Rybina NA, Yaranceva NZ, Perevalova EYu, Rozanova SM, Nagovicina SG, Moldovanu MG, Nasybullova ZZ, Arkhipenko MV, Shakhmuradyan RM, Nizhegorodceva IA, Varibrus EV, et al. Antibiotikorezistentnost nozokomialnyh shtammov Enterobacteriaceae v stacionarah Rossii: rezultaty mnogocentrovogo jepidemiologicheskogo issledovanija "MARAFON" 2015-2016 [Antimicrobial resistance of nosocomial Enterobacterales isolates in Russia: results of multicenter epidemiological study "MARAFON" 2015-2016]. Klinicheskaja mikrobiologija i antimikrobnaja himioterapija [Clinical Microbiology and Antimicrobial Chemotherapy]. 2019;21(2):147-159. https://doi.org/10.36488/cmac.2019.2.147-159 (Russian).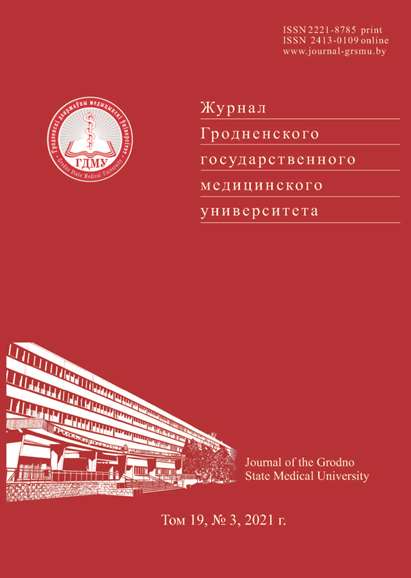 Загрузок PDF: 104
Как цитировать
1.
Тимошкова ЕВ, Тапальский ДВ, Балашова ВГ, Цейко ЗА. МИКРОБИОЛОГИЧЕСКАЯ ЭФФЕКТИВНОСТЬ КОМБИНАЦИЙ АНТИБИОТИКОВ В ОТНОШЕНИИ ИНВАЗИВНЫХ ШТАММОВ KLEBSIELLA PNEUMONIAE. Журнал ГрГМУ (Journal GrSMU) [Интернет]. 5 июль 2021 г. [цитируется по 6 октябрь 2022 г.];19(3):274-9. доступно на: http://journal-grsmu.by/index.php/ojs/article/view/2650
Раздел
ОРИГИНАЛЬНЫЕ ИССЛЕДОВАНИЯ