ГИГИЕНИЧЕСКИЕ АСПЕКТЫ СОСТОЯНИЯ РЕПРОДУКТИВНОГО ЗДОРОВЬЯ СТУДЕНТОК МЕДИЦИНСКИХ УНИВЕРСИТЕТОВ (ОБЗОР ЛИТЕРАТУРЫ)
О. В. Заяц

УО "Гродненский государственный медицинский университет", Гродно, Беларусь

И. А. Наумов

УО "Гродненский государственный медицинский университет", Гродно, Беларусь

https://orcid.org/0000-0002-8539-0559
Аннотация
Студенческий возраст – не только завершающий период детства, но и критический для формирования нормального состояния репродуктивного здоровья индивидуума. Процесс обучения в медицинских университетах сопряжен с комплексным воздействием факторов образа жизни на состояние репродуктивного здоровья девушек-студенток, который не может быть признан отвечающим оптимальным гигиеническим требованиям и нормам, что является предпосылкой для развития нарушений функционирования органов репродуктивной системы. Сохранение и укрепление репродуктивного здоровья данного контингента – важная научно-практическая задача профилактической медицины, решение которой невозможно без совершенствования гигиенического комплекса мероприятий по формированию здорового образа жизни.
Литература
Vedishhev SI, Zhirnjakov AI, Ivanova AA. Aspekty reproduktivnogo zdorovja zhenshhin [Аspects of female reproductive health]. Vestnik Tambovskogo universiteta. Serija: Estestvennye i tehnicheskie nauki [Tambov University Reports. Series: Natural and Technical Sciences]. 2013;18(6-2):3289-3291. (Russian).
Gerasimova LI, Denisov MS, Pavlova IE, Sadovnikova NE, Denisova TG, Shuvalova NV. Analiz zabolevaemosti organov reproduktivnoj sistemy devushek-studentok [Analysis of the reproductive systems incidence in the female students]. Zdravoohranenie Chuvashii [Health Care of Chuvashia]. 2016;1:27-30. (Russian).
Ismailov SI. Reproduktivnoe zdravoohranenie: opredelenie prioritetov, problemy i puti ih reshenija. Organizacija i upravlenie zdravoohraneniem. 2013;5;53-56. (Russian).
Sovet Ministrov Respubliki Belarus. Gosudarstvennaya programma "Zdorove naroda i demograficheskaya bezopasnost Respubliki Belarus" na 2016-2020 gody. Postanovlenie № 200 (mar. 14, 2016) [Internet]. Available from: http://www.pravo.by/document/?guid=12551&p0=C21600200&p1=1. (Russian).
Gerasimovich GI, Stasevich SM. Ocenka vlijanija obraza zhizni na reproduktivnoe zdorove. Reproduktivnoe zdorove v Belarusi. 2009;1(1):24-29. (Russian).
Andreeva JuA, Krjukova EN, Semjatov SM. Reproduktivnoe zdorove beremennyh, devushek-podrostkov. Zdorove i obrazovanie v XXI veke. 2009;11(1):430-431. (Russian).
Peshkov MV, Sharajkina EP. Pokazateli massy tela studencheskoj molodezhi: sovremennoe sostoyanie problem [Body mass index in students: the present state of the problem]. Sibirskoe medicinskoe obozrenie. 2014;4:49-56. https://doi.org/10.20333/25000136-2014-4-49-56 (Russian).
Gerasimova LI, Denisov MS, Shuvalova NV. Reproduktivnoe zdorove devushek studentok - kak mediko-socialnaja problema. Sovremennye problemy nauki I obrazovanija. 2015;6:295. (Russian).
Gorbunov VI, Vozhennikova GV, Isaeva IN, Verushkina AS. Ocenka pokazatelej kachestva zhizni studentov medicinskogo vuza. Ulyanovskij mediko-biologicheskij zhurnal [Ulyanovsk medicobiological journal]. 2012;1:46-49. (Russian).
Petrov JuA. Specifika reproduktivnogo i kontraceptivnogo povedenija studentov medicinskogo universiteta [The specificity of reproductive and contraceptive behavior of medical students]. Valeologija [Journal of Health and Life Sciences]. 2016;2:31-34. (Russian).
Nazarova IB, Zelenskaja MP. Reproduktivnye ustanovki studencheskoj molodezhi: cennostnyj aspekt. Vestnik RUDN. Serija: Sociologija [RUDN Journal of Sociology]. 2017;17(4):555-567. doi: 10.22363/2313- 2272-2017-17-4-555-567. (Russian).
Egorova EI. Puti sovershenstvovanija ohrany reproduktivnogo zdorovja studentov vysshih uchebnyh zavedenij [Ways of perfection of protection of reproductive health of students of higher educational institutions]. Rossijskij mediko-biologicheskij vestnik im. akademika I.P. Pavlova [I.P. Pavlov Russian Medical Biological Herald]. 2010;1:80-84. doi: 10.17816/ PAVLOVJ2010180-84. https://doi.org/10.17816/PAVLOVJ2010180-84 (Russian).
Vohminceva LV, Vanjunina VV, Juzenas TP, Tereshhenkov AJu. Gendernye razlichija rasprostranennosti tabakokurenija sredi studentov pervyh treh kursov Novosibirskogo gosudarstvennogo medicinskogo universiteta [Gender differences of tobacco smoking prevalence among first-year-third-year students of Novosibirsk state medical university]. Bjulleten fiziologii i patologii dyhanija. 2011;39:56-59. (Russian).
Gazdzinski S, Durazzo TC, Mon A, Meyerhoff DJ. Body mass index is associated with brain metabolite levels in alcohol dependence a multimodal magnetic resonance study. Alcohol Clin. Exp. Res. 2010;34(12):2089-2096. https://doi.org/10.1111/j.1530-0277.2010.01305.x
Vivancos R, Abubakar I, Hunter PR. Sexual behavior, drugs and alcohol use of international students at a British university: a cross-sectional survey. Int. J. STD AIDS. 2009;20(9):619-622. https://doi.org/10.1258/ijsa.2008.008421
Kuznecova YuN, Zilberberg NV, Evstigneeva NP. Infekcionnye zabolevanija urogenitalnogo trakta u podrostkov i molodezhi kak faktor riska formirovanija narushenij reproduktivnogo zdorovja. Lechashhij vrach. 2014;10:132-136. (Russian).
Chen B, Lu YN, Wang HX. Sexual and reproductive health service needs of university/college students: updates from a survey in Shanghai. Asian J. Androl. 2008;10(4):607-615. https://doi.org/10.1111/j.1745-7262.2008.00413.x
Govjazina TN, Utochkin JuA. Kontraceptivnoe povedenie kak faktor riska dlja reproduktivnogo zdorovja studentov mladshih kursov medicinskogo universiteta [Contraceptive behavior as risk factor for reproductive health of junior students attending a medical university]. Analiz riska zdorovju [Health Risk Analysis]. 2017;2:88-95. https://doi.org/10.21668/health.risk/2017.2.09.eng (Russian).
Survillo EV. Sravnitelnyj analiz reproduktivnyh ustanovok studentov vysshih uchebnyh zavedenij [Comparative analysis of reproductive attitudes in university female students]. Vestnik novyh medicinskih tehnologij. 2016;2:152-155. https://doi.org/10.12737/19643. (Russian).
Pachganova SS, Zuevskaja TV, Popov AD. Reproduktivnoe zdorove studentok vysshih uchebnyh zavedenij v HMAOJugre [Reproductive health of students of higher educational establishments Khmao-Ugra]. Medicinskaja nauka i obrazovanie Urala. 2016;3:71-73. (Russian).
Gamzaev MA. Ocenka sostojanija fizicheskoj aktivnosti zhenshhin i ih reproduktivnogo vozrasta. Zdravoohranenie Rossijskoj Federacii. 2015;1:25-29. (Russian).
Steinauer J, LaRochelle F, Rowh M, Backus L, Sandahi Y, Foster A. First impressions: what are preclinical medical students in the US and Canada learning about sexual and reproductive health? Contraception. 2009;80(1):74-80. https://doi.org/10.1016/j.contraception.2008.12.015
Korenev SV, Fominyh AA, Budilovskij GN. Organizacija medicinskoj pomoshhi studentam - osnova ohrany zdorovja budushhego pokolenija. Vestnik Baltijskogo federalnogo universiteta imeni im. I. Kanta. Serija gumanitarnye I obshhestvennye nauki. 2012;5:124-129. (Russian).
Denisova TG, Denisova MS, Lezhenina SV, Bushueva JeV, Ljalina TS, Fedorov AA. Psiho-jemocionalnyj stress kak faktor riska narushenij sostojanija reproduktivnogo zdorovja [Psycho-emotional stress as a risk factor of reproductive health disorders]. Acta medica Eurasica. 2018;1:15-21. (Russian).
Kuligina MV, Komarova IA. Socialno-gigienicheskaja harakteristika zhenshhin v period realizacii reproduktivnoj funkcii. Reproduktivnoe zdorove v Belarusi. 2010;3:22-28. (Russian).
Melihova EP, Libina II, Gubina OI, Natarova AA. Osobennosti ocenki zdorovja studentov pri obuchenii v medicinskom vuze. Sistemnyj analiz i upravlenie v biomedicinskih sistemah. 2010;9(4):809-812. (Russian).
Mihajlova JuH. Razvitie adaptacionnogo potenciala lichnosti studenta kak faktor optimizacii obrazovatelnogo prostranstva vuza. Psihologicheskaja nauka i obrazovanie. 2010;5:19-25. (Russian).
Belik SN, Podgornyj IV, Mozhinskaja JuV, Zhukova TV, Svintuhovskij OA. Mesto sindroma hronicheskoj ustalosti sredi faktorov riska narushenija reproduktivnogo potenciala molodezhi. Sborniki konferencij NIC Sociosfera. 2016;23:44-47. (Russian).
Gevorkjan JeS, Adamjan CI, Tumanjan GG, Minasjan SM, Zakarjan VA, Durgarjan LA. Morfofunkcionalnye pokazateli kak kriterii ocenki adaptacii studentov k dozirovannoj nagruzke [Morphofunctional parameters as criteria for assessing the students adaptation to graded physical exercise]. Gigiena i sanitarija [Hygiene and sanitation]. 2010;2:75-77. (Russian).
Radzinskij VE, Hamoshina MB, Lebedeva MG, Arhipova MP, Rudneva OD, Chakchurina IA. Devushki-podrostki RF: sovremennye tendencii formirovanija reproduktivnogo potenciala (obzor literatury). Sibirskij medicinskij zhurnal. 2010;25(4): 9-14. (Russian).
Gulin AV, Shutova SV, Grigorova LI. Individualnotipologicheskie osobennosti kachestva zhizni i zdorovja studentov. Vestnik Tambovskogo universiteta. Serija: Estestvennye i tehnicheskie nauki [Tambov University Reports. Series: Natural and Technical Sciences]. 2012;17(5):330-336. (Russian).
Krasnoruckaja ON, Zujkova AA, Petrova TN. Aktualnye problemy zdorovja studentov medicinskogo vuza i puti ih reshenija. Vestnik novyh medicinskih tehnologij. 2013;2:453-456. (Russian).
Sharajkina EJu, Medvedeva NN, Sharajkina EP, Dudina GB. Deficit massy tela devushek: problemy reproduktivnogo zdorovja. Sibirskoe medicinskoe obrazovanie. 2016;1:27-32. (Russian).
Bakumenko OE, Vasneva IK, Doronin AF. Obraz zhizni i pitanie uchashhihsja VUZov. Moskva: IKMGUPP; 2010. 100 р. (Russian).
Ljalina TS. Osobennosti sostojanija reproduktivnogo zdorovja devushek-studentok. Mezhdunarodnyj studencheskij nauchnyj vestnik. 2016;4:30-31. (Russian).
Blinova EG, Akimova IS, Chesnokova MG, Demakova LV. Rezultaty analiza antropometricheskih i biojempidansometricheskih issledovanij u studentov goroda Omska. Sovremennye problemy nauki i obrazovanija. 2014;3:19-21. (Russian).
Golovanova AV. Ocenka obespechennosti vitaminami A i E, osobennosti menstrualnoj funkcii i sostojanie mikroflory studentok starshih kursov medicinskoj akademii. Zdorove i obrazovanie v XXI veke. 2009;11(7):288. (Russian).
Denisova TG, Vasileva JeN, Mnojan JeA, Gruzinova EN, Sidorova T.N. Jetiologija i patogenez narushenij reproduktivnoj sistemy u zhenshhin s deficitom massy tela (obzor literatury). Zdravooxranenie Chuvashii [Health Care of Chuvashia]. 2014;1:10-15. (Russian).
Kuchma VR, Blinova EG, Ogleznev GA. Osnovy racionalnogo pitanija i gigienicheskaja ocenka pishhevogo statusa studentov. Omsk: OmGMA; 2007. 174 р. (Russian).
Gerasimova LI, Denisov MS, Shuvalova NV, Denisova TG. Obespechennost vitaminom D devushek-studentok s narusheniem menstrualnoj funkcii. Tavricheskij mediko-biologicheskij vestnik. 2016;19(5):50-52. (Russian).
Setko AG, Kvashennikova EA, Ponomareva SG, Trishina SP, Volodina EA. Ocenka fakticheskogo pitanija i sostojanija zdorovja studentok vysshego uchebnogo zavedenija [Evaluation of actual nutrition and health status of students of higher educational institution]. Palliativnaja medicina i reabilitacija. 2013;1:10-12. (Russian).
Leshhenko OJa. Osobennosti pitanija sovremennyh starsheklassnic i studentok po materialam anketirovanija.Reproduktivnoe zdorove detej i podrostkov. 2012;4:89-95. (Russian).
Egorycheva EV, Musina SV. Issledovanie otklonenij massy tela u sovremennoj studencheskoj molodezhi. Sovremennye issledovanija socialnyh problem. 2011;8(4):57-61. (Russian).
Setko AG, Ponomareva SG, Shherbinina EP, Fateeva TA, Volodina EA. Rol nutrientnoj obespechennosti v funkcionirovanii osnovnyh organov i sistem organizma studentov VUZa [Role of the nutrients supply in the functioning of major organs and systems of the body of students]. Gigiena i sanitarija [Hygiene and sanitary]. 2012;3:51-53. (Russian).
Sivochalova OV, Andreeva MV, Fesenko MA, Golovanjova GV, Vujcik PA, Gladkova NA. Rol stressornyh faktorov v formirovanii narushenij reproduktivnogo zdorovja zhenshhin [The role of anti-stress factors in formation of woman reproductive health disorders]. Zhizn bez opasnostej. Zdorove. Profilaktika. Dolgoletie. 2013;3:86-93. (Russian).
Donnika AD. Psihojemocionalnoe sostojanie studentov v uslovijah krupnogo promyshlennogo goroda Nizhnego Povolzhja. Jekologija cheloveka. 2006;12:42-47. (Russian).
Ozalp S, Elcioglu O, Ulydag A, Unluoglu I. Does medical education affect students point of view on reproductive health? Are prospective physicians ready for counseling? [abstract] In: 10th Congress the European Society of Contraception; 2008 30th April-3rd May; Prague, Czech Republic; 2008. p. 69. (Eur. J. Contracept. Repr. Health Care; vol.13(2), suppl 2.). https://doi.org/10.13140/RG.22.141122.67526.
Nohara M, Momoeda M, Kubota T, Nakabajashi M. Menstrual cycle and menstrual pain problems and related risk factors among Japanese female workers. Industrial Health. 2011;49:228-234. https://doi.org/10.2486/indhealth.MS1047
Lipatov IS, Tezikov JuV, Tjutjunnik VL, Kan NE, Protasov AD, Martynova NV, Zhernakova EV, Bukreeva AA. Profilaktika poter beremennosti rannih srokov. Akusherstvo i ginekologija. 2017;1:24-32. https://doi.org/10.18565/aig.2017.1.24-32 (Russian).
Cheng HF. Perimenstrual syndrome: nursing diagnosis among Taiwanese nursing students. Int. J. Nurs. Terminol. Classif. 2011;22(3):110-116. https://doi.org/10.1111/j.1744-618X.2011.01185.x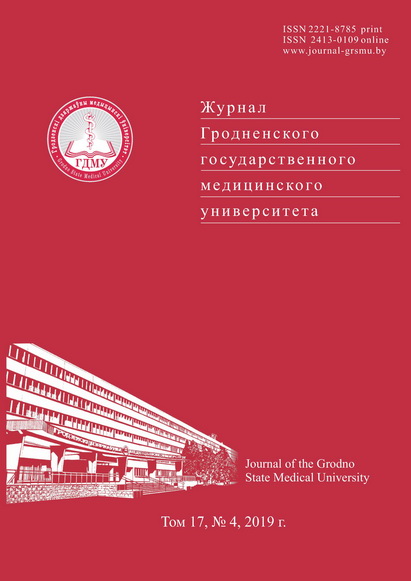 Загрузок PDF: 45
Как цитировать
1.
Заяц ОВ, Наумов ИА. ГИГИЕНИЧЕСКИЕ АСПЕКТЫ СОСТОЯНИЯ РЕПРОДУКТИВНОГО ЗДОРОВЬЯ СТУДЕНТОК МЕДИЦИНСКИХ УНИВЕРСИТЕТОВ (ОБЗОР ЛИТЕРАТУРЫ). Журнал ГрГМУ (Journal GrSMU) [Интернет]. 13 май 2021 г. [цитируется по 10 декабрь 2023 г.];17(4):361-7. доступно на: http://journal-grsmu.by/index.php/ojs/article/view/2575