СЛУЧАЙ ФРЕДЕРИКА ШОПЕНА: МОЖЕТ ЛИ МУЗЫКА БЫТЬ СИМПТОМОМ?
Аннотация
Введение. Тайна болезни и смерти великого польского композитора Фредерика Шопена еще не разгадана окончательно. Многочисленные попытки ретроспективной диагностики использовали все имеющиеся возможности, кроме анализа музыки композитора для поиска в ней проявлений его болезни. В истории музыки и медицины есть много примеров того, что музыкальные шедевры содержат признаки болезни автора. Цель. Целью данного исследования является поиск признаков проявления болезни Шопена в его музыкальных произведениях. Материал и методы. Кореспонденция Фредерика Шопена, работы наиболее авторитетных биографов композитора, а также научные публикации, посвященные изучению обстоятельств жизни, болезни и творчества Шопена. В базах данных Scopus, WebOfScience, MedLine и PubMed поиск источников проводился без ограничений по времени. Обнаруженные публикации были подвергнуты медицинскому и музыковедческому анализу. Выводы. Анализ показывает, что творческий процесс Фредерика Шопена не зависел ни от обстоятельств его личной жизни, ни от его здоровья. Композитор не писал программную музыку, никогда не снабжал свои произведения комментариями и не применял имитацию звука музыкальными средствами. Ни одна из гипотез о том, что приступы кашля отражены в музыке Шопена, не была подтверждена.
Литература
Cheng TO. Chopin's illness. Chest. 1998;114(2):654-655. http://doi.org/10.1378/chest.114.2.654-a.
Majka L, Gozdzik J, Witt M. Cystic fibrosis – a probable cause of Frederic Chopin's suffering and death. Journal of applied genetics. 2003;44(1):77-84.
Kuzemko JA. Chopin's illnesses. Journal of the Royal Society of Medicine. 1994;87(12):769-772.
Wapf V. The disease of Chopin. A comprehensive study of his lifelong suffering. – Moscow: LitRes; 2018. 150 р.
Witt M, Szklener A, Marchwica W, Dobosz T. Disease not genetic but infectious: multiple tuberculomas and fibrinous pericarditis as symptoms pathognomonic for tuberculosis of Frederic Chopin. Journal of applied genetics. 2018;59(4):471-473.
Charlier P, Perciaccante A, Herbin М, Appenzeller O, Bianucci R. The Heart of Frederic Chopin (1810-1849). The American journal of medicine. 2018;131(4):173-174.
Duclos-Vallée JC, Erlinger S. Is Frederic Chopin's Death Elucidated? The American journal of medicine. 2018;131(4):171.
Dеda J. Pathography of famous composers. Frederik Chopin. Zdravotnicka pracovnice. 1976;26(10):616-621.
Wikman B, Persson H, Strandvik B. Frédéric Chopin–the Man, his Illness and his Music. Przeglad Lekarski. 2005;62:321-325.
Leigh FW. Fryderyc-François Chopin (1810–1849): Music and malady. Journal of medical biography. 2014;22(3):144-152. http://doi.org/10.1177/0967772013511394.
Goldberger ZD, Whiting SM, Howell JD. The Heartfelt Music of Ludwig van Beethoven. Perspectives in biology and medicine. 2014;57(2):285-294. http://doi.org/10.1353/pbm.2014.0013.
Van Roessel P, Shafer A. Music, Medicine, and the Art of Listening. Journal for Learning through the Arts. 2006;2(1):14-27. http://doi.org/10.21977/d92110074.
O'neill D. Allemande l'Asthmatique and Étude Asthmatique. British Medical Journal. 2010;341:5042. http://doi.org/10.1136/bmj.c5042. 1. (French).
Evers S. "Tableau de l'operation de la taille". A musical composition by Marin Marais (1725) describing a lithotomy. De Historia Urologiae Europaeae. 1998;5:235-247. (French).
Zagvazdin Y. Stroke, music, and creative output: Alfred Schnittke and other composers. Progress in brain research. 2015;216:149-165. http://doi.org/10.1016/bs.pbr.2014.11.006.
Gordon F. 'Robert Schumann's mental illnesses. (Genius and madness)', by Mlle Dr Pascal (1908a): Introduction and translation by Felicia Gordon. Hist Psychiatry. 2015;26(3):359-371. http://doi.org/10.1177/0957154X15589457. (German).
Liszt F. Life of Chopin. New York: C. H. Ditson & Co; 1880, 202 p.
Karenberg A. Retrospective diagnosis: use and abuse in medical historiography. Prague Med. Rep. 2009;110(2):140-145.
De Pourtales G, author; Bayly Ch, transl. Polonaise-The Life of Chopin. New York: Henry Holt and Cо; 1863. 350 р.
Contribution of psychoanalysis to musicology. I. Chopin. Minerva medica. 1951;42(83):706-708.
Ivashkevich Ja. Shopen. Moskva: Molodaja gvardija; 1963. 301 р. (Russian).
Holcman J. The legacy of Chopin. New York: Philosophical library; 1954. 128 p.
Karenberg A. Chopin's misery and musicians' medical biography. Sudhoffs Archiv. 2007;91(1):82-98. http://doi.org/10.2307/20778050.
Sosnowska D. Fryderyk Chopin's correspondence from the perspective of body studies. The discovery of corporeality. Interdisciplinary Studies in Musicology. 2010;9:265-281.
Fortoul T. La música en la medicina y la medicina en la música Parece, pero no es lo mismo. Revista de la Facultad de Medicina. 2016;59(5):57-60. (Spanish).
Brown MJE. Chopin: an index of his works in chronological order. Boston: Da Capo Press; 1972. 214 p.
Kallberg J. Compatibility in Chopin's Multipartite Publications. Journal of Musicology. 1983;II(4):391-417.
Jonson AСG. A handbook to Chopin's works giving a detailed accоunt of all the compositions of chopin, short analyses for the piano student, and critical quotations from the writings of well-known musical authors. London: W. Reeves; 1908, 300 р.
Kallberg J. Chopin's march, Chopin's death. 19th-Century Music. 2001;25(1):3-26. http://doi.org/10.1525/ncm.2001.25.1.3.
Wierzynski C. Translated from Polish by Nortbert Guterman. The life and death of Chopin. New York: Simon and Schuster; 1949. 485 p.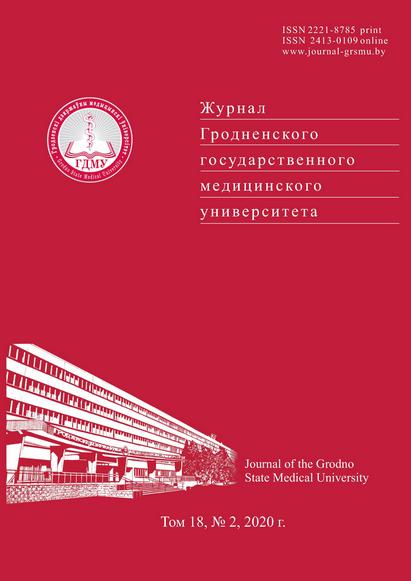 Загрузок PDF: 198
Как цитировать
1.
Березуцкий ВИ, Березуцкая МС. СЛУЧАЙ ФРЕДЕРИКА ШОПЕНА: МОЖЕТ ЛИ МУЗЫКА БЫТЬ СИМПТОМОМ?. Журнал ГрГМУ (Journal GrSMU) [Интернет]. 3 май 2021 г. [цитируется по 10 декабрь 2023 г.];18(2):211-6. доступно на: http://journal-grsmu.by/index.php/ojs/article/view/2556
Раздел
ИСТОРИЯ МЕДИЦИНЫ И МЕДИЦИНСКОГО ОБРАЗОВАНИЯ