ЖЕЛЧНЫЕ КИСЛОТЫ КАК ПАТОГЕНЕТИЧЕСКИЙ ФАКТОР ОСТРОГО БИЛИАРНОГО ПАНКРЕАТИТА
Л. А. Можейко

УО "Гродненский государственный медицинский университет"
Аннотация
В настоящем обзоре представлен анализ литературных сведений о токсических воздействиях желчных кислот на ацинарные клетки поджелудочной железы как возможного патогенетического фактора острого билиарного панкреатита. Показано, что на начальной стадии развития острого билиарного панкреатита повреждение ацинарных клеток выражается в нарушении секреторного процесса, активности пищеварительных ферментов, строении и функции клеточных мембран и органелл. Предполагается, что общим механизмом, который опосредует финальную гибель ацинарных клеток, может быть нарушение кальциевых сигнальных путей, индуцируемое желчными кислотами. Желчные кислоты проникают в ацинарные клетки с помощью Na+-зависимых и Na+-независимых транспортеров плазматической мембраны, или связываются с G-белковым рецептором желчных кислот. Цитозольные желчные кислоты вызывают устойчивое увеличение концентрации Ca2+ через механизмы, способствующие поступлению его в цитозоль из внутриклеточных депо и внеклеточного пространства. Перегрузка Ca2+ приводит к внутриклеточной активации трипсиногена, деполяризации митохондрий, истощению АТФ и к последующей гибели ацинарных клеток.
Литература
Lyisenko MV, Devjatov AS, Ursov SV. Pasko VG, Gricjuk AM. Ostryj pankreatit: differencirovannaja lechebno-diagnosticheskaja taktika. Moskva: Litterra; 2010. 165 р. (Russian).
Maev IV, Kucherjavyj JuA. Bolezni podzheludochnoj zhelezy. Moskva: Medicina; 2008. 558 p. (Russian).
Lankish PG, Apte M, Banks PA. Acute pancreatitis. Lancet. 2015;386(9988):85-96. doi: 10.1016/S0140-6736(14)60649-8.
Gullo L, Migliori M, Olбh A, Farkas G, Levy P, Arvanitakis C, Lankisch P, Beger H. Acute Pancreatitis in Five European Countries: Etiology and Mortality. Pancreas. 2002;24(3):223-227.
Wilcox CM, Varadarajulu S, Eloubeidi M. Role of endoscopic evaluation in idiopathic pancreatitis: a systematic review. Gastrointest. Endosc. 2006;63:1037-1045.
Ilchenko AA. Biliarnyj pankreatit. Jeksperimentalnaja i klinicheskaja gastrojentrologija [Experimental and clinical gastroenterology]. 2006;(1):10-16. (Russian).
Borisov AE, Kubachev KG, Globin AV, Solonicyn EG, Magomedov JeP. Ostryj biliarnyj pankreatit. Annaly hirurgicheskoj gepatologii. 2008;(3):213. (Russian).
Firsova VG, Parshikov VV, Kuznecov SS, Bugrova ML, Jakovleva EI. Ostryj pankreatit: morfologicheskie aspekty techenija zabolevanija. Annaly hirurgicheskoj gepatologii. 2014;19(1):86-95. (Russian).
Hamada S, Masamune A, Kikuta K, Hirota M, Tsuji I, Shimosegawa T; Research committee of intractable disease of the pancreas. Nationwide epidemiological survey of acute pancreatitis in Japan. Pancreas. 2014;43(8):1244-1248. doi: 10.1097/MPA.0000000000000200.
Lerch MM, Aghdassi AA. The role of bile acids in gallstone-induced pancreatitis. Gastroenterology. 2010;138(2):429-33. doi: 10.1053/j.gastro.2009.12.012.
Forsmark CE, Baillie J. AGA Institute technical review on acute pancreatitis. Gastroenterology. 2007;132(5):2022- 2044. doi: 10.1053/j.gastro.2007.03.065.
Vitek L, Haluzik M. The role of bile acids in metabolic regulation. J. Endocrinology. 2016;228(3):85-96. doi: 10.1530/JOE-15-0469.
Chan YC, Leung PS. Acute pancreatitis: animal models and recent advances in basic research. Pancreas. 2007;34(1):1-14. doi: 10.1097/01.mpa.0000246658.38375.04.
Su KH, Cuthbertson C, Christophi C. Review of experimental animal models of acute pancreatitis. HPB.2006;8(4):264-86. doi: 10.1080/13651820500467358.
Perides G. Biliary acute pancreatitis in mice is mediated by the G protein-coupled cell surface bile acid receptor GPBAR1. Gastroenterology. 2010;138(2):715-725. doi: 10.1053/j.gastro.2009.10.052.
Sha RP, Saluja A. Molecular mechanisms of pancreatic injury. Curr. Opin. Gastroenterol. 2011;27(5):444-451.
Lankisch PG, Apte M, Banks PA. Acute pancreatitis. Gastrojenterologija Sankt-Peterburga. 2017;(2):3-12.
Morihisa H, Shimosegawa T. Bile Acids and Pancreatic Disease. In: Tazuma S, Takikawa H, editors. Bile Acids in Gastroenterology. Ch. 12. Tokyo: Springer; 2017. p. 169-176. doi: 10.1007/978-4-431-56062-3_12.
Petersen OH, Tepikin AV. Polarized calcium signaling in exocrine gland cells. Annu. Rev. Physiol. 2008;70:273- 299. doi: 10.1146/annurev.physiol.70.113006.100618.
Gerasimenko J, Peng S, Gerasimenko O. Role of acidic stores in secretory epithelia. Cell Calcium. 2014;55(6):346-354. doi: 10.1016/S0002-9440(10)64515-4.
Gerasimenko JV. Bile acids induce Ca2+ release from both the endoplasmic reticulum and acidic intracellular calcium stores through activation of inositol trisphosphate receptors and ryanodine receptors. J. Biol Chem. 2006;281(52):40154-40163. doi: 10.1074/jbc. M606402200.
Kruger B, Albrecht E, Lerch MM. The role of intracellular calcium signaling in premature protease activation and the onset of pancreatitis. Am. J. Pathol. 2000;157(1):43-50. doi: 10.1016/S0002-9440(10)64515-4.
Raraty M, Ward J, Erdemli G, Vaillant C, Neoptolemos JP, Sutton R, Petersen OH. Calcium-dependent enzyme activation and vacuole formation in the apical granular region of pancreatic acinar cells. Proc. Natl. Acad. Sci. U S A. 2000;97(24):13126-13131. doi: 10.1073/ pnas.97.24.13126.
Voronina S. Bile acids induce calcium signals in mouse pancreatic acinar cells: implications for bile-induced pancreatic pathology. J. Physiol. 2002;540(Pt 1):49-55.
Kim JY. Transporter-mediated bile acid uptake causes Ca2+-dependent cell death in rat pancreatic acinar cells. Gastroenterology. 2002;122(7):1941-1953.
Ferdek PE. Bile acids induce necrosis in pancreatic stellate cells dependent on calcium entry and sodium-driven bile uptake. J. Physiol. 2006;594(21):6147-6164. doi: 10.1113/JP272774.
Fischer L. Phosphatidylinositol 3-kinase facilitates bile acid-induced Ca2+ responses in pancreatic acinar cells. Am. J. Physiol. Gastrointest. Liver Physiol. 2007;292(3):875-86. doi: 10.1152/ajpgi.00558.2005.
Parekh AB. Store-operated CRAC channels: function in health and disease. Nat. Rev. Drug Discov. 2010;9(5):399-410. doi: 10.1038/nrd3136.
Wen L, Voronina S, Javed MA, Awais M, Szatmary P, Latawiec D, Chvanov M, Collier D, Huang W, Barrett J, Begg M, Stauderman K, Roos J, Grigoryev S, Ramos S, Rogers E, Whitten J, Velicelebi G, Dunn M, Tepikin AV, Criddle DN, Sutton R. Inhibitors of ORAI1 prevent cytosolic calcium-associated injury of human pancreatic acinar cells and acute pancreatitis in 3 mouse models. Gastroenterology. 2015;149(2):481-492. doi: 10.1053/j. gastro.2015.04.015.
Brito OM, Scorrano L. An intimate liaison: spatial organization of the endoplasmic reticulum-mitochondria relationship. EMBO J. 2010;29(16):2715-23. doi: 10.1038/emboj.2010.177.
Pinton P, Giorgi C, Siviero R, Zecchini E, Rizzuto R. Calcium and apoptosis: ER-mitochondria Ca2+ transfer in the control of apoptosis. Oncogene. 2008;27(50):6407-6418. doi: 10.1038/onc.2008.308.
Voronina SG, Barrow SL, Gerasimenko OV, Petersen OH, Tepikin AV. Effects of secretagogues and bile acids on mitochondrial membrane potential of pancreatic acinar cells. J. Biol Chem. 2004;279(26):27327-27338. doi: 10.1074/jbc.M311698200.
Mukherjee R, Mareninova OA, Odinokova IV, Huang W, Murphy J, Chvanov M, Javed MA, Wen L1, Booth DM, Cane MC, Awais M, Gavillet B, Pruss RM, Schaller S, Molkentin JD, Tepikin AV, Petersen OH, Pandol SJ, Gukovsky I, Criddle DN, Gukovskaya AS, Sutton R. Mechanism of mitochondrial permeability transition pore induction and damage in the pancreas: inhibition prevents acute pancreatitis by protecting production of ATP. Gut. 2016;65(8):1333-1346. doi: 10.1136/ gutjnl-2014-308553.
Gukovsky I, Pandol SJ, Gukovskaya AS. Organellar dysfunction in the pathogenesis of pancreatitis. Antioxid Redox Signal. 2011;15(10):2699-2710. doi: 10.1089/ ars.2011.4068.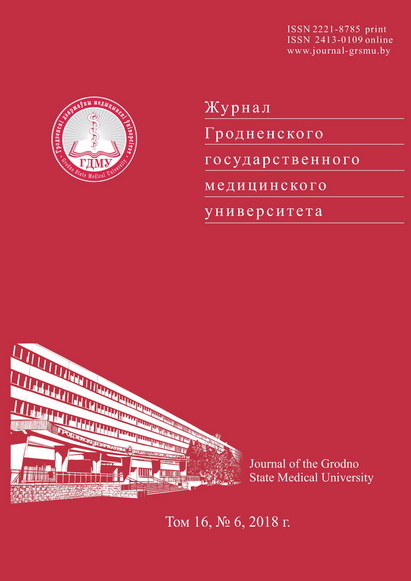 Загрузок PDF: 153
Как цитировать
1.
Можейко ЛА. ЖЕЛЧНЫЕ КИСЛОТЫ КАК ПАТОГЕНЕТИЧЕСКИЙ ФАКТОР ОСТРОГО БИЛИАРНОГО ПАНКРЕАТИТА. Журнал ГрГМУ (Journal GrSMU) [Интернет]. 9 январь 2019 г. [цитируется по 8 декабрь 2023 г.];16(6):648-53. доступно на: http://journal-grsmu.by/index.php/ojs/article/view/2337