СЕКРЕЦИЯ И РЕКРЕЦИЯ ПАНКРЕАТИЧЕСКИХ ФЕРМЕНТОВ ЧАСТЬ 2. РЕКРЕЦИЯ ПАНКРЕАТИЧЕСКИХ ФЕРМЕНТОВ
Л. А. Можейко

УО "Гродненский государственный медицинский университет"
Аннотация
Цель обзора – обобщить и проанализировать литературные сведения о механизмах транспорта панкреатических ферментов в кровь и процессе их рекреции поджелудочной железой. В статье рассмотрены возможные пути транспорта панкреатических ферментов в кровь из поджелудочной железы и тонкого кишечника. Продемонстрировано, что пищеварительные ферменты из крови могут рекретироваться панкреатоцитами, секретироваться в кишечник и реутилизироваться.
Литература
Aliev AA. Limfa i limfoobraschenie u produktivnyh zhivotnyh. Leningrad: Nauka; 1982. 288 p.
Veremeenko KN, Kizim AI, Terzov AI. O mehanizmah lechebnogo dejstvija polienzimnyh preparatov. Mistetstvo likyvanija. 2005;4:20-25.
Vertiprahov VG, Grozina AA, Dolgorukova, AM. Aktivnost fermentov podzheludochnoj zhelezy u tsypljat-brojlerov na raznyh etapah pischevarenija [The activity of pancreatic enzymes on different stages of metabolism in broiler chicks]. Selskohozjajstvennaja biologija [Agricultural Biology]. 2016;51(4): 509-515.
Voskanjan SE. Morfofunktsionalnaja organizatsija podzheludochnoj zhelezy i kliniko-eksperimentalnye aspekty ostrogo posleoperatsionnogo pankreatita [masters thesis]. Moskva, 2013. 48 p.
Gruzhauskas R, Racivichjute-Stupeliene A, Slausgalvis V, Shashite V, Klishevichjute V, Al-Sajfi D, Shtefan B, Kurkletis A. Zdorove podzheludochnoj zhelezy ptitsy. Issledovanie biohimicheskih markerov krovi In: Innovacionnoe obespechenie jaichnogo i mjasnogo pticevodstva Rossii: materialy XVIII mezhdunarodnoj konferencii Vsemirnoj nauchnoj associacii po pticevodstvu (VNAP), Sergiev Posad, 18-21 maja 2015 g.; Sergiev Posad; 2015. p. 453-455.
Korotko GF. Sekrecija podzheludochnoj zhelezy: ot Pavlovskih nachal k gastojashhemu [Secretion of the pancreas: from the Pavlovs elements to the present time]. Rossijskij zhurnal gastrojenterologii, gepatologii, koloproktologii. [Russian Journal of Gastroenterology, Hepatology, Coloproctology]. 2014;3:4-12.
Korotko GF. Rol belkov plazmy krovi v obespechenii gomeostaza fermentov pischevaritelnyh zhelez v perifericheskoj krovi [Role of blood plasma proteins in supporting digestive gland enzymes homeostasis in peripheral blood]. In: Tkachenko BI, editor. Fiziologija vistseralnyh system [Physiology of visceral systems]. Sankt-Peterburg. 1992;3:145-149.
Korotko GF, Voskanjan SJe.Reguljatornye kontury korrektsii sekretsii podzheludochnoj zhelezy [The regulatory contours of the pancreatic secretion].Uspehi fiziologicheskih nauk. 2005;36(3):45-55.
Korotko GF. Rekrecija fermentov i gormonov jekzokrinnymi zhelezami. Uspehi fiziologicheskih nauk. 2003;34(2):21-32.
Korotko GF. Recirkuljacija fermentov pishhevaritelnyh zhelez [Recirculation of digestive enzymes]. Krasnodar: EDVI; 2011. 144 p.
Korotko GF. Sekretsija podzheludochnoj zhelezy [Secretion of the pancreas] 2nd ed. Krasnodar: Izdatelstvo KGMU; 2005. 312 p.
Korotko GF. Sekrecija sljunnyh zhelez i jelementy salivadiagnostiki. Moskva: Akademija estestvoznanija; 2006. 192 p.
Korotko GF. Fermento vydelitelnaja dejatelnost pischevaritelnyh zhelez v netraditsionnom resurse [Enzyme-secretory activity of digestive glands: non-conventional approach]. Rossijskij zhurnal gastrojenterologii, gepatologii, koloproktologii [Russian Journal of Gastroenterology, Hepatology, Coloproctology].2013;23(4):6-14.
Korotko GF. Formirovanie fermentnogo komponenta sekretov pischevaritelnyh zhelez [Formation of enzyme component of digestive gland]. Fizicheskaja kultura, sport-nauka i praktika [Physical Educational, Sports - Science and Practice]. 2013;1:51-57.
Lysikov JuA. Vsasyvanie pishhevyh veshhestv v tonkoj kishke i vezikuljarnyj transport. Medicinskij alfavit. 2015;1(7):48-52.
Mozheiko LA. O geterogennosti jekzokrinnogo otdela podzheludochnoj zhelezy i ego fiziologicheskih rezervah. Zhurnal Grodnenskogo gosudarstvennogo medicinskogo universiteta [Journal of the Grodno State Medical University]. 2009;4(28):66-69.
Korotko GF, Kurzanov AN, Lemeshkina GS. O vozmozhnosti kishechnoj rezorbcii pankreaticheskih gidrolaz. In: Valdman AR, editor. Membrannoe pishhevarenie i vsasyvanie : tezisy dokladov 3-go Vsesojuznogo simpoziuma, Jurmala, 19-21 marta 1986 g. Riga: Zinatne; 1986. p. 61- 63.
Mazo VK. Vsasyvanie belkovyh antigenov i pishhevaja allergija. In: Nogaller AM, Gushhin IS, Mazo VK, Gmoshinskij IV, editors. Pishhevaja allergija i neperenosimost pishhevyh produktov. Moskva: Medicina; 2008. p. 93-117.
Shlygin GK. Rol pishhevaritelnoj sistemy v obmene. Moskva: Sinergija; 2001. 232 p.
Case RM. Pancreatic exocrine secretion: mechanisms and control. In: Berger HG, Warshaw AL, Buchler MW, Carl Locke DL, Neoptolemus JP, Russell C, Sarr MG, editors. The pancreas. Oxford: Blackwell Science Ltd; 1998. p. 63-100.
Onderci M, Sahin N, Sahin K, Cikim G, Aydín A, Ozercan I, Aydín S. Efficacy of supplementation of alpha-amylaseproducing bacterial culture on the performance, nutrient use, and gut morphology of broiler chickens fed a cornbased diet. Poult. Sci. 2006;85(3):505-510.
Heinrich HC, Gabbe EE, Brüggemann J, Icagić F, Classen M. Enteropancreatic irculation of tripsin in man. Klin. Wschr.1979;57(23):1295-1297.
Götze H, Rothman SS. Amylase transport across ileal epithelium in vitro. Biochim. Biophys. Acta. 1978;512(1):214-220.
Götze H, Rothman SS. Enteropancreatic circulation of digestive enzyme as a conservation mechanism. Nature. 1975;257:607-609.
Kawabata A, Kuroda R, Nagata N, Kawao N, Masuko T, Nishikawa H, Kawai K. In vivo evidence that protease-activated receptors 1 and 2 modulate gastrointestinal transit in the mouse. Br. J. Pharmacol. 2001;133(8):1213-1218. doi: 10.1038/sj.bjp.0704211.
Isenman L, Liebow C, Rothman S. The endocrine secretion of mammalian digestive enzymes by exocrine glands. Am. J. Physiol. 1999;276(2): E223-E232.
Isenman LD, Liebow C, Rothman SS. Protein transport across membranes: a paradigm in transition. Biochim. Biophys. Acta. 1995;1241(3):341-370.
Kawabata A, Matsunami M, Sekiguchi F. Gastrointestinal roles for proteinase-activated receptors in health and disease. Br. J. Pharmacol. 2008;153(1):S230-S240. doi: 10.1038/sj.bjp.0707491.
Liebow C, Rothman SS. Enteropancreatic circulation of digestive enzymes. Science. 1975;189:472-474.
Miyasaka K, Rothman SS. Redistribution of amylase activity accompanying its secretion by the pancreas. Proc. Natl. Acad. Sci. USA.1982;79(17):5438-5442.
Urban E, Zingery AA, Bundrant T, Weser E, Ziegler DM. Permeability of adolescent rat intestine to pancreatic ribonuclease. J. Pediatr. Gastroenterol. Nutr. 1982;1(2):267- 272.
Ramachandran R, Hollenberg MD. Proteinases and signaling: pathophysiological and therapeutic implications via PARs and more. Br. J. Pharmacol.2008;153(l) :263-282. doi: 10.1038/sj.bjp.0707507.
Richardson J, Viswanathan K, Lucas A. Serpins, the vasculature, and viral therapeutics. Front. Biosci. 2006;11:1042-1056.
Rohr G, Scheele G. Fate of radioactive exocrine pancreatic proteins injected into the blood circulation of the rat. Tissue uptake and transepithelial excretion. Gastroenterology. 1983;85(5):991-1002.
Rohr G. Kern H, Scheele G. Enteropancreatic circulation of digestive enzymes does not exist in the rat. Nature. 1981;292:470-472.
Rothman SS, Liebow C, Isenman L. Conservation of digestive enzymes. Physiol. Rev. 2002;82(1):1-18. doi: 10.1152/physrev.00022.2001.
Scheele G, Rohr G. Enteropancreatic circulation of digestive enzymes. Gastroenterology. 1984;86(4):778- 779.
Levitt MD, Ellis CJ, Murphy SM, Schwartz ML. Study of the possible enteropancreatic circulation of pancreatic amylase in the dog. Am. J. Physiol. 1981;24(1):54-58.
Suzuki K. The multi-functional serpin, protein C inhibitor : beyond thrombosis and hemostasis. J. Thromb. Haemost. 2008;6(12):2017-2026. doi: 10.1111/j. 1538-7836.2008.03181.x.
Vergnolle N. Clinical relevance of proteinase activated receptors (pars) in the gut. Gut. 2005;54(6):867-874. doi: 10.1136/gut.2004.048876.
Zavasnik-Bergant T. Cystatin protease inhibitors and immune functions. Front. Biosci. 2008;13:4625-4637.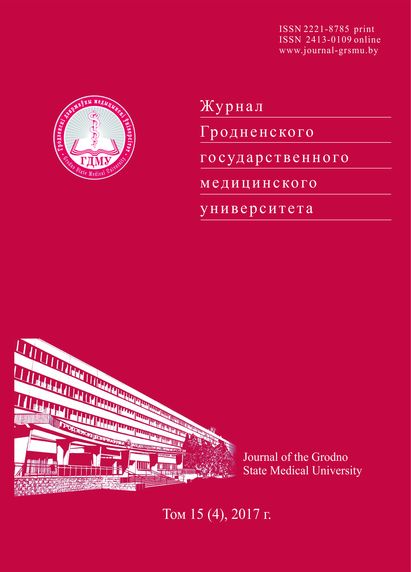 Загрузок PDF: 130
Как цитировать
1.
Можейко ЛА. СЕКРЕЦИЯ И РЕКРЕЦИЯ ПАНКРЕАТИЧЕСКИХ ФЕРМЕНТОВ ЧАСТЬ 2. РЕКРЕЦИЯ ПАНКРЕАТИЧЕСКИХ ФЕРМЕНТОВ. Журнал ГрГМУ (Journal GrSMU) [Интернет]. 2 ноябрь 2017 г. [цитируется по 30 ноябрь 2023 г.];15(4):381-5. доступно на: http://journal-grsmu.by/index.php/ojs/article/view/2164