СОЧЕТАННАЯ ЛУЧЕВАЯ ТЕРАПИЯ ПРИ РАКЕ ПРЕДСТАТЕЛЬНОЙ ЖЕЛЕЗЫ С ЭСКАЛАЦИЕЙ ДОЗЫ БРАХИТЕРАПИИ И АНДРОГЕННОЙ ДЕПРИВАЦИЕЙ
В. А. Овчинников

УО "Гродненский государственный медицинский университет"

О. С. Довнар

УЗ «Гродненская областная клиническая больница»

А. В. Копыцкий

УО "Гродненский государственный медицинский университет"
Аннотация
Введение. Эффективность сочетанной лучевой терапии с применением высокодозной брахитерапии при раке предстательной железы остается недостаточно изученной.
Цель работы. Оценить эффективность сочетанной лучевой терапии рака предстательной железы с андрогенной депривацией в условиях эскалации разовой дозы брахитерапии (8,5 Гр и 9,5 Гр).
Материал и методы. Наблюдения проведены у 75 пациентов с местно-распространенным (T3a) и локализованным раком предстательной железы с неблагоприятным прогнозом.
Результаты и обсуждение. Эскалация дозы брахитерапии с 8,5 Гр до 9,5 Гр (две имплантации) и андрогенная депривация улучшают результаты лучевой терапии: 100% биохимический контроль в течение двух лет.
Вывод. Эффективность лечения рака предстательной железы увеличивается при эскалации дозы сочетанной лучевой терапии и андрогенной депривации.
Литература
Okeanov AE, Moiseev AA, Evmenenko AA, Levin LF; Sukonko OG, editor. 25 let protiv raka. Uspekhi i problemy protivorakovoy borby v Belarusi za 1990-2014 gody [25 years contrary cancer. The successes and challenges of cancer control in Belarus for the years 1990-2014]. Minsk: GU RNMB; 2016. 415 p. (Russian).
Krasnyj SA, Tarend DT, Semjonov SA. Rezultaty skrininga raka predstatelnoj zhelezy i problema giperdiagnostiki zabolevanija v Respublike Belarus [The results of prostate cancer screening and the problem of the hyperdiagnosis of the disease in the Republic of Belarus]. Onkourologija [Cancer urology]. 2016;12(1):58-62. (Russian).
Ovchinnikov VA, Dovnar OS. Effektivnost vysokodoznoy brakhiterapii pri radikalnom lechenii raka predstatelnoy zhelezy [Efficiency of high-dose-rate brachytherapy in the radical treatment of prostate cancer]. Zhurnal Grodnenskogo gosudarstvennogo medicinskogo universiteta [Journal of the Grodno State Medical University]. 2013;2:18-23. (Russian).
Chodak GW. Prostate cancer treatment & management [Internet]. Available from: https://emedicine.medscape.com/ article/1967731-treatment.
Demanes DJ, Chilezan MI. High-dose-rate brachytherapy as monotherapy for prostate cancer. Brachytherapy. 2014;13(6):529-541. doi: 10.1016/j.brachy.2014.03.002.
Schiffmann J, Lesmana H, Tennstedt P, Beyer B, Boehm K, Platz V, Tilki D, Salomon G, Petersen C, Krüll A, Graefen M, Schwarz R. Additional androgen deprivation makes the difference: Biochemical recurrence-free survival in prostate cancer patients after HDR brachytherapy and external beam radiotherapy. Strahlenther. Onkol. 2015;191(4):330-337. doi: 10.1007/ s00066-014-0794-y.
D'Amico AV, Chen MH, Renshaw A, Loffredo M, Kantoff PW. Long-term Follow-up of a Randomized Trial of Radiation With or Without Androgen Deprivation Therapy for Localized Prostate Cancer. JAMA. 2015;314(12):1291-1293.
Bria E, Cuppone F, Giannarelli D, Milella M, Ruggeri EM, Sperduti I, Pinnarò P, Terzoli E, Cognetti F, Carlini P. Does hormone treatment added to radiotherapy improve outcome in locally advanced prostate cancer?: meta-analysis of randomized trials. Cancer. 2009;115(15):3446-3456. doi: 10.1002/cncr.24392.
Instrukcija po primeneniju nabora reagentov dlja immunofermentnogo opredelenija obshhego prostataspecificheskogo antigena v syvorotke (plazme) krovi. RU № FSR 2011/11007. 2011 Ijun 20. Moskva; 2011. 18 p. (Russian).
Skonko OG, Krasnyj SA, editors. Algoritmy diagnostiki i lechenija bolnyh zlokachestvennymi novoobrazovanijami. Minsk: Professionalnye izdanija; 2012. 508 p. (Russian).
Cox JD, Stetz J, Pajak TF. Toxicity criteria of the Radiation Therapy Oncology Group (RTOG) and the European Organization for Research and Treatment of Cancer (EORTC). Int. J. Radiat. Oncol. Biol. Phys. 1995;31(5):1341-1346. doi: 10.1016/0360-3016(95)00060-C.
Boschloo RD. Raised Conditional Level of Significance for the 2x2-table when Testing the Equality of Two Probabilities. Statistica Neerlandica. 1970;24(1):1-9. doi: 10.1111/j.1467-9574.1970.tb00104.x.
Hommel G. A stagewise rejective multiple test procedure based on a modified Bonferroni test. Biometrika. 1988;75(2):383-386. doi: 10.1093/biomet/75.2.383.
Heidenreich A, Bolla M, Joniau S, Mason MD, Matveev V, Mottet N, Schmid H-P, van der Kwast TH, Wiegel T, Zattoni F. Rak predstatelnoj zhelezy [Guidelines on Prostate Cancer]. European Association of Urology; 2010. 168 p. (Russian).
Ismail M, Ferroni M, Gomella LG. Androgen suppression strategies for prostate cancer: is there an ideal approach? Curr. Urol. Rep. 2011;12(3):188-196. doi: 10.1007/s11934-011-0178-0.
Dörr W. Pathogenesis of normal-tissue side-effects. In: Joiner M, van der Kogel A, editors. Basic clinical radiology. 4th ed. London: Hodder Arnold; 2009. p. 169-190.
Liauw SL, Weichselbaum RR, Rash C, Correa D, Al-Hallaq HA, Pelizzari CA, Jani AB. Biochemical control and toxicity after intensity-modulated radiation therapy for prostate cancer. Technol. Cancer Res. Treat. 2009;8(3):201-206. doi: 10.1177/153303460900800304.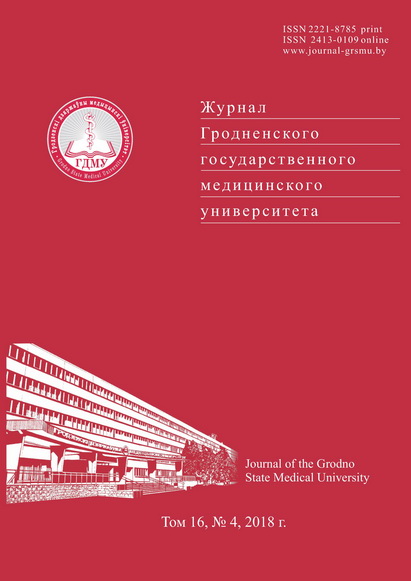 Загрузок PDF: 235
Как цитировать
1.
Овчинников ВА, Довнар ОС, Копыцкий АВ. СОЧЕТАННАЯ ЛУЧЕВАЯ ТЕРАПИЯ ПРИ РАКЕ ПРЕДСТАТЕЛЬНОЙ ЖЕЛЕЗЫ С ЭСКАЛАЦИЕЙ ДОЗЫ БРАХИТЕРАПИИ И АНДРОГЕННОЙ ДЕПРИВАЦИЕЙ. Журнал ГрГМУ (Journal GrSMU) [Интернет]. 7 сентябрь 2018 г. [цитируется по 25 сентябрь 2023 г.];16(4):414-8. доступно на: http://journal-grsmu.by/index.php/ojs/article/view/2296
Раздел
ОРИГИНАЛЬНЫЕ ИССЛЕДОВАНИЯ