Содержание -1 кислого гликопротеина и сиаловых кислот в биологических жидкостях у больных с хроническими миелопролиферативными заболеваниями
А. С. Маслак

ГУ "Днепропетровская медицинская академия"

О. В. Костюк

ГУ "Днепропетровская медицинская академия"

И. В. Машейко

ГУ "Днепропетровская медицинская академия"

А. З. Бразалук

ГУ "Днепропетровская медицинская академия"
Аннотация
Целью работы было исследование концентрации общих сиаловых кислот и a-1 кислого гликопротеина в крови и моче в группах больных с эритремией и сублейкемическим миелозом. Содержание a-1 кислого гликопротеина в сыворотке и моче определяли методом иммунодота, а уровень сиаловых кислот - с помощью "СиалоТест" (НПЦ Эко-Сервис, Россия). В работе показано повышение уровня сиаловых кислот в сыворотке на 42,6±0,3% (р<0,05) и 41,5±0,6% (р<0,05), при эритремии и сублейкемическом миелозе, соответственно. В моче при данных патологиях  концентрация сиаловых кислот возрастает почти в 2 раза (р<0,001). Уровень a-1 кислого гликопротеина при эритремии снижается на 32,3±0,6% в плазме крови и на 31,4±0,5% (р<0,05) в моче, и напротив, не отличается от нормы при сублейкемическом миелозе. Полученные данные могут быть использованы с целью раннего выявления и для проведения дифференциальной диагностики хронических миелолейкозов.
Литература
Angata, Т. Chemical diversity in the sialic acids and related a-keto acids: an evolutionary perspective./ Т.Angata, А.Varki // Chem..Rev. - 2002. - №102. - Р. 439 - 469.
Bhagava, N.V. Heteropolysaccharides: Glycoproteins and glycolipids./ N.V Bhagava// Medical Biochrmistry. Elsevier publisher. - 2002. - №4.-.Р. 153 - 171.
Ceciliani, F. The acute phase protein alpha1-acid glycoprotein: a model for altered glycosylation during diseases/ F.Ceciliani, V.Pocacqua // Curr Protein Pept Sci. - 2007. - № 8 Feb.- Р. 91-108.
Chen,S. Cell type-specific roles of carbohydrates in tumor metastasis./ S.Chen, M.Fukuda.// Methods Enzymol. - 2006. - №416.- Р. 371-380.
Kim,YJ, Perspectives on the significance of altered glycosylation of glycoproteins in cancer. / YJ. Kim, А.Varki.// Glycoconj. - 1997. - №14.- Р. 569-576.
Nakano М. Detailed structural features of glycan chains derived from 1-acid glycoproteins of several different animals: the presence of hypersialylated, O-acetylated sialic acids but not disialyl residues./ Miyako Nakano, Kazuaki Kakehi, Men-Hwei Tsai, Yuan C. Lee. / Oxford University Press. - 2004. - №5.- Р. 431-441.
Parkash, A. Study of serum total sialic acid level and its correlation with atherogenic index in cases of acute myocardial infarction./ А. Parkash, Р.Singla, М.Seth, Н.К.Agarwal //International Jornal of Pharma and Bio Sciences. - Jun 2011. - № 2 - Р. 8-14
Sabzwari, М. Serum sialic acid concentration and type II diabetes mellitus./ Dr. Mohammad Sabzwari, Dr.Muhammad Majeed, Dr.Mukhtar Ahmad// Professional Med.- 2006.- №4. - Р.508-510.
Sillanaukee, P. Occurrence of sialic acids in healthy humans and different disorders./ .P.Sillanaukee , M.Ponnio, I.P Jaaskelainen // Eur J Clin Invest.- 1999. - № 5. - P. 413-425.
Uslu, C. Serum free and bound sialic acid and alpha-1-acid glycoprotein in patients with laryngeal cancer./ С. Uslu., S.Taysi., F.Akcay et al. // Ann Clin Lab Sci. - 2003.- №2.- Р. 156-159.
Varki, A Glycan-based interactions involving vertebrate sialic acid-recognizing proteins. /A.Varki // Nature. - 2007. - № 446.- Р. 1023 - 1029.
Varki, A. Sialic acids in human health and disease./ А.Varki // Cell press. - 2008.- № July . - Р. 351-359.
Vedralova,Е. Evalution of serum sialic acid fractions as markers for malignant melanoma./ Е.Vedralova, J.Borovansky //Annals of Clinical and Laboratory Science.- 2003.- №33.- .Р. 156-159.
Wan Р.Н. Altered Glycosylation in Cancer: Sialic Acids and Sialytransferanses/Wang Р.Н. // Journal of Cancer Molecules. - 2005. - №2. Р.73-81.
Waters,P.J. Measurementof sialic acid i serum and urine: clinical applications and limitations. Department of Chemical Pathalogy. / P.J Waters, / Е.Lewry , С.А. Pennock.// St Michaels Hospital, Bistolo, UK.- 1992.- №29. Р.6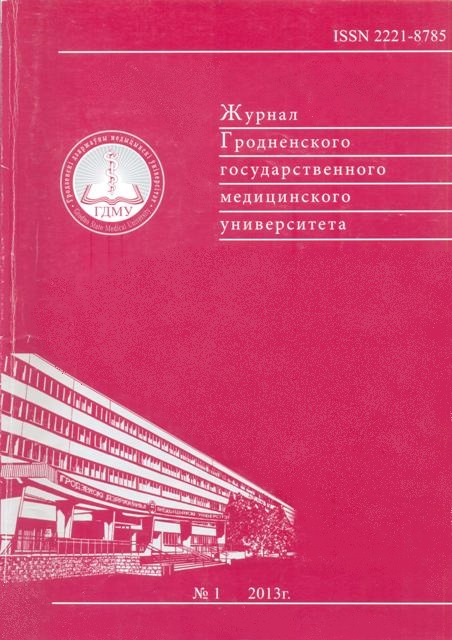 Загрузок PDF: 72
Как цитировать
1.
Маслак АС, Костюк ОВ, Машейко ИВ, Бразалук АЗ. Содержание -1 кислого гликопротеина и сиаловых кислот в биологических жидкостях у больных с хроническими миелопролиферативными заболеваниями. Журнал ГрГМУ (Journal GrSMU) [Интернет]. 30 июль 2015 г. [цитируется по 20 март 2023 г.];(1(41):39-1. доступно на: http://journal-grsmu.by/index.php/ojs/article/view/224
Раздел
ОРИГИНАЛЬНЫЕ ИССЛЕДОВАНИЯ