ПРИМЕНЕНИЕ ТРАНЕКСАМОВОЙ КИСЛОТЫ ПРИ РАДИКАЛЬНОЙ ПРОСТАТЭКТОМИИ
П. Н. Янчевский

УО "Гродненский государственный медицинский университет", Гродно, Беларусь

В. С. Бык

УО "Гродненский государственный медицинский университет", Гродно, Беларусь

Д. А. Полюхович

УО "Гродненский государственный медицинский университет", Гродно, Беларусь

С. А. Хильманович

Гродненская университетская клиника, г. Гродно, Беларусь
Аннотация
Цель исследования. Оценка эффективности уменьшения кровопотери при применении транексамовой кислоты при выполнении радикальной простатэктомии.
Материал и методы. Обследованы 37 пациентов после оперативного вмешательства – радикальной простатэктомии в пред- и послеоперационном периоде. В контрольную группу (15 чел.) вошли пациенты со стандартной профилактикой тромбоэмболических осложнений и стандартной периоперационной терапией. В исследуемую группу вошли 22 пациента, которым стандартная терапия была дополнена внутривенным введением препарата Транексам® дозатором 1000 за 20 минут.
Результаты. Рассмотрены показатели общего анализа крови и свертывающей системы пациентов с опухолями предстательной железы. Внутривенная инфузия транексамовой кислоты позволяет уменьшить операционную кровопотерю у пациентов при выполнении радикальной простатэктомии.
Выводы. Полученные данные позволяют рекомендовать применение транексамовой кислоты с целью уменьшения операционной кровопотери.
Литература
Kurmukov IA. Antifibrinolitiki - vspomogatelnye preparaty profilaktiki i lechenija krovotechenij v onkologii [Antifibrinolytic agents can be used in the treatment of bleeding complications in oncology]. Klinicheskaja onkogematologija. Fundamentalnye issledovanija i klinicheskaja praktika [Clinical Oncohematology. Basic Research and Clinical Practice]. 2009;2(1):59-62. (Russian).
Borisov DB, Yudin SV, Lebedev LA, Vardanashvili VK, Istomina NA. Vybor rezhima dozirovanija traneksamovoj kisloty pri jendoprotezirovanii sustavov [Choice of a tranexamic acid dose regimen during endoprosthetic replacement of joints]. Vestnik anesteziologii i reanimatologii [Messenger of Anesthesiology & Resuscitation]. 2011;8(5):41-44. (Russian).
Vasiliev SA, Vinogradov VL, Gemdjian EG. Traneksam - antifibrinoliticheskij gemostatik [Tranexam is antifibrino-lytic and hemostatic drug]. Tromboz, gemostaz i reologija. 2008;1(33):28-34. (Russian).
Osipova NA, Eldarkhanov DR, Khoronenko VE, Khovanskaya TP, Petrova VV, Alekseev BYa. Ingibitory fibrinoliza traneksamovaja kislota i aprotinin pri radikalnoj prostatjektomii: prospektivnoe randomizirovannoe sravnitelnoe issledovanie [Fibrinolysis inhibitors tranexamic acid and aprotinine: prospective randomized comparative study]. Anesteziologija i reanimatologija [Anesthesiology & Intensive Care]. 2012;5:35-42. (Russian).
Ekbäck G, Axelsson K, Ryttberg L, Edlund B, Kjellberg J, Weckström J, Carlsson O, Schött U. Tranexamic acid reduces blood loss in total hip replacement surgery. Anesthesia & Analgesia. 2000;91(5):1124-1130. https://doi.org/10.1213/00000539-200011000-00014
Selivanov DD, Sungurov VA, Likhvantsev VV, Konev DYe, Moiseikina LA. Primenenie traneksamovoj kisloty pri totalnom zndoprotezirovanii tazobedrennogo sustava [Use of Tranexamic Acid during Total Endoprosthetic Replacement of the Hip Joint]. Obshhaja reanimatologija [General Reanimatology]. 2010;6(5):62-65. https://doi.org/10.15360/1813-9779-2010-5-62 (Russian).
Shevchenko YuL, Stoiko YuM, Zamyatin MN, Teplykh BA, Karpov IA, Smolkin DA. Krovesberegajushhij jeffekt traneksamovoj kisloty pri protezirovanii kolennogo sustava [Blood-Preserving Effect of Tranexamic Acid in Knee Joint Replacement]. Obshhaja reanimatologija [General Reanimatology]. 2008;4(6):21-25. https://doi.org/10.15360/1813-9779-2008-6-21 (Russian).
Borisov DB, Yudin SV, Krylov OV, Markov BB, Istomina NA. Snizhenie perioperacionnoj krovopoteri pri jendoprotezirovanii krupnyh sustavov [Reduction of Perioperative Blood Loss During Endoprosthetic Replacement of Large Joints]. Obshhaja reanimatologija [General Reanimatology]. 2011;8(4):34-37. https://doi.org/10.15360/1813-9779-2011-4-34 (Russian).
Ng W, Jerath A, Wąsowicz M. Tranexamic acid: a clinical review. Anaesthesiology Intensive Therapy. 2015;4:339-350. https://doi.org/10.5603/AIT.a2015.0011
Choi HY, Hyun SJ, Kim KJ, Jahng TA, Kim HJ. Effectiveness and safety of tranexamic acid in spinal deformity surgery. Journal of Korean Neurosurgical Society. 2017;60(1):75-81. https://doi.org/10.3340/jkns.2016.0505.004
Wong J, El Beheiry H, Rampersaud YR, Lewis S, Ahn H, De Silva Y, Abrishami A, Baig N, McBroom RJ, Chung F. Tranexamic acid reduces perioperative blood loss in adult patients having spinal fusion surgery. Anesthesia & Analgesia. 2008;107(5):1479-1486. https://doi.org/10.1213/ane.0b013e3181831e44
Weber CF, Görlinger K, Byhahn C, Moritz A, Hanke AA, Zacharowski K, Meininger D. Tranexamic acid partially improves platelet function in patients treated with dual antiplatelet therapy. European Journal of Anaesthesiology. 2010;28(1):57-62. https://doi.org/10.1097/EJA.0b013e32834050ab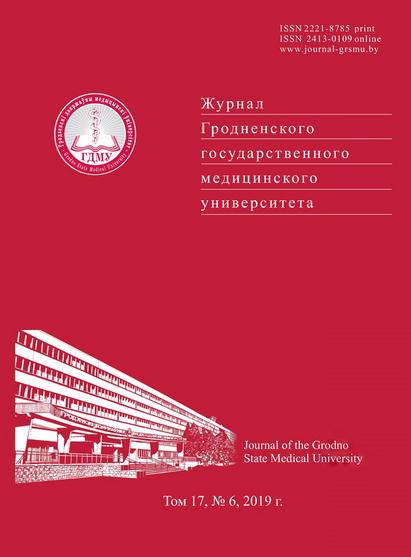 Загрузок PDF: 53
Как цитировать
1.
Янчевский ПН, Бык ВС, Полюхович ДА, Хильманович СА. ПРИМЕНЕНИЕ ТРАНЕКСАМОВОЙ КИСЛОТЫ ПРИ РАДИКАЛЬНОЙ ПРОСТАТЭКТОМИИ. Журнал ГрГМУ (Journal GrSMU) [Интернет]. 1 июль 2021 г. [цитируется по 11 декабрь 2023 г.];17(6):677-81. доступно на: http://journal-grsmu.by/index.php/ojs/article/view/2645
Раздел
ОРИГИНАЛЬНЫЕ ИССЛЕДОВАНИЯ