ACINETOBACTER BAUMANNII: РАСПРОСТРАНЕННОСТЬ, СПЕКТР И ДИНАМИКА АНТИБИОТИКОРЕЗИСТЕНТНОСТИ, ЧУВСТВИТЕЛЬНОСТЬ К КОМБИНАЦИЯМ АНТИБИОТИКОВ
Д. В. Тапальский

УО «Гомельский государственный медицинский университет»,

Н. А. Бонда

ГУ «Гомельский областной центр гигиены, эпидемиологии и общественного здоровья»
Ключевые слова:
Acinetobacter baumannii, антибиотикорезистентность, меропенем, колистин, сульбактам, карбапенемазы, комбинации антибиотиков
Аннотация
Цель. Изучить спектр и динамику антибиотикорезистентности Acinetobacter baumannii, оценить механизмы устойчивости к карбапенемам и чувствительность к комбинациям антибиотиков.
Материал и методы. Для 305 клинических изолятов A.baumannii определена чувствительность к антибиотикам автоматизированным методом. Детекция генов карбапенемаз выполнена методом ПЦР в реальном времени. Чувствительность к комбинациям антибиотиков определена методом тестирования бактерицидности разных комбинаций.
Выводы. Показано увеличение доли A.baumannii в этиологической структуре инфекционной патологии. Отмечено увеличение антибиотикорезистентности. Выявлено наличие генов карбапенемаз ОХА-40. Не обнаружено изолятов, устойчивых к колистину. Комбинации меропенем-колистин, амикацин-колистин, левофлоксацин-колистин проявляли бактерицидную активность в отношении 100% изолятов.
Литература
Chebotar IV, Lazareva AV, Masalov YaK, Mikhailovich VM, Mayanskiy NA. Acinetobacter: mikrobiologicheskie, patogeneticheskie i rezistentnye svojstva [Acinetobacter: microbiological, pathogenetic and resistant properties].
Vestnik Rossijskoj akademii medicinskih nauk [Bulletin of the Russian Academy of Medical Sciences]. 2014;69(9-10):39-50. doi: 10.15690/vramn.v69i9-10.1130 (Russian).
Gorbich YuL, Karpov IA, Martinovich AA, Levshina NN. Osobennosti rezistentnosti Acinetobacter baumannii k karbapenemam v Respublike Belarus [Peculiar features of Acinetobacter baumannii resistance to carbapenems in the Republic of Belarus]. Zdravoohranenie [Health care]. 2011;5:25-30. (Russian).
Magiorakos AP, Srinivasan A, Carey RB, Carmeli Y, Falagas ME, Giske CG, Harbarth S, Hindler JF, Kahlmeter G,
Olsson-Liljequist B, Paterson DL, Rice LB, Stelling J, Struelens MJ, Vatopoulos A, Weber JT, Monnet DL. Multidrug-resistant, extensively drug-resistant and pandrug-resistant bacteria: an international expert proposal for interim standard definitions for acquired resistance. Clin. Microbiol. Infect. 2012;18(3):268-281. doi: 10.1111/j.1469-0691.2011.03570.x.
Bonnin RA, Nordmann P, Poirel L. Screening and deciphering antibiotic resistance in Acinetobacter baumannii: a state of the art. Expert Rev. Anti. Infect. Ther. 2013;11(6):571-583. doi: 10.1586/eri.13.38.
Tapalski DV, Osipov VA, Zhavoronok SV. Karbapenemazy gramotricatel'nyh bakterij: rasprostranenie i metody detekcii [Carbapenemases of gram-negative pathogens: spread and methods of detection]. Medicinskij zhurnal [Medical journal]. 2012;2:10-15. (Russian).
Suhorukova MV, Jejdelshtejn MV, Skleenova EJu, Ivanchik NV, Shek EA, Dehnich AV, Kozlov RS. Antibiotikorezistentnost nozokomialnyh shtammov Acinetobacter spp. v stacionarah Rossii: rezultaty mnogocentrovogo jepidemiologicheskogo issledovanija
«MARAFON» 2013-2014 [Antimicrobial resistance of nosocomial Acinetobacter spp. isolates in Russia: results of multicenter epidemiological study «MARATHON» 2013-2014]. Klinicheskaja mikrobiologija i antimikrobnaja himioterapija [Clinical Microbiology and Antimicrobial Chemotherapy]. 2017;19(1):42-48. (Russian).
Zavascki AP, Bulitta JB, Landersdorfer CB. Combination therapy for carbapenem-resistant Gram-negative bacteria. Expert Rev. Anti. Infect. Ther. 2013;11(12):1333-1353. doi: 10.1586/14787210.2013.845523.
Yiying C, Nathalie GC, Tze-Peng L, Jocelyn Qi-Min T, Winnie L, Asok K, Tse-Hsien K, Thuan-Tong T, Andrea LK.
From Bench-Top to Bedside: A Prospective In Vitro Antibiotic Combination Testing (iACT) Service to Guide the Selection of Rationally Optimized Antimicrobial Combinations against Extensively Drug Resistant (XDR) Gram Negative Bacteria (GNB). PLoS ONE 2016;11(7):e0158740. doi: 10.1371/journal.pone.0158740.
Perez F, El Chakhtoura NG, Papp-Wallace KM, Wilson BM, Bonomo RA. Treatment options for infections caused by carbapenem-resistant Enterobacteriaceae: can we apply "precision medicine" to antimicrobial chemotherapy? Expert Opin. Pharmacother. 2016;17(6):761-781. doi:10.1517/14656566.2016.1145658.
Teo J, Lim TP, Hsu LY, Tan TY, Sasikala S, Hon PY, Kwa AL, Apisarnthanarak A. Extensively drug-resistant Acinetobacter baumannii in a Thai hospital: a molecular epidemiologic analysis and identification of bactericidal Polymyxin B-based combinations. Antimicrob. Resist. Infect. Control. 2015;4(1):2. doi: 10.1186/s13756-015-0043-x.
Chew KL, La MV, Lin RTP, Teo JWP. Colistin and Polymyxin B Susceptibility Testing for Carbapenem-Resistant and mcr-Positive Enterobacteriaceae: Comparison of Sensititre, MicroScan, Vitek 2, and Etest with Broth Microdilution. J. Clin. Microbiol. 2017;55(9):2609-2616. doi: 10.1128/JCM.00268-17.
Vasoo S. Susceptibility testing for the polymyxins: Two steps back, three steps forward? J. Clin. Microbiol. 2017;55(9):2573-2582. doi: 10.1128/JCM.00888-17.
ISO 20776-1:2006 «Clinical laboratory testing and in vitro diagnostic test systems – Susceptibility testing ьof infectious agents and evaluation of performance of antimicrobial susceptibility test devices». Pt. 1, Reference method for testing the in vitro activity of antimicrobial agents against rapidly growing aerobic bacteria involved in infectious diseaes [Internet]. 1st ed. Switzerland, 2006. 19 р. Available from: https://www.iso.org/standard/41630.html.
European Committee on Antimicrobial Susceptibility testing (EUCAST). Breakpoint tables for interpretation of MICs and zone diameters. Ver. 8.0 2018 [Internet]. Available from: http://www.eucast.org/clinical_breakpoints/.
Aaron SD, Ferris W, Henry DA, Speert DP, Macdonald NE. Multiple combination bactericidal antibiotic testing for patients with cystic fibrosis infected with Burkholderia cepacia. Am. J. Resp. Crit. Care Med. 2000;161(4 Pt 1):1206-1212. doi: 10.1164/ajrccm.161.4.9907147.
Tapalskij DV, Lagun LV; UO "Gomelskij gosudarstvennyj medicinskij universitet". Metody opredelenija chuvstvitelnosti k kombinacijam antibiotikov gramotricatelnyh bakterij s jekstremalnoj i polnoj antibiotikorezistentnostju [Methods for determining sensitivity to combinations of antibiotics of gram-negative bacteria with extensively drug resistance and pandrug resistance]. BY instructions 002-0517. 2017. Aug 31. (Russian).
Word Health Organization. Central Asian and Eastern European surveillance of antimicrobial resistance. Annual report 2016 [Internet]. Available from: http://www.euro.who. int/__data/assets/pdf_file/0009/323568/CAESAR-Annualreport-2016.pdf?ua=1.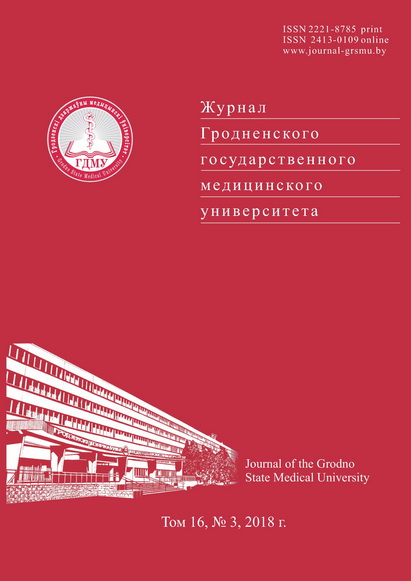 Загрузок PDF: 168
Как цитировать
1.
Тапальский ДВ, Бонда НА. ACINETOBACTER BAUMANNII: РАСПРОСТРАНЕННОСТЬ, СПЕКТР И ДИНАМИКА АНТИБИОТИКОРЕЗИСТЕНТНОСТИ, ЧУВСТВИТЕЛЬНОСТЬ К КОМБИНАЦИЯМ АНТИБИОТИКОВ. Журнал ГрГМУ (Journal GrSMU) [Интернет]. 6 июль 2018 г. [цитируется по 18 май 2021 г.];16(3):286-91. доступно на: http://journal-grsmu.by/index.php/ojs/article/view/2270
Раздел
ОРИГИНАЛЬНЫЕ ИССЛЕДОВАНИЯ