НАРУШЕНИЯ УГЛЕВОДНОГО ОБМЕНА У БОЛЬНЫХ ХРОНИЧЕСКИМИ ВИРУСНЫМИ ГЕПАТИТАМИ С МУТАЦИЯМИ В ГЕНЕ ГЕМО-ХРОМАТОЗА
И. В. Пальцев

УО "Гомельский государственный медицинский университет"

А. Л. Калинин

УО "Гомельский государственный медицинский университет"

В. М. Мицура

УО "Гомельский государственный медицинский университет"
Аннотация
Целью исследования явился сравнительный анализ показателей углеводного обмена у пациентов с хроническими вирусными гепатитами (ХВГ) при наличии мутаций в гене HFE. Выявлено, что для больных ХВГ, имеющих мутации гена гемохроматоза и синдром перегрузки железом, характерна более высокая частота сахарного диабета (СД).
Литература
Adipocyte iron regulates adiponectin and insulin sensitivity / J.S. Gabrielsen [et al.] // J Clin Invest. - 2012. - Vol.122. - P.3529-3540.
Clinical cofactors and hepatic fibrosis in hereditary hemochromatosis: the role of diabetes mellitus / M.J. Wood [et al.] // Hepatology. - 2012. - Vol.56. - P.904-911
Iron in fatty liver and in the metabolic syndrome: a promising therapeutic target / P. Dongiovanni [et al.] // J. Hepatology. - 2011. - Vol.55. - P. 920 - 932.
Iron overload and diabetes risk: a shift from glucose to Fatty Acid oxidation and increased hepatic glucose production in a mouse model of heredi-tary hemochromatosis / J. Huang [et al.] // Diabetes. - 2011. - Vol.60. - P. 80-87
Glucose metabolism after normalization of markers of iron overload by venesection in subjects with hereditary hemochromatosis / M. Hatunic [et al.] // Metabolism. - 2010. - Vol.59. - P. 1811-1815.
Hemochromatosis gene (HFE) polymorphisms and risk of type 2 diabetes mellitus: a meta-analysis / Y. Rong [et al.] // Am J Epidemiology. - 2012. - Vol.176. - P. 461-472.
Hsieh, PS. Impact of liver diseases on the development of type 2 diabetes mellitus / P.S. Hsieh, Y.J. Hsieh // World J. Gastroenterol. - 2011. - Vol.17, N48. - P. 5240-5245
Pietrangelo, A. Hereditary hemochromatosis: pathogenesis, diagnosis, and treatment / A. Pietrangelo // Gastroenterology. - 2010. -Vol. 139. - P. 393-408.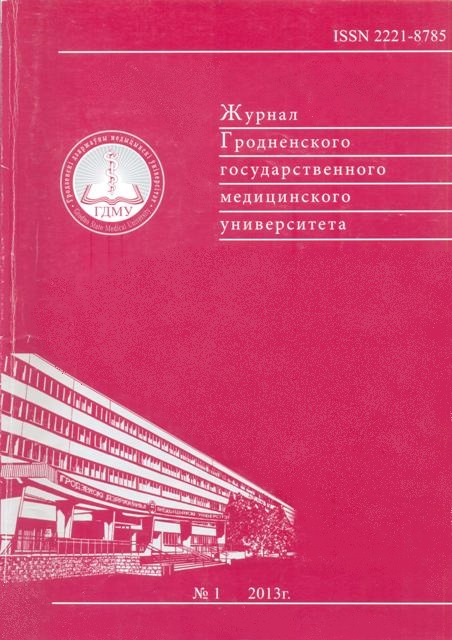 Загрузок PDF: 86
Как цитировать
1.
Пальцев ИВ, Калинин АЛ, Мицура ВМ. НАРУШЕНИЯ УГЛЕВОДНОГО ОБМЕНА У БОЛЬНЫХ ХРОНИЧЕСКИМИ ВИРУСНЫМИ ГЕПАТИТАМИ С МУТАЦИЯМИ В ГЕНЕ ГЕМО-ХРОМАТОЗА. Журнал ГрГМУ (Journal GrSMU) [Интернет]. 30 июль 2015 г. [цитируется по 20 март 2023 г.];(1(41):31-3. доступно на: http://journal-grsmu.by/index.php/ojs/article/view/221
Раздел
ОРИГИНАЛЬНЫЕ ИССЛЕДОВАНИЯ