ЭФФЕКТИВНОСТЬ ИННОВАЦИОННОЙ ТЕХНОЛОГИИ ПРИ ТЕРАПЕВТИЧЕСКОЙ КОРРЕКЦИИ ВИСЦЕРО-ВЕРТЕБРАЛЬНОГО БОЛЕВОГО СИНДРОМА ПОЯСНИЧНОГО ОСТЕОХОНДРОЗА
А. И. Гаманович

ГУ «1134 военный клинический медицинский центр Вооруженных Сил Республики Беларусь»
Ключевые слова:
висцеро-вертебральный болевой синдром, поясничный остеохондроз, отраженная висцеральная боль
Аннотация
Введение. Представление о сущности вертеброгенного пояснично-крестцового болевого синдрома, базирующееся только на данных нейровизуализации, без учета состояния целостного организма, – неприемлемо, а методы диагностики и лечения, выработанные на такой основе, – малоэффективны.
Цель исследования. Доказать высокую эффективность лечения при применении инновационной технологии конкретизации пояснично-крестцового болевого синдрома остеохондроза позвоночника.
Материал и методы. В работе приведены данные комплексного обследования и лечения 628 пациентов с пояснично-крестцовым болевым синдромом.
Результаты. Показана высокая эффективность новой технологии, основанной на обосновании ведущего синдрома (вертеброгенного, отраженного висцерального или их сочетания), снижающей длительность стационарного лечения на 20%.
Выводы. Полученные данные свидетельствуют о важнейшей роли висцеральной патологии в формировании и проявлении пояснично-крестцового болевого синдрома и необходимости междисциплинарного подхода в ведении данной категории пациентов.
Литература
Avdey GM, Kulesh SD, Shumskas MS, Lukjanjuk TN, Arcimenja SE, Valkovskaja TV, Orlovskaja TJu, Borisevich AV, Oganesjan AA, Zhurak NA, Zhulpa Fedorova AJu, Ganevich AV. Jeffektivnost' preparata Jetodin Fort u pacientov s vertebrogennym bolevym sindromom [Efficacy Etodin Fort in treatment patients with
vertebral pain syndrome]. Nevrologija i nejrohirurgija. Vostochnaja Evropa [Neurology and neurosurgery. The
Eastern Europe]. 2012;1(13):81-91.
Smychek VB, Chapko IJa, Filippovich AN, Stahejko NV, Cherevko TV, Milkota VA. Medicinskaja jekspertiza pacientov s nevrologicheskimi projavlenijami pojasnichnogo osteohondroza [Medical assessment of patients with neurologic implications of lumbar osteochondrosis]. Nevrologija i nejrohirurgija. Vostochnaja
Evropa [Neurology and Neurosurgery. Eastern Europe]. 2013;1(17):5-15.
Drivotinov BV. Vertebro-visceral'nyj i viscero-vertebral'nyj bolevoj sindrom pri osteohondroze pozvonochnika [Vertebro-visceral and viscero-vertebral pain syndrome in degenerative disc disease]. Medicinskij zhurnal [Medical Journal]. 2010;3(33):4-8.
Likhachev SA, Borisenko AV, Vaschilin VV, Sopich NYu, Avlasevich AA, Voitov VV. Osobennosti diagnostiki i lechenija razlichnyh jetiopatogeneticheskih variantov nevrologicheskih projavlenij pojasnichnogo osteohondroza [The peculiarities of different etiopathogenetic variants of lumbar osteochondrosis neurological presentations diagnostics and treatment]. Nevrologija i ejrohirurgija. Vostochnaja Evropa [Neurology and Neurosurgery.
Eastern Europe] 2015;3(27):49-57.
Zharkov PL, Zharkov AP, Bubnovskij SM. Pojasnichnye boli: diagnostika, prichiny, lechenie [Lumbar pain: diagnosis, causes, treatment]. Moscow: Juniartprint; 2001. 144 p.
van Tulder M, Becker A, Bekkering T, Breen A, Gil del Real MT, Hutchinson A, Koes B, Laerum E, Malmivaara A. Chapter 3. European guidelines for the management of acute nonspecific low back pain in primary care. Eur. Spine J. 2006;15 Suppl 2:S169-191. doi: 10.1007/s00586- 006-1071-2.
Vasilevich EN, Sidorovich RR. Sravnitel'nyj analiz blizhajshih rezul'tatov hirurgicheskogo lechenija degenerativno-distroficheskih zabolevanij pojasnichnogo otdela pozvonochnika [Comparative analysis of the immediate results of surgical treatment of the lumbar spine degenerative diseases]. Nevrologija i nejrohirurgija.
Vostochnaja Evropa. [Neurology and Neurosurgery. Eastern Europe]. 2015;2(26):85-95.
Drivotinov BV, Hamanovich AI. Novyj podhod k diagnostike i terapevticheskoj korrekcii vertebrogennogo pojasnichno-krestcovogo bolevogo sindroma [New approach to the diagnostics and therapeutic correction of vertebrogenic lumbosacral pain syndrome]. Voennaja medicina [Military medicine]. 2016;2(39):92-98.
Zagashvili IV, Yanul AN. Nekotorye sluchai NPVPgastropatij pri kratkosrochnom lechenii i varianty ih profilaktiki [Some cases of NSAID-gastropathy after short-term treatment and variants of its prevention]. Recept [Recipe]. 2015;1(99):104-108.
Shanko UG, Nesteruk OV. Problema hirurgicheskogo lechenija gryzh mezhpozvonkovyh diskov na pojasnichno-krestcovom urovne [The problem of surgical treatment of lumbar disc herniation]. Nevrologija i nejrohirurgija. Vostochnaja Evropa [Neurology and Neurosurgery. Eastern Europe]. 2013;4(20):163-173.
Klinicheskie protokoly diagnostiki i lechenija bol'nyh s patologiej nervnoj sistemy : pril. k prikazu M-va zdravoohranenija Resp. Belarus, 19 maja 2005 g., № 274 [Clinical protocols of diagnosis and treatment of patients with pathology of the nervous system : attachment to the order of the Ministry of Health of the Republic of Belarus, May 19, 2005, No. 274]. Available at: http://minzdrav.gov.by/ru/static/spavochno-infirm/protololy_lechenia/protokoly_2005/.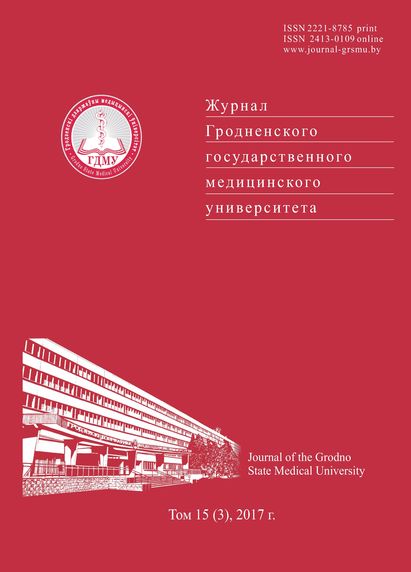 Загрузок PDF: 133
Как цитировать
1.
Гаманович АИ. ЭФФЕКТИВНОСТЬ ИННОВАЦИОННОЙ ТЕХНОЛОГИИ ПРИ ТЕРАПЕВТИЧЕСКОЙ КОРРЕКЦИИ ВИСЦЕРО-ВЕРТЕБРАЛЬНОГО БОЛЕВОГО СИНДРОМА ПОЯСНИЧНОГО ОСТЕОХОНДРОЗА. Журнал ГрГМУ (Journal GrSMU) [Интернет]. 7 сентябрь 2017 г. [цитируется по 6 июнь 2023 г.];15(3):319-23. доступно на: http://journal-grsmu.by/index.php/ojs/article/view/2132
Раздел
ОРИГИНАЛЬНЫЕ ИССЛЕДОВАНИЯ